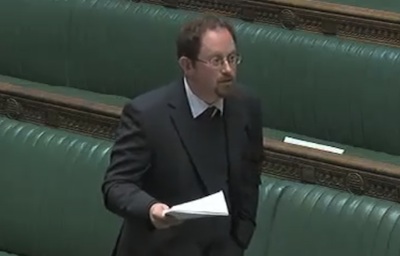 Cambridge MP Julian Huppert
On Friday the 19th of November I attended a public lecture organised by the Centre for Science and Policy titled: "The future of science in Parliament" The speakers were Cambridge MP Julian Huppert and ex. MP Evan Harris.
Cambridge's previous MP David Howarth is now an Associate Fellow at the Centre for Science and Policy and was present at the event as was City Council leader Sian Reid.
Evan Harris
Evan Harris kicked off with some silly statements which MPs had reputedly made:
Alan Milburn who was Secretary of State for Health saying: "within three years all GPs will be above average".
Patricia Hewitt who was Secretary of State for Health saying: "Home childbirth is safe, and we've commissioned research to prove it"
An MP commenting on research finding women who have an abortion are 30 per cent more likely to develop a mental illness and saying this meant 30% of those who had an abortion would develop a mental illness.
Nick Clegg describing an Institute for Fiscal Studies report as "utter nonsense"
Amusingly ironically Mr Harris apologised for not having had time to provide citations for any of the above examples; and cautioned that some might be apocryphal. Mr Harris did point to one example of an MP making a stupid statement which is in Hansard:
On the 14th of October 2009 David Tredinnick MP, a Conservative, said:
In 2001 I raised in the House the influence of the moon, on the basis of the evidence then that at certain phases of the moon there are more accidents. Surgeons will not operate because blood clotting is not effective and the police have to put more people on the street.
Turning to evidence based policy making Mr Harris said the government ought make policy based on science and not mumbo-jumbo. He cautioned that while this concept was gaining traction it was important not to let people get away with claiming evidence based policy making when this was not in fact what they were doing. (I hope Cllr Reid was listening, local LibDems on the city council have a very odd view of making evidence based decisions, which appears to often boil down to accepting officer recommendations – on the grounds that they are backed up by the "evidence" of the officer report; ie. its an excuse to seek to shift responsibility. )
Mr Harris spoke about the sacking of Professor David Nutt, when he had been government's chief drug adviser. He said there was a need to ensure there were robust systems in place for the treatment of independent scientific advice. He lamented that when he was a member of the Science and Technology committee the committee had not been mature enough to investigate the debacle.
Mr Harris said scientists had to get into front foot campaigning. He said scientists were often in the position of defending things, like the need for (limited, well regulated) animal research, or genetic modification.
Mr Harris introduced his new project, a "Parliamentary Fact Checker"; he said he wanted to see "consequences" for MPs saying something in parliament which was not supported by evidence. He wants those MPs making such statements, or those who reject a scientific approach to the world, to have what they say highlighted and challenged. Mr Harris said he wants to start by proving his service through finding flaws in what MPs actually say; then move to offering an "overnight" checking service intended to pre-vet speeches etc. for scientific howlers (faster than the current service offered by the HoC Library or POST which he said take months to get to grips with an issue).
I think working with TheyWorkForYou would be a good way to do this and get the results distributed. There is already an annotations feature on the site; and it would be possible to build other "light" websites on top of TWFY providing alternative routes to access the information contained within it.
Julian Huppert
Mr Huppert started by saying he was one of two MPs with a PhD, the other being Conservative Therese Coffey who represents Suffolk Coastal.
Julian Huppert jumped into the subject of homeopathy; explaining that the government funds homeopathic "remedies" and a couple of homeopathic hospitals. He recounted how he had countered David Tredinnick's Early Day Motions on homeopathy with a robust criticism on the research on which he based his assertions. (See my article on this escapade)
Mr Huppert urged those present who lived in South Cambridgeshire to make an appointment to go and see their MP, Health Secretary Andrew Lansley, who is responsible for the government continuing to spend taxpayer's money (and money the Government is borrowing) on homeopathy. In one of a number of surprising statements Mr Huppert made he encouraged people to make appointments to see Mr Lansley in person, saying that MPs took more notice of constituents who were prepared to meet them in person than those who just wrote them emails.
Mr Huppert said he took those who met him in person more seriously as they were prepared to give up their time to see him so clearly cared passionately about whatever it was they had come to lobby him about. Personally I've always written to my MP (in the case of Julian Huppert tweeted him) because I've thought that would be the most efficient use of their, publicly funded, time, and also make it easier for them to act, for example by forwarding my email to the appropriate person.
Mr Huppert then went on to accuse journalists of being lazy. He illustrated his point by asking if there was anyone from the Cambridge News in the audience; a call which prompted no response.
Mr Huppert said the Government were running a "Say no to Chemists" campaign. (This BBC News Article explains)
Mr Huppert said his fellow MPs didn't just have problems understanding science, but many also had problems understanding technology. He said that proposals for a compulsory science course for MPs had been diluted to a one hour voluntary seminar, which only MPs like him and others already well versed in science attended. Mr Huppert said that David Willetts MP "showed signs of getting it".
Recently Mr Huppert has been tabling written questions asking how often ministers had met their Chief Scientific Advisors. He noted that the Prime Minister had refused to answer. Another minister responded the day after she had met her CSA for the first time.
Mr Huppert said he was trying to get the Treasury to have a Chief Scientific Advisor, but they didn't think they needed one.
Turning to the comprehensive spending review, and the cash freeze for science funding Mr Huppert said that at the last minute the quartet of Cameron, Clegg, Osbourne and Danny Alexander were in Chequers when they got a phone call saying there was a spare £200m; they decided to put it to science partly to keep campaigners quiet.
Mr Huppert then went on to make his most newsworthy statement of the evening. I've written a whole article on the fact Mr Huppert said he had been banned from speaking on the subject of Tuition Fees by his party whips. Mr Huppert tweeted later in the evening to retract his statement and say he was only joking. The BBC have since reported that all LibDem MPs have been asked by their whips to keep a low profile on the subject.
Another revelation from Mr Huppert was that during the American presidential election at which Bill Clinton was elected he had a bumper sticker. (Mr Huppert doesn't drive).
Questions
Questions were taken, by the session chair, almost exclusively from the first couple of rows of the audience. Mr Huppert jokingly declared an interest, in that he knew one of the questioners, he seemingly jokingly addressed him as "dad"; I have no idea what was going on there.
One area raised was science careers with one questioner noting only 3.5% of UK PhDs end up with an academic position. (If all the rest were ending up working in science outside academia that would be fantastic, but I think the implication was that many highly trained people end up not being employed in an manner which makes best use of their abilities.)
Nuclear Power
I would have liked to see Mr Huppert talk about his own, current, approach to evidenced based decision making. In the latest edition of Cambridge University's alumni newsletter Mr Huppert had been asked for his views on nuclear power. His initial response was: "Long term, the answer is clearly nuclear fusion", I think got that right. He went on to say:
I would certainly not rule nuclear out. It has a lot of benefits but it also has a lot of problems. This is why we must work out the cost of nuclear – the timeliness, the safety, and how you deal with issues such as residual waste – compared to other decarbonised forms of power. That's the analysis that has to be done and is, I believe, being done. Therefore, I take an agnostic position. If it turns out that nuclear is the way forward, great. If it's not, then we shouldn't do it.
I have two problems with that, one is that I don't think its in-line with what he was saying during the election where I thought his position was anti-nuclear power. The second problem is the use of evidence based policy making as an excuse not to make a decision. You can always call for more evidence, more research, more analysis but we need our representatives to be able to make a judgment based on the information in-front of them. I think keeping the lights on is one of Government's key roles and our MP ought be able to tell us how he would like to see that done in the next few decades. My own view is that the Conservative led, rapid building of new nuclear power stations on the existing sites is the right policy.
Policing
Policing is another key area where I think evidence based policy has great potential to ensure that resources are targeted most appropriately.
As a member of the Home Affairs Select Committee I think Julian Huppert has the opportunity to ensure that the new elected police commissioners are able to make decisions well informed by high quality data, for example from hospitals, the fire service, insurance companies and the police themselves.
I suspect my questions would have been far to practical and real to be of interest to the audience of high-brow academics (the event was held in a Cambridge college).
Accessing Scientific Research from Parliament
Cambridge MP Julian Huppert records in his register of members' interests that his Fellowship at the Cavendish Laboratory, University of Cambridge, from which he is on long-term unpaid leave, gives him use of a computer. Presumably the reason the use of a computer within the university is of value to him is the access it gives to resources, such as scientific literature, which is very expensive for the general public to access.
Open access to the outputs of research, particularly publicly funded work, was briefly mentioned by both speakers.
I have made a freedom of information request asking Parliament about their arrangements for MPs and others to access scientific journal articles.
See Also
As far as I am aware this was Mr Huppert's first pre-announced public appearance in Cambridge since his election. (It has been reported that he has also addressed a student protest)