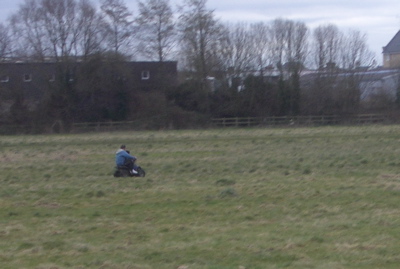 Residents of Garlic Row Enjoying Stourbridge Common
Cambridge City Council held a Community Services Scrutiny Committee on the 12th of March 2009. One of the items on the agenda was a draft Parks and Open Spaces Strategy for the City.
I spoke on this item to comment on the fact that no specific mention of the trees on the open spaces or in the parks was made in the document. My comments, and the response given are detailed in a separate article available via this link.
Cllr Howell (Conservative), who is not a member of the committee, asked to contribute to the discussion. He said that parks and open spaces were a very important issue for the city, and were one of the things which make Cambridge a really great place to live. He wanted to highlight a couple of areas which the strategy touches, but doesn't cover in enough detail:
Buying New Green Space
The first was the provision of public open spaces and the relationship with planning policies which require new developments to have public open space. Cllr Howell said he was concerned that we allow commuted sums in lieu of public open space in new developments. Not only that, but while we collect the money, we are not spending it. He claimed the council was holding about £4m of unspent "s106″ funds. Even when this money is spent, it is rarely on buying new open space, but on improvement of existing space. He said the council too often, feeling obliged to spend the money, "developed" open space, and such "development" of open space was not something people appreciated.
Cllr Howell suggested that the Executive Councillor for Arts and Recreation ought "fight her ground" with those involved in planning and that there was a need to ensure "s106″ funds raised from new developments were spent on new open space.
Events on Green Areas
Cllr Howell said that the role of the historic, key, central, open space such as Parkers Piece, Jesus Green and Midsummer Common, as well as other places such as the Cherry Hinton Hall grounds had not been properly reflected in report. He said the draft strategy only touched on the balance needed between events and conservation / protection. He said there was a need to balance these two, often conflicting, points of view. On one hand we have the interests of the people who go to events and on the other the interests of the local residents who want to see conservation. He said that the council was taking too much of a "Grand Designs" approach to the city's open space and that the reaction to the Jesus Green proposals had shown that the council was not carrying residents along with that. He noted this was not a new thing and the development of the skatepark on Jesus Green had also been resisted. Cllr Howell said that the emerging events framework needs much higher prominence and there was a need to set out in that how we find a sensible balance enabling us to conserve and protect the city's green spaces.
He also commented on the bye-laws, many of which are out of date. He suggested looking into establishing new byelaws and said that people were concerned that what we do have are not being enforced. (It sounds as if the Friends of Midsummer Common might have been in touch with him!) Cllr Howell specifically referred to the Strawberry Fair, saying that the council does not have the enforcement capability it needs with respect to big events. He said that the rules were not adhered to every year, and the council always threatened to cancel the next year but never did. Cllr Howell said that at some point there's a need to say enough is enough.
While I wholeheartedly support everything else Cllr Howell has said, this last statement makes me feel uncomfortable. We ought to be doing all we can to support the Strawberry Fair and ensure it causes minimal nuisance to the city's residents. I am shocked by the poor policing which allows open drug dealing (and drug use) on the streets of the city for a week, as well as damage to residents' homes, gardens and vehicles. This is all totally unacceptable and needs to be stopped. Councillors have had good ideas and hopefully this year the City Council will be working much more closely with the event organisers and the Council will be involved in advertising and promoting the event with a view to changing its culture. Consultations with residents this year have not got off to a good start but I remain hopeful. I was disappointed to read the police were considering charging the fair for the policing costs, and do not think that is practical and reasonable for a free, open, event like the Strawberry Fair. Of course we can't tolerate what has gone on in recent years, but equally we can't put a stop to the fair. We have to ensure the fair's culture is appriopriate and ensure it is appropriately policed.
Responses to Cllr Howell
Council officer Liz Bissett, the Director of Community Services a said that it was difficult to secure green space on development sites but said the council had been good at getting green space in the city fringe developments. She said it was already a priority for her department to work with planning to maximise green space in the city.
On the subject of the usage of green space, Liz Bissett said that she would be will be broadening that section of the strategy out and would consult with ward councillors. She said that the usage of green space accross the city was something we need to take stock of and agreed with Cllr Howell that there was a need to balance conservation with the fact the green spaces are used.
Liz Bissett said that where developers make a financial contribution for off-site provision of open space the opportunity should be used to purchase open space, not enhance and improve existing spaces. She was clearly agreeing with Cllr Howell, and by doing so perhaps subtly suggesting that the City's current political leadership were getting it wrong.
Cllr Julie Smith, the executive councillor responsible said that performance management for open spaces was aimed at ensuring the open spaces offered value to residents groups and others and that an "Events Protocol" was almost ready for consultation.
General Discussion on the Draft Green Spaces Strategy
Cllr Knightly (Liberal Democrat) suggested that it was important the draft strategy got to the right consultees. He said that "diversity" in the range of open spaces in the city made them difficult to manage.
Cllr Lynn (Labour) agreed that consultation and feedback were critical, and said it had to make sense for "real people". She said that the list of stakeholders appeared to miss out young people. She asked what the consultation strategy was, saying that the council hadn't got it right in the past, and it was worth putting effort into something so important and valuable. She pointed out it was Residents Associations and park forums don't represent all users. This is a point I agree strongly with and I have complained about the excessive weight the council place on the opinions of such groups, and the lack of weight given to councillors who ought be the representatives of all in their wards.
Alistair Wilson, the council's Green Space Manager said that the need for engagement was clearly a major issues, he said he would send the list of consultees to all councillors asking for additions. He said that he would look at "interactive methods" to engage with young people and would take advice from the council's "corporate marketing team".
Cllr Walker (Labour) said that the strategy was a very ambitious programme, she drew attention to the fact that despite that the report stated there were not implications for staffing and finance. She said that while there might be no implications for producing the strategy there clearly would be if it was to be carried out. She asked officers to consider what those implications might be when they were drawing up their final report.
Cllrs Blair (Liberal Democrat) and Blencowe (Labour) then argued about if the report actually considered the financial and staffing implications or not, with Cllr Blair claiming it did and Blencowe that it did not.
Cllr Llyn drew attention to a statement saying: "An action plan will be drafted prior to consultation with stakeholders" and said she was wary of going through consultation with a plan already drafted, she questioned if the consultation ought come first, both for the council's parks and sports strategies.
Council officer Debbie Kaye saw the opportunity to use a some jargon and said what the council was planning on doing was: "using a 'check challenge and change' process". She put this into other words: while they are suggesting items for consultation, all items are in fact up for change, the purpose of the plan is to prompt discussion.
Cllr Blencowe said that he appreciated this was just a first draft, and that there would be an opportunity for those listed and others to participate. He expected that the final document could be alternative in style for example in the way I had suggested (more emphasis on trees). Cllr Blencowe said that the open spaces policy should be complimentary with planning policies, and while he didn't want members of this committee to be to concerned with planning there was a need to for awareness that this strategy sits within the planning framework. He said that consultation in the past has been poor, and that he hoped for a fresh start with this document, saying participation and involvement were key. Cllr Blair replied: "Nice to hear you being so positive".
Cllr Smith, agreeing the recommendations, said that it would be possible to do online consultation and said that she would welcome ideas on other ways of engaging people.
While this initial discussion was, with the exception of Cllr Howell's contributions, pretty vacuous the future management of the green spaces are critical to the future of the city. I hope all those interested will respond to the consultation when it comes out, and it is presented in a more interesting and engaging manner than this "draft". There's a real need to tie together everything the council does in relation to its green spaces and for councillors to provide some leadership.