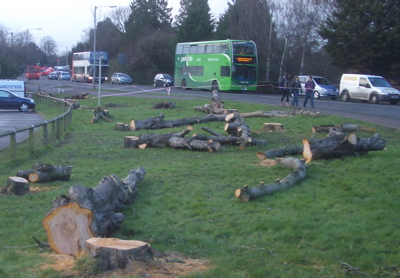 Cambridge City Council held a Community Services Scrutiny Committee on the 12th of March 2009. I used the opportunity for members of the public to speak at council meetings to ask why the draft Parks and Open Spaces Strategy being put to the committee didn't mention the trees on the parks and open spaces.
I pointed out the strategy only mentioned the word trees once – in the context of tree-lined streets. I said that the fact the trees in the city's parks and open spaces didn't get a mention at failed to reflect the importance which residents place on trees in this city. I drew attention to the fact the City Council has been responsible for the loss of hundreds of trees in the city over the last year and more are still scheduled to go this winter.
One suggestion I made for improving the situation was for councillors to become involved in the process of making decisions on trees. I believe it is them who ought be making an informed judgement on the balance between safety and the value of the trees. I feel that the council is currently going to far towards trying to remove all risk, and as a result we are losing lots of established trees. I commented on the system we had seen emerging where the contentious decision to fell trees on Brooklands Avenue had been referred to the Executive Councillor responsible – Julie Smith and she in turn had sought the advice of the planning committee. I suggested that, for other tree felling plans which had resulted in significant public opposition, such a process was required.
I told councillors that I did not think it was good enough for them to say they're replanting as felling established trees isn't something which can be quickly undone by new planting.
Finally I noted that many people, even those following the council's actions closely and the Executive Councillor, don't find out about the council's tree works proposals early enough. I gave the example of the felling of trees at Addenbrooke's which it has been reported the council were advising on where objectors only became aware of the plans after tree felling started. The council run a "tree database" with every tree they have an influence over listed, along presumably with any plans to fell it. I suggested making this internal database available to the public over the internet.
Response
Cllr Julie Smith responded. She started by saying that she only had responsibility for the trees on open spaces, not those on the council's housing estate or those it manages for the county council on the highways.
Cllr Smith reported that a new protocol for making decisions on trees was being developed. This would ensure that councillors were made aware of proposed tree works in their wards. She said this details of this new procedure would be published shortly.
Cllr Smith said that trees were generally only felled when they were dangerous and/or diseased.
Cllr Smith started by agreeing that there was a balanced judgement to be made between the value of a tree and any risk it posed. However she went on to say that the council could not afford the liability arising from a tree falling on someone and so had no choice but to take the approach it was taking with respect to felling suspect trees. She said however precious a tree was it may be necessary to fell it.
I wondered afterwards if this was an indication that it is in-fact the council's insurers who are behind the recent spate of health and safety nonsense with respect to the city's trees.
Cllr Smith said that she though the idea of making the tree database available online was a good one, and she committed to get officers to investigate if it could be done.
Comment
Public speakers are to make a brief comment on the response they have been given. I asked if the new protocol for making decisions on trees could be brought to a meeting like this one so it could be discussed in public.
I also took issue with Cllr Smith's statement that most trees to be felled being diseased or dangerous. I pointed to those trees being felled across the city because they were the wrong species, or because they shaded watercourses where the council wanted to encourage diversity and those under-threat because they're not planted in straight lines or are slightly misshapen.
Cllr Smith's Last Words
Cllr Blair and Cllr Smith conferred and decided that the new protocol was a "management issue" and wasn't going to be put before councillors (and the public) in a formal council meeting prior to its adoption.
Cllr Smith noted that the draft document does reference trees on green spaces implicitly through a reference to the council's Arboricultural strategy. She agreed that there needed to be more than that and to ensure it was clear how the Arboricultural Strategy was tied in to the Parks and Open Spaces Strategy.