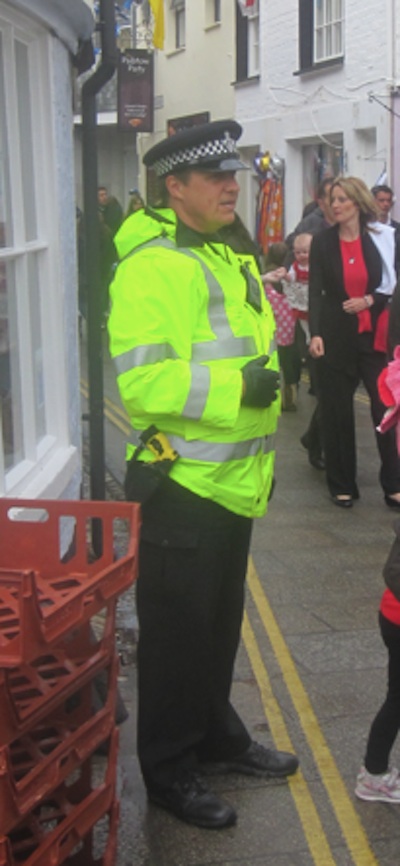 TASER armed officer in the UK
Cambridge's Community Safety Partnership on the 14th of December 2012 received a presentation on TASER use in Cambridge by Chief Inspector Neil Sloan of Cambridgeshire Police. To-date in Cambridge only specialist firearms officers have carried and used TASER weapons, no officers have routinely patrolled with the weapons, or carried them as a matter of course when responding to incidents. From January 2013 sixteen neighbourhood officers in Cambridge will carry the weapons routinely. Three TASER armed non specialist firearms officers are expected to be on duty in the city at any one time.
Chief Inspector Sloan told the partnership meeting that the non-firearms officers armed with TASER will both be attending incidents to which the specialist firearms officers would otherwise have been called, and be specifically called to attend, as TASER officers, at a wider range of incidents.
It was only in response to my questioning that Chief Inspector Sloan revealed that those non-firearms officers authorised to carry TASER will do so at all times while on duty. In his presentation to the meeting the Chief Inspector had omitted this key fact, and talked about how there was a robust process in place for the deployment of TASER at an incident to be authorised. My view is this was all largely irrelevant baloney given what's planned is to have non-firearms officers from the city's neighbourhood teams routinely carrying the weapons and authorised to use them, on their own initiative, if the circumstances mean they judge that to be a reasonable and proportional course of action.
Claiming to explain how the weapons would be used in the city Chief Inspector Sloan stated: "First a TASER authority is given". He told the meeting that in the case of a spontaneous incident the force control room inspector on duty (Oscar 1) would make a decision on if TASER deployment would be justified, and if he thought it would be, he would make a "TASER authorisation" noting the rationale behind his justification in the incident log.
In the case of a pre-planned event, for example the execution of a warrant, any authorisation to deploy TASER would be given by an officer in the role of "Firearms Commander". It is interesting that the work of our local neighbourhood officers is to be monitored by the specialist firearms unit in this way.
In cases where a non-firearms officer carrying TASER decides to use it without prior authorisation then they have to inform the appropriate "Firearms Commander" straight away and the case will be reviewed by the force's "TASER lead officer".
If officers authorised to carry TASER are doing so all the time (including while executing warrants, or responding to incidents) then I don't see what additional safeguard these authorisations provide. I sought clarification on this point; asking if an authorisation might be given for officers to carry TASER to police Cambridge City Centre on Friday night, simply because it's Cambridge City Centre on a Friday night rather than in relation to a specific incident; the response I got was that this would not be required as the authorised officers would be carrying the weapons as a matter of routine in any case. I noted this was not the impression that had been given by the presentation; and was a key fact omitted from it.
Chief Inspector Sloan started his presentation by arguing "this is not a new thing", saying Cambridgeshire police officers had been carrying TASERs since 2004. This appeared to leave many members of the partnership confused as to what was changing, because the Chief Inspector did not explain what was new, that the weapons are to be given to non-firearms officers for the first time.
The meeting was told that the non-firearms officers who will carry TASER in Cambridge will do so: "in a holster on a highly visible vest". He clarified that the TASER will be "visible in a jacket", which I took to mean that officers' outer clothing will not obscure the TASER and said the officers would keep their TASERs on them all the time they were on-duty saying they will never be left in vehicles. I had registered to use the public speaking slot at the meeting to ask a number of questions about the newly proposed deployment. Chief Inspector Sloan had been given a copy and addressed many of them during his presentation, including this question of if the TASERs will be overtly carried, and if they would always be kept on the officer or if sometimes they might be left in a vehicle.
An assurance was given that non-firearms officers in plain clothes would not carry TASER in Cambridge although Chief Inspector Sloan told the meeting that elsewhere TASER is carried by such officers.
Chief Inspector Sloan said that Cambridge's TASER armed non-firearms officers would give a clear warning "as they turn up to an incident" and "when TASER is about to be used".
No mention was made of pre-emptive TASERing (deciding in advance to TASER people without warning).
An officer who is authorised to use TASER accompanied Chief Inspector Sloan to the meeting. He told those present that the officers to be deployed in Cambridge in the new-year would be trained to "aim for the centre of mass", he pointed out on his own chest where they would be seeking to hit people with the TASER barbs; with one high up over the heart and one slightly lower and to the side. (This is contrary to the manufacturers' advice on "preferred target areas", which suggests avoiding the chest).
The meeting was told that in drive stun mode subjects "just feel the pain" and there is no electric current running through the body; whereas when the weapon is fired and the barbs used the neuromuscular incapacitation effect is what is sought and what is effective, rather than pain.
Assurances were given that "appropriate after care" would be provided to those the police shoot with TASERs. Medical professionals will remove the barbs, and if the subject is in custody (which the Inspector appeared to be assuming would be the case) they would be subject to an "enhanced care plan" and placed under "more observation" [than a typical person in custody].
Examples given for legal authorisation of the degree of force involved in deploying or using a TASER given included using reasonable force to effect an arrest and section 117 of the Police and Criminal Evidence (PACE) Act which says: "the officer may use reasonable force" (in relation to powers in the PACE Act).
I had asked how those non-firearms officers who will be carrying TASER in Cambridge from the new year had been selected. The meeting was told they were volunteers from the "Safer Neighbourhood Teams" whose applications had been reviewed by their "line managers" who had looked to see if they were able to provide evidence that they had experience in applying the police's national framework on the use of force.
Cllr Bick, the only elected representative present, asked the police about the potential for the impact of using the weapons to be greater than expected. He noted the police may not know if someone was on drugs. The police merely agreed with the premise of the question, there might be times when the impact is greater than expected, and they typically don't know much about those they TASER in advance. The meeting's chair asked if the police would know if someone they were about to TASER had a heart condition; the Chief Inspector confirmed they would not – he gave an analogy of not knowing if someone had brittle bones before using a truncheon on them [being a modern Chief Inspector I suspect he probably said "baton"].
Chief Inspector Sloan assured Cllr Bick that the TASER would only be used as a last resort; after trying to speak to someone, and only if they were posing a risk to themselves and others. Stressing their intended degree of restraint the Chief Inspector stated that it was likely someone threatening to stab themselves with a knife would not be TASERed until they had stabbed themselves.
Cllr Bick also asked about public oversight of police use of TASER in the city. Chief Inspector Sloan responded to say people could always make FOI requests for information. The meeting's chair, a city council officer, argued that proactive publication would be preferable and that people should not have to make FOI requests, Chief Inspector Sloan promised the partnership he would "take that back".
Cllr Bick asked if there were any examples of incidents (or statistics on the number of incidents) recently in the city where the police would have liked to have had non-firearms officers armed with TASER present. In reply Chief Inspector Sloan told Cllr Bick there had been no cases where the police had found the resources they had available currently were inadequate.
I asked about to what extent the change followed on from the merger of the specialist firearms teams with Hertfordshire and Bedfordshire; resulting in the specialist units being slower and more expensive to deploy to incidents in the city. In response Chief Inspector Sloan said this was a factor, he added that there was also a desire to bring the force's policies and practices into line with those in Hertfordshire and Bedfordshire.
One member of the partnership said the presentation ought not have been made as the matter was an operational one for the police.
I disagreed with this stance, saying I thought if police officers are routinely armed with TASERs or not is a strategic matter. I asked if any consideration had been given to the impact on police-public relations and was told no. Inspector Sloan said he didn't anticipate any adverse impact.
I asked if Cambridgeshire's Police and Crime Commissioner Graham Bright had been consulted on the proposed roll-out of TASER to non-firearms officers in Cambridge. I was told the police had not asked him on the grounds that they were merely putting into practice a decision taken before he came into office. (The police authority never did take a decision, much less have a vote on, rolling out TASER to non-firearms officers).
My View
I am very concerned by the routine deployment of TASERs by the police in Cambridge. If the police need to deploy them in relation to specific incidents I would rather the well trained and experienced specialist firearms officers were used, rather than neighbourhood officers. If the specialist officers are not readily available then I'm concerned about the impact the force's re-organisation and mergers has had in relation to the force's ability to react to incidents where a conventional firearms response is required as well as on TASER availability.
The feel of the city may change if it is policed by officers carrying weapons routinely; I also think there will be a negative impact on police – public relations and the city may become harder to police if there is a shift from policing by consent to policing by force.
I think routinely issuing non-firearms officers with TASER will result in the police using greater levels of force than they would have done in the past.
See my other articles on TASER.
Further notes from the Community Safety Partnership Meeting
I noted the meeting papers were not accessible online. Officers stated they were. They are in fact present in a very unusual format (which I have never seen before) in some kind of multi-document PDF – which when opened in "Preview" the Mac OSX's default PDF reader shows no indication it contains more than one document. The meeting's chair complained that I had raised this issue before. I had not, this is the first time I've done so, though I had complained about the inaccessibility of a previous format used – word documents with further word documents embedded in them (which on one occasion only had images of icons relating to the embedded documents and not the documents themselves). I noted Cambridge City Council has an online system for presenting meeting papers and that the partnership has not had a response from the council on the question of if it can use that to both present its papers more accessibly as well as publicise it's meeting by placing them on the council's calendar.
I asked why my questions to the September meeting had been dismissed by the partnership. I explained why I thought greater openness from Cambridge's courts, including publishing the court lists and registers online, would aid the partnership in its work and also enable gaps in information presented to councillors and the public to be filled. The meeting's chair said my suggestion of passing on my comments and suggestions to the courts (even if the partnership disagree and want to see the courts continue to operate secretively) would be considered.
The minutes of the previous meeting were not presented to the meeting
The meeting was not quorate; so decisions will be made in private by email. The decisions relate to making applications for funding to the Police and Crime Commissioner.
It was reported the Police and Crime Commissioner told the previous days' Community Safety Strategic Board meeting that he will fund community safety projects at at least 50% of the current level.
Cllr Bick revealed he met the Commissioner on Monday the 10th of December specifically to lobby for localism in spending on Community Safety Projects; he wants the partnership (an undemocratic body) to be given a pot of money by the commissioner to spend as they wish.
The partnership appeared to agree to make bids way in excess of what they thought was justifiable or required, for example for taxi-marshals every weekend of the year, not just peak weekends, in the hope of getting funding.
Cllr Bick if the Cambridge Tax organisation would be funding the taxi-marshalls as they had promised to do in their manifesto, Cllr Bick was told by officer Vicky Hornsby that they'd only pay up as a last resort if funding could not be found elsewhere.
The magistrates' representative was absent – he appears to rarely attend the meetings and the partnership is failing to resolve to even let the magistrates know – they don't make it easy to find out who is absent from each meeting, rejecting my suggestion of listing absentees on the minutes.
A number of the proposed bids for money show an intent to spend it with Hyline Security (rather than any other company offering similar services). The members of the partnership did not have their attention drawn to the fact that CAMBAC, which is a member of the partnership, and represented there by Vicky Hornsby is chaired by Tony Harold* who is also the general manager of Hyline Security *. To specify the specific company to be used in a proposed budget for 2013-14 in this way appears to me to be very unusual.
It was noted that those running pubs and clubs in the city had been unhappy with the "safe refuge" not being "as advertised" by the partnership and focusing more on street drinkers than revellers.
Cllr Bick apologised for asking lots of questions. He had nothing to apologise for, he was the only elected representative present, as the only person representing the residents of a city of 100,000 I think he was entitled to ask a lot of questions
A member of the partnership said they didn't think Police and Crime Commissioner Bright would want to fund their "Community De-tox programme" – a "project worker" helping people alcoholics, a project also funded by the city council, on the grounds that they got the impression he was interested in focusing on anti-social behaviour in rural areas with parish councils. Cllr Bick said this showed the importance of getting the commissioner to allow local decision making in Cambridge.
Addenbrookes' Security Manager was present, but did not contribute. As he is responsible for staff with police powers it was good to see him at a public meeting in the presence of an elected representative