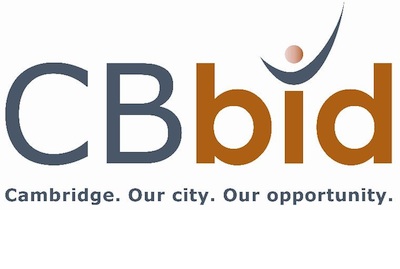 CBbid Logo.
In February 2010 I wrote about Cambridge's City Centre management organisation, Love Cambridge, considering raising taxes. On Friday the 15th of July 2011 Love Cambridge took some more steps towards levying a tax by sending out a survey to business rate payers in the city, asking what they'd like to see money raised from increasing business rates spent on.
The survey, which will I expect be the first many business rate payers in the city will have heard of the scheme, doesn't really make clear what is being proposed. The text introducing the survey doesn't mention "rates" or "tax" and certainly not "higher rates" or a "tax increase". Recipients would have to research what a "Business Improvement District" was themselves to find out that levying an additional tax was what the survey was actually about. I think this is scurrilous behaviour, the survey appears to be an attempt to gain evidence that there are lots of things in Cambridge which business rate payers would like to see more money spent on; evidence which will then no-doubt be put forward to back up those seeking to levy extra taxes.
The survey also doesn't make clear who it is being sent out on behalf of. The most prominent logo on the survey is that of "CBbid", there are no details given of what CBbid is, (there is no registered company with that name). I suspect it may be new trading name / pseudonym which "Love Cambridge" have come up with for themselves to use in relation to this bid. They may be wishing to down-play the role of Love Cambridge as the Love Cambridge staff are funded by the City Council and the idea of Business Improvement Districts is that they'd be initiated, from the bottom up, by businesses, and not astroturfed by groups which stand to benefit from organising them.
There is relatively little sign of things which would be a long term investment in the city centre being considered by the survey. On the list of ways extra tax revenues could be spent for example are "Street based entertainments" and "City Centre Ambassadors (meet and greet staff)". The mind boggles as to what could be envisaged, uniformed staff like flight attendants? maybe costumed characters? – many do say those in power are trying to turn Cambridge into a disneyland.
Whatever form they might take, these are things which are not going to have a long term, enduring effect. Other suggestions are firmly in the realm of what I'd expect to get for my taxes already and I'd have thought businesses would expect to get for theirs, like "Street lighting", "Police presence during the day" and "Police presence during the night". Those aren't the kinds of things I'd expect to be asked to pay an additional chunk of tax to get, we're already paying for those.
There are some other odd elements to the survey. A new web domain: cbbid.co.uk has been registered, by Limewash Media Design yet despite it going out on all the surveys there is no web content on that domain yet. Limewash has registered the domain in its own name, something I consider bad practice, and something else which obsfucates who is actually behind "CBbid".
The survey concludes with a paragraph starting:
We ask you to sign your name to conform with the data protection act.
This is oppressive and intimidatory nonsense in my view; I can't see any part of the Data Protection Act which those not signing their survey responses will be in breach of.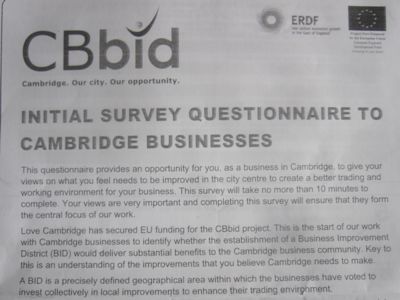 This survey was sent to businesses in Cambridge on Friday the 15th of July 2011.
As the survey doesn't mention the proposed tax increase there is no opportunity for respondents to comment on it. If people oppose the scheme there is no space within the survey for them to express this view. The suggested ways of spending the revenue generated from the extra tax all appear to relate mainly to encouraging shopping; there is no sign of aspects which others who may end up paying the extra tax could benefit from. Service providers such as accountants, estate agents, lawyers, media companies and recruitment consultants will all be hit by the extra tax as will technology companies and others.
There is an online version of the survey available at : http://www.surveymonkey.com/s/CBbid. Love Cambridge has not made any reference to the survey on its public website, no press release was published online accompanying its release. Cambridge City Council has also not added the survey to its consultations page, or issued a press release drawing attention to it. The area covered by the survey has not been publicly identified. It appears there may be an attempt to run this survey "under the radar"; usually such consultations come with events, and plenty of material online, to help enable those responding to do so from an informed position – none of this has happened. The consultation is open until the 26th of August, this is often regarded a time when people try and sneak such things through.
I understand that the current expectation is that the Cambridge Business Improvement District will encompass the core of the city centre; and it is anticipated that it will be substantially smaller than the area to which Friday's survey was distributed.
Rates are paid on a number of public buildings so our councils will probably have to respond to the survey. Libraries for example pay rates, as I expect the City Council probably do in respect of the Market Square market, it will be interesting to see how they respond, as I suspect it is unlikely the areas affected will get extra funding to cover the increased amount of money going round in circles.
A similar, but more narrowly focused, scheme is under consideration for funding improvements to Hills Road, though the last time I heard that mentioned was September 2010. From what I can tell the schemes are slightly different in that the Hills Road scheme is to involve borrowing lots of money to do the work, then paying off the loan using an extra levy on the business rates on the road. I can't see any provision preventing an organisation running the Business Improvement District from borrowing money (its been reported that a BID company has sought a loan), but the idea of the BID appears to be about spending the tax receipts as they come in. I certainly don't think we ought be increasing the public sector debt to fund meet and greet ambassadors. In relation to Hills Road (the route from the station to the city centre) I have previously commented that I think the benefits of improvements there will aid the whole city and it would not be fair to ask businesses along the stretch to pay disproportionally towards their cost.
Who's at the helm?
The Chairman of Love Cambridge, Ian Sandison, tweeted to say he was going on holiday to the Greek island of Naxos and was out of Cambridge as the survey was distributed. He announced he would be uncontactable saying he had his "iphone email disabled".
As well as Mr Sandison being on holiday, Love Cambridge has launched this new survey while it is in the middle of recruiting a new board member to advocate for independent businesses within the city centre. The recruitment being required due to independent businesses not being happy with the current incumbent who didn't find enough time to dedicate to the role.
Openness
It is notable that the imminent publication of the survey, was not mentioned when Love Cambridge gave their annual report to the city council just ten days or so previously. I noted this omission in my report on that meeting. Love Cambridge's annual report presented on the 5th of July made no mention of the Business Improvement District proposal. I have no doubt that if "CBBid" had been mentioned councillors, and the public, would have asked questions about it.
Safeguards
There are a number of safeguards present in the process of introducing a Business Improvement District. If a proposal is made then the council has to run a referendum of business rate payers in the area concerned, to pass the referendum it has to be supported by those voting on behalf of both the majority of properties by number and by votes from properties making up a majority of the rateable value in the area.
Councils ready to act quickly may be able to use a provision which gives them 14 days to veto a proposal, even if it passes a referendum, and there are also
routes of appeal to the secretary of state.
The relevant legislation is The Business Improvement Districts (England) Regulations 2004 and Part Four of the Local Government Act 2003.
(One interesting element of the BID regulations (Schedule 2, Reg. 8(2)(5)) requires the ballot paper to include a list of all streets covered, this should prove an interesting ballot paper if, as appears is being considered, a large swathe of Cambridge is covered.)
My View
I think giving people, and businesses, freedom to do things for themselves, is fantastic. I think the often there are situations where the state doesn't need to be doing things itsself, its role could be simply facilitating, and giving permission for others to get on with things.
I think the Business Improvement District legislation has fantastic potential to, for example, allow those running shops on a particular street to get together and improve the trading environment. The Business Improvement District in Birmingham's Broad Street is a good example. The force of law, and the collection of funds by the local authority, means all those benefiting from the scheme have to contribute – something a voluntary scheme would not be able to ensure.
If we could have such schemes on a small scale in Cambridge, for example to improve the shop forecourts of the shopping centres in the residential areas I can see how perhaps public money raised via general taxation could have been saved.
I do not think a tax hike for all businesses in a broad swathe of Central Cambridge is the way to go. I wouldn't want to push non-retail companies out of town and leaving the city centre just one big shopping mall. I wouldn't want to see companies deterred from operating in the city.
If a tax could target only retail units on a street, that might make it a fairer option, but the current legislation doesn't incorporate such flexibility.
I think there are better options to achieve the same aims, rather than a tax hike:
To lobby for a greater fraction of the business rates raised in Cambridge to be retained in Cambridge. One way we can do this is using evidence, such as that in the EEDA Cluster Report to argue for national investment in the area.
A mechanism the government is introducing called an "Enterprise Zone" designation, allows any increase in business rate income to be retained locally. Cambridge should certainly make an application for such designation.
To elect better local councillors and where there are problems with things like policing, streetlighting, public toilets, and street cleaning (as there are in Cambridge) demand that they address them, using the resources we already put at their disposal. Love Cambridge has the potential to co-ordinate the lobbying of the councils on behalf of those with an interest in the city centre, but so far is not doing so.
Love Cambridge is not under democratic control. If it was allowed to raise taxes there would be taxation without representation. Love Cambridge is also not subject to Freedom of Information law, and has refused to voluntarily comply describing it as "undue bureaucracy". I suspect council officers empire building may be behind these proposals; they of course would love to be able to raise and spend taxes without the inconvenience of pesky elected councillors getting in the way.
See Also