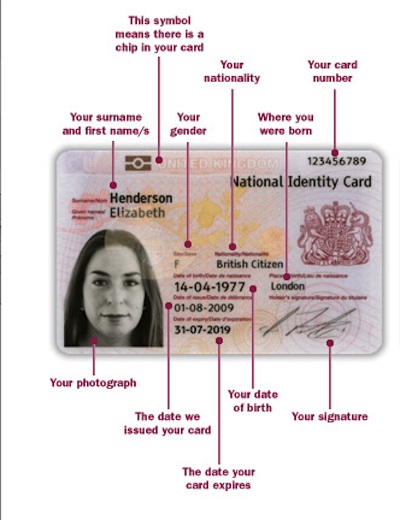 After the formal part of a hustings event held on the 10th of February I, along with Tim Green, Martin Lucas-Smith and others had the opportunity to ask Labour Parliamentary Candidate Daniel Zeichner about his position on ID Cards. In a previous article on my website I stated my opinion that a vote for Mr Zeichner would be a vote for the current government to carry on as it is – including pushing ID cards and the national ID database; responding in the comments Mr Zeichner wrote:
I have argued for changes to the policy on id-cards [...] I would characterise my position as certainly wanting a Labour government, but a better Labour government, and one which I think many in Cambridge would support.
I was surprised to see Zeichner say that he has argued for changes to the government policy on ID cards as in June 2007 I watched him defend ID cards at a No2ID meeting at Parkside; there he appeared to me to be taking a position indistinguishable from that of the Government. He has written to me to explain his contribution to that meeting as being due to him explaining the governments position rather than expressing his personal agreement with it, but didn't enlighten me as to what he personally thinks. I wanted to find out exactly what his stance is and how it differs from the Labour Government policy.
When asked to clarify his views Zeichner stated that he thought ID-Cards were essential to tackle immigration and illegal working by foreign nationals. He said that neither he nor the Government had any intention to make them compulsory. I pointed out that the government was making ID Cards compulsory for increasing numbers of people, including many foreign nationals. The fact that UK citizens wanting to travel, and so needing to renew their passports, would find themselves being added to the national identity database was also put to Mr Zeichner. It was argued that requiring those applying for new passports to be placed on the national ID database amounted to a degree of compulsion, or at least forcing people to choose between travel or an entry on the national ID database.
I asked Mr Zeichner why passports were insufficient for tackling immigration, and how an ID card would be better. Martin Lucas-Smith asked Mr Zeichner if he had any argument for the use of ID Cards outside of the limited areas he had mentioned of immigration and foreign nationals working illegally. In response Mr Zeichner essentially said "no", it appeared he had simply not considered the fact that the ID Card and associated database is a multi-use system which goes far beyond the functions of a passport / visa.
I raised the range of new ID Card related offences, including hefty fines for those who fail to tell the passport and identity service of changes in their personal details; Mr Zeichner tried to laugh this off as an irrelevance. I suggested that if Zeichner didn't want to see ID cards used in other areas such as health, policing, or local government then he and his party ought consider legislating to prevent those organisations requiring the cards or using the database. Martin Lucas-Smith pointed out that allowing the card and database to be used by a wide group of public bodies would mean a large group of people having access to the database, potentially leading to security problems. The greater the number of individuals given access to the database the harder it will be to enforce restrictions designed to prevent the release of information stored on it. The more organisations able to change the information held on the database, the harder it will be to provide an assurance the information held is accurate.
Zeichner briefly raised the suggestion that ID cards can have a role preventing terrorism, but didn't explain how they would fulfil that role or answer points noting that terrorist acts are committed in countries with ID cards.
Talking about the national ID database, Mr Zeichner said he worked in IT (he's been a "political officer" for the trade union Unison since 2002), and thought that databases were now a fact of life, he cited the information which supermarkets keep on those using loyalty cards. I argued that having one national state run database was very different from databases held by companies, or even those held by individual arms of the state. I explained I didn't want to see all my eggs in one basket when dealing with the state, I don't want mistake by one agency affecting all aspects of my life.
Mr Zeichner said he was willing to look at the question of if there was a need for an ID Card and national ID database, and implied he hadn't considered at all the reasons for doing more than simply introducing a robust passport and visa system [which with exit controls I believe would enable immigration policy to be enforced]. Mr Zeichner is considering if he will support an ID Card system to be used for purposes other than as a passport/visa. When it was put to Mr Zeichner that Cambridge was a relatively liberal place with a lot of opposition to the increasingly oppressive state we have seen the current government bringing in he appeared to if not agree with the liberal sentiment, at least recognise it, and said he would try to reflect the views of Cambridge residents if elected.
Bringing our discussion on ID Cards and the national ID database to a close Mr Zeichner said that we were were putting forward an intellectual argument which wouldn't resonate well with those he meets on the doorstep; with "those who have trouble reading The Sun". He said such people, who he apparently feels will vote for him, have concerns about immigration and illegal workers, and support ID cards as a way to address their concerns.
When reminded of his strongly pro-government and pro-ID Cards speech at the June 2007 No2ID meeting Zeichner said he thought that the electorate would find the fact that he was prepared to get up and defend the government's position in a room of two hundred people holding the opposite view as a strength for someone standing to be the city's MP.
My View
It appears that Mr Zeichner is as yet unsure of the position he will take on ID Cards and the ID database if he is elected to represent Cambridge. I think that as ID Cards, the national ID database are key Labour government policies so even if he is personally wavering he will be likely, when it comes to voting, to support his party's position.
One thing to watch out for will be an attempt to take a nonsensical and inconsistent position such as that now taken by David Blunkett, the Labour Home Secretary who introduced the scheme in the first place. Blunkett's current stance is presumably aimed at pleasing everybody but amounts in reality to being at best indecisive or at worst misleading.
I don't think we need, or can afford, a national ID card system and a national identity database. I do not think that money and effort spent on those extravagant national projects is best targeted to keeping us safe and enforcing immigration laws. I am very worried by the increasingly oppressive nature of the UK state.
Aside
During the debate itself a member of the public asked what the candidates' core political beliefs were. After Julian Huppert had espoused his commitment to liberal values, carefully name checking Shami Chakrabarti as he did so, Conservative Nick Hillman said: "we're all liberal minded people here, I think we were all at the No2ID protest the other day." Mr Zeichner though certainly didn't attend the protest against Home Office Minister Phil Woolas' planned visit to the Cambridge to launch ID cards for foreign nationals. I want to see Cambridge send someone to Parliament who will fight against the increased erosion of civil liberties by the state.