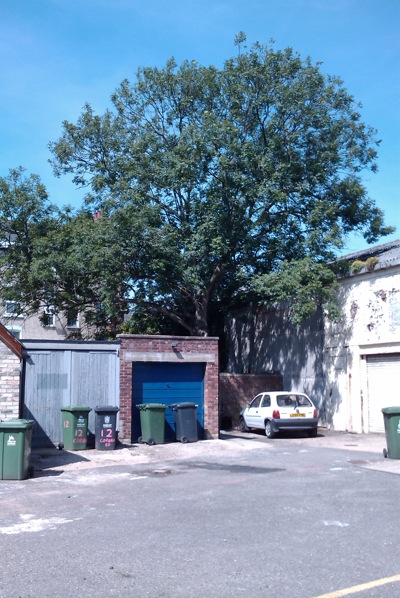 This ash tree in the garden of 16 Corona Road is now protected by a Tree Preservation Order. A planning application to redevelop the site from which photograph was taken is anticipated.
On the morning of the 19th of August 2009 I observed Cambridge City Council's planning committee (well the five of them who turned up) confirm a Tree Preservation Order on a mature ash tree in the back garden of 16 Corona Road. The report to the committee stated:
On 6 July 2009 the Council served the above Tree Preservation Order at the request of a ward Councillor who understood discussions to be in progress on the development of the adjoining land.
The planning officer corrected this at the meeting to say that the individual who requested the order was a councillor, but not the councillor for the ward. Cllr Blencowe queried if in fact the request should be treated as if it had been made by a private resident, rather than a councillor; the chair of the planning committee, Cllr Baker, agreed. The councillor involved was not named during proceedings, but Cllr Wright, Green Party City Councillor for Abbey ward was present in the public gallery for this section of the meeting. Cllr Wright's address, according to the Green Party website is 4 Corona Road.
The committee was considering the TPO because a developer with an interest in the neighboring property had objected to it being granted.
The City Council's chief tree officer was present at the meeting, she introduced the item warning councillors that placing a TPO on a tree didn't mean that felling it would require permission from the planning authority. Committee members had no questions for her and moved rapidly to a vote. Councillors voted unanimously in-favour of confirming the Tree Preservation Order. On seeing the result of the vote Cllr Wright smiled broadly.
I do not believe any malpractice or impropriety occurred in this case, but Cllr Wright being identified as the councillor who had requested the TPO, and making clear she lives very near the tree would have made the process more transparent and open.
The report also indicates that there will be a planning application coming soon for at least part of the site currently occupied by offices, shops, industrial tenants and parking in the area behind the houses on Corona Road, to the North of Mitcham's Corner and the West of Milton Road.