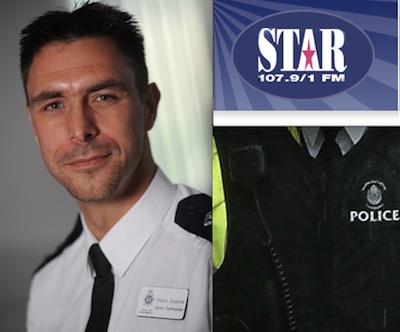 Cambridgeshire Police's Sector Inspector for the Ely area Robin Sissons – Again Featuring in a Star Radio Podcast.
Star Radio's regular podcast with Cambridgeshire Police's Inspector Sissons, the sector inspector for Ely, is a great route for finding out about how the police are operating.
One of the things that is particularly revealing is when there are differences between what Inspector Sissons says from his position close to the front line, and what councillors and police authority members charged with overseeing the police are told by senior officers.
In the latest podcast on the 28th of November Inspector Sissons, responding to a question I had sent in on Restorative Justice disposals, said:
We can only do it when the person has never had one before. Obviously we keep records on our crime system. The idea is this is the first entry into the criminal system, though there are occasions when we can give two or three. The general jist is that it is only the first time.
This directly contradicts what Deputy Chief Constable Feavyour told the police authority scrutiny committee on the 12th of September which was that no offender could have two goes at restorative justice within the force area.
Residents of North Cambridge have been informed that restorative justice has been used for someone who committed seven offences including six thefts from motor vehicles. Which appears to not only go against the "one chance" principle, but also exceeds the limits of what offences which Inspector Human, the force's lead officer on Restorative Justice, told me apply, he said there was an exclusion for vehicle related thefts.
What I'd actually asked for was some real life examples of the use of Restorative Justice authorised by the inspector since the last podcast. By asking for instances which he had authorised I was hoping to find out about the more serious offences which had been dealt with by restorative justice disposals, rather than through the courts. While he didn't speak about the more serious cases, he did give three recent examples:
One school boy punched another on a school bus. Inspector Sissons said that there was no police caution given which "would have affected him for the rest of his life" but an apology to the victim, the school and the bus driver. Inspector Sissons expressed his view that this was proportionate and that the two boy were friends again now. Asked what age the boys were Inspector Sissons said 13-14
A case of harrassment with a load of kids on someone's rooftop garden/terrace verbally abusing the occupiers when challenged. The victim just wanted the kids to go away, the kids delivered a letter of apology which they went round to deliver with an officer.
A public order case, a boy swore at someone in the street. Police found the boy was very stressed with exams and the behaviour was out of character, so a letter of apology was deemed appropriate and putting them through the judicial system doesn't make sense
Asked if restorative justice was being used mainly with young people, Inspector Sissons said yes. He said it was being used for low level crime, where previously the police had strict rules which meant they gave out police cautions, they were now able to take more sensible action which was also a lot quicker as it doesn't involve custody and formal interviews.
My Views
My view on these kinds of cases is that restorative justice disposals, or even possibly no police action at all (depending on the details), would quite possibly have been appropriate.
Inspector Sissons comment that a police caution affects someone for the rest of their lives though is the most worrying part of his comments here to me. I think society really has to change to allow people to reform. This will become increasingly important as it gets easier to find out about people's pasts as more and more information is made available online. If we don't accept people can reform then I think we will find it harder to rehabilitate people and reduce reoffending.
In many instances I suspect the way the system is set up leads people to accept cautions or to plead guilty. Often people are faced with the choice of either being kept in custody longer, or risking being given a custodial sentence or accepting a caution or pleading guilty. Understandably given those choices sometimes even if innocent people opt to keep their freedom. I see this as a major problem with our criminal justice system.
Also sometimes people, especially young people, are not aware of the potential consequences of pleading guilty or accepting a referral order on the rest of their lives.
One thing I particularly dislike is that even a arrest can have a negative impact on someone's life; for example visa free travel to the USA is conditional on not having been arrested.
I have written more about this subject here.
Police not seen on patrol.
I had also asked for Inspector Sissons' reaction to the British Crime Survey data published on the 17th of November 2011 which revealed 25% of people have never seen a police officer on patrol in their local area.
Inspector Sissons' immediate response was:
Blimey, 25%!
He then said that people don't see the police on patrol near their homes if they're out at work, or if they're in during the evening with their curtains closed.
He added that police resources are limited though, and the police generally patrol areas where crime is high or where there have been incidents. Inspector Sissons said it was a good thing not to see police officers on your street, and if he saw police officers down the street where he lives he'd wonder what was going on.
This subject was raised by Assistant Chief Constable Hopkins when he spoke to me following the Cambridgeshire Police and Crime Strategy Group meeting. His concern was an elected police and crime commissioner might request visible policing patrols even of low crime areas on the grounds that everyone pays their taxes, and everyone should get the service, even if this can be shown to not be a very good use of resources. I share those concerns and hope that a commissioner will be elected who the public trust to allocate resources in the way which is most effective.
Other Items
Politeness
A listener had asked about why the police often addressed people informally, for example as "mate".
I think this, and related questions about police – public relations are really key. If people think the police don't have any respect for them that is very damaging to police public relations, a point made by Newsnight reporting on the Guardian's interviews of those involved in the Summer 2011 riots. One of my big concerns is not just inappropriate and disrespectful language, but police officers lying and misleading people about the extent of their powers; particularly during stop and search and stop and account procedures, but in other interactions too.
I've been stopped when driving, and on asking why been told by the officer: "Because I've got the power to do so, sir" (That was in Cambridgeshire, but by a Hertfordshire officer) and was a response I was clearly unimpressed with, the follow-up when pressed of: "because of the security situation in Royston tonight, sir" wasn't any better . PC Steve Hinks I believe mis-represented his powers when he stopped me for looking over a fence in Chesterton.
Inspector Sissons said that the force's practice of being informal when talking to people had come from the previous chief constable Julie Spence. He said that Spence had wanted her officers to be seen as members of the community and thought that informal language was a way to achieve this. It was interesting Inspector Sissons was still referring to Spence's style of policing despite the fact the new, low profile, Chief constable, Simon Parr, being in post for over a year now.
Inspector Sissons explained that ex Chief Constable Spence wanted the force to be more familiar, and said the language was one part of that, another was putting officers names on their uniforms.
Cycle Lights
On cycling without lights Inspector Sissons claimed that his officers do stop cyclists without lights on sight. I think he might have been a little disingenuous here as, as I understand it, PCSOs do not stop cyclists; and there are few PCs on patrol. In Cambridge I certainly regularly see police officers ignoring cyclists without lights. I think this is clearly dangerous behaviour which the police should not ignore.
Crossing Borders
In non-emergency cases Cambridgeshire police deal with cases in their force areas even if other officers are closer; leading to delays. But in emergencies they do cross borders. Rural Crime
Focus is on prevention, but there is a scrap metal operation ongoing.
Policing in pairs
Police do operate in pairs in the evenings and at night when there is more violence, but during the day ought patrol singly.
Parking Tickets
The police have no targets for giving out tickets.
Overall
Inspector Sissons is clearly very good, but I think it's important to remember he's one of those the police trust to engage with the public.
Questions
The full note of questions which I submitted to Star Radio in advance of the November 28th podcast was:
Hi,

Here are some ideas for questions:

Can he give some examples of restorative justice disposals has he authorised in the last two weeks?

(We've had some textbook examples from him, but what about some real, recent examples – and by asking for what he as an inspector has authorised I'm wondering about the more serious cases in which restorative justice disposals might be being used).

Have councillors approved any uses of restorative justice where the local residents as a whole have been a victim of crime?

Are his team now dealing with most of their restorative justice disposals within the hour? Has "instant reparation" reached Ely?

If restorative justice is only going to provide a part of Cambridgeshire police's target of reducing the number of those arrested and taken into custody by a quarter, what's going to make up the rest? Can we have some examples of those the police are no longer going to arrest (and not 'dispose of' via restorative justice either).

How, if at all, is he expecting upcoming changes eg. the loss of the dedicated force helicopter and merging of the firearms, major crime, professional standards and scientific services services with Hertfordshire and Bedfordshire to impact local policy in Ely?

With so much of what was our local police force being merged with other forces, and with the National Crime Agency due to come into operation in 2013, what's really going to left of Cambridgeshire police? Will it just be neighbourhood policing? Is the increasing separation of neighbourhood policing from the rest of policing a good thing?

When members of the public complain to the police about "anti-social behaviour" what does he think they mean? Are they complaining about: crime?; fear of crime? Is "anti-social behaviour" a useful term to use? Does it add or detract from clarity of communication between the police and public.

Recently released [November 2011] British Crime Survey data says 25% of people have never seen a police officer on patrol in their local area. (Guardian article) Why does he think this is? Does he think patrolling residential areas is a useful activity for the police to be doing or do they have better things to do with their time?