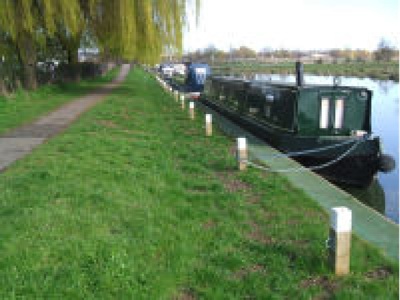 Illustrative design of potential mooring bollards; Cambridge City Council is currently consulting on if these should be installed along the riverbank on Midsummer Common, Jesus Green and Stourbridge Common.
Cambridge City Council is currently running a consultation on mooring on the River Cam. A River Frontage Management Questionnaire is available as a Microsoft Word document on the city council website.
I attended the West/Central Area Committee on the 4th of February 2009 and used the open forum section of the meeting to ask about the consultation. I asked who had complained about the mooring at "Jubilee Gardens"; the area next to Chesterton Road upstream of Jesus Lock and the Jesus Lock Bridge. The consultation document says mooring there is under consideration due to: "observations about the loss of amenity and visual impact caused by mooring at this point", I explained I wanted to know who had made those observations and how. I asked if it was a developer (13 Chesterton Road nearby has just received permission to be demolished and replaced with flats); I asked if it was local residents, I asked if it was the university, or a college. Cllr Smith had said the council had not planned a mooring review for this year, so I asked who or what the powerful influence was which could make the council jump like this and cause council officers to do so much work.
I have been lobbying for all consultations affecting Jesus Green and Midsummer Common to be made as inclusive possible. I said that the proposals for mooring posts all the way down the river had the potential to have a massive impact on the appearance of the area and suggested as many people as possible ought be made aware of the plans and given an opportunity to comment on them before the council goes ahead. I noted that in respect of tree felling, following a series of ludicrous officer-generated proposals the committee had obtained a commitment from Cllr Julie Smith only to go out to consultation with plans which had her general support before-hand so that residents don't have to spend time and effort responding to consultations for things which will never happen. I asked if Cllr Smith had approved the consultation document.
I pointed out that the council officer Julie Durrant has been rejecting responses sent to those not using the council's Microsoft Word document as a template for their consultation response; she has been writing:
"In order for the consultation to accurately record views in relation to information provided and questions asked, only comments expressed directly through the questionnaire will be included in the evaluation."
I suggested this position be reversed on the grounds the council's document was leading and restrictive.
I also asked why there was a constant state of flux in the council's position with respect to those living on the river.
Cllr Julie Smith's Response
Cllr Smith said that she had not said there would be no review of mooring policy this year; just that there would be "no major review" of mooring policy this year. She explained that "no major review" meant the same number of boats would be permitted to moor. She said the key thing being consulted on [in her view] was the proposal to charge wide-beam boats more.
She did not answer my question about who had prompted the council officer's actions. In the absence of any words from Cllr Smith on the subject I'll do my best to transliterate her body language while I was asking the question. I'll give it a go as: "I don't know; don't ask me, I don't know what prompts council officers to do things like this, they certainly don't take much notice of me, and I'm the Executive Councillor".
Cllr Smith said she had seen the consultation text before it was published, but she had not seen the picture illustrating the proposed mooring bollards. She said that the point of a consultation was that: "if lots of people don't like what's proposed then it won't be done".
Cllr Smith said that she had already, the day before – on the 3rd of February, overturned the council officer's decision not to include all representations in the evaluation of the consultation. She promised to take account of representations however they were delivered, be it via the area committee, facebook or any other means. Cllr Smith added a caveat to say that only genuinely interested party's views would be taken account of, and said large numbers of people from around the world joining a facebook group wouldn't be given any weight.
Cllr Smith gave an assurance that : "No one will be displaced as a result of this".
John Lawton
I wasn't the only member of the public to raise questions about the mooring changes at the area committee. John Lawton also asked a question, saying he was attending as members of the Friends of Midsummer Common committee could not be at the meeting. I was expecting a question about the bollards, but Mr Lawton took up another matter; he wanted to complain about the fact, with respect to fees, the consultation was all about discounts and the level of the fee did not appear to be up for discussion.
He said fees in Cambridge were very low compared to Oxford, where he said fees were charged in addition to a "community charge".
Cllr Rosenstiel corrected "community charge" to "council tax".
Cllr Smith said that this was only a minor review, so the question of the fee level was out of the scope of the consultation. She said a decision that a fee would be levied in line with the lowest council tax rate was a policy decision taken before her time she told the meeting she was "not aware of a weight of opinion saying we should deviate from that".
Cllr Smith said the only representation she had received relating to charges had been from the Great Ouse Boating Association, but as they were representing visitors and not residents she didn't give that much weight.
The council leader, Ian Nimmo Smith, stated that council tax could not be applied to boats as they are not "heritables". (Perhaps that's the right conjugation for something not being a hereditament) [Update: Cllr Nimmo Smith has been in touch to say he thinks he said "hereditaments" in the first place"]
Cllr Rosenstiel explained the position more clearly saying that as council tax cannot be levied on a boat the council had introduced the mooring license fee instead.
My Thoughts
There is one statement in the consultation document which I find particularly astonishing and arrogant:
The City Council has investigated the different types of secure mooring available and has concluded that the bollard outlined below is the most suitable type.
It would have shown more faith in consultees and the consultation process if a question of what type of mooring point is considered most suitable had been asked.
I think mooring rings are preferable to posts for :
Aesthetic reasons – I think posts will be ugly.
Security – for those living in boats; mooring rings can be located in ways to make them less accessible to miscreants (or cows) seeking to cast boats adrift.
Mowing – bollards will obstruct grass cutting
Small, squat, mooring bollards might be the easiest things for visitors, and those mooring temporarily eg. by the water points, to use though. I think we should provide good facilities for those arriving in Cambridge by boat as visitors. Some are calling for the reinstatement of "lions head" rings removed during the recent works on the riverbank; if they're still intact and judged likely to last that seems like a good idea to me.
I have lived very close to Jubilee Gardens for a couple of years and have spent almost the last ten years living within a few minutes walk of the area, yet I've very rarely never walked down on to it. (I watched the floating fashion show set up a year or so ago); often it feels more like intruding on a space that someone's made their own, their garden almost than other areas of the riverbank with resident boaters. If there are any particular problems such as noise, or taking up parking spaces for example then those should be addressed rather than mooring being banned. Perhaps one less boat moored there would allow others to enjoy the area more? Perhaps fishermen seeking bank-space are among those complaining about the "loss of amenity"; we don't know because the council have used jargon rather than explaining what's prompted their action?
I think the boats, with the bank of daffodils behind in spring are very pretty and provide a lovely backdrop to Jesus Green. I think it is great to see the river alive, and in-use; in my view the river without boats would be a very sad scene.
On the mooring fee; I presume the City Council gets 100% of the mooring fee, yet the City Council only gets about 11% of the council tax take. The desirability of changing this depends on if you think the city council does a better job of spending your money than the county council, police authority, fire service and central government.
If the council policy is to try and equate the mooring fee to council tax, then I think offering effectively similar exemptions and discounts as would be obtained by those living in a property with band A council tax would make sense and be consistent. I don't think charging wide-beam boats more on the grounds they cause more impact and loss of amenity (whatever that means) makes sense as the number of wide-beam boats is already controlled separately. Charging them more by equating the system to council tax, where those with a more valuable property pay more would I think be defensible; as would asking the boaters as a group how they would like to share the total "council tax/fee" burden between themselves.
Residential Moorings, Houseboats and Council Tax
The reason boaters elsewhere can be charged council tax is that unlike in Cambridge they are allocated a particular place to moor.
There are ways round this, eg. the council could charge itsself council tax for each stretch of the riverbank where residential boaters moor; it could then pass this cost onto the boaters via the mooring license fee. Such a scheme might well involve a valuation, based on the cost of buying the moorings on the open market, which may result in a higher level of charge than is currently applied; but then coming up with the valuation is a hypothetical exercise as a riverbank spot on Jesus Green, Midsummer Common or Stourbridge Common is pretty much priceless.