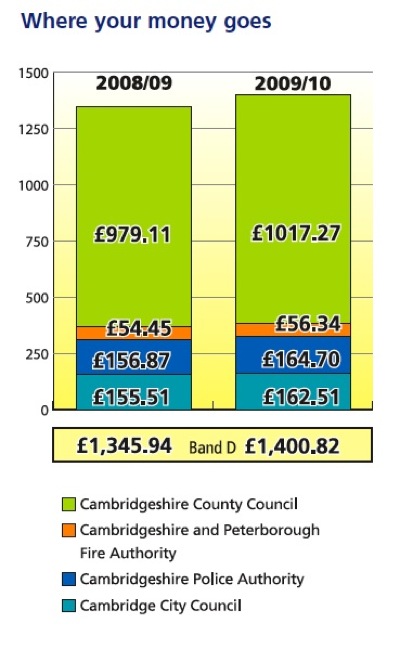 Cambridge City Council Keeps 11.6% of the Council Tax It Collects
I have just written to Cambridge City Council's web-team and the major party leaders on the City Council:
Dear Cambridge City Council Web Team,

I would like to suggest that Cambridge City Council does more to make the 2009/10 "Council Tax Leaflet", which is available from the County Council website, accessible to Cambridge residents via the City Council website. This could be done either by hosting a copy of the document, or providing a link to it on the County Council site at:

http://www.cambridgeshire.gov.uk/council/finance/tax/Taxleaflets.htm

This leaflet explains how the council tax, which people pay to Cambridge City Council, is spent. Many electors in Cambridge don't get sent the leaflet such as:

Students
Those living in properties classified as HMOs by the Local Government Finance Act where the landlord is liable for council tax.
Those living in shared houses not classified as HMOs, but where the council (illegally in my view) deems the landlord liable for council tax.

In the latter two categories individuals pay council tax but are not informed how it is spent. I think it is important this information is made easily accessible to all Cambridge residents. (These people are also disenfranchised when it comes to many related consultations eg. that run on the level of the policing precept). In Cambridge I estimate this affects around a quarter of the electorate. It is not just those who pay council tax directly who get a say in the way the councils run and who need to be informed about the council's spending.

There are regulations which set out what has to be included in the document and how it has to be distributed. That there is no statutory requirement for council tax collecting authorities to place the information in the council tax leaflet online is in my view a serious deficiency in the law. Despite this many local authorities do place their council tax leaflets on their websites.

The city has a very high level of population turnover and making the document available online would ensure it is accessible those residents who arrived after distribution for the year. I expect those wishing to refer to it later in the year may find it easier to find it again online that to remember where they filed it (if they kept it at all). I was looking for an electronic copy of this leaflet recently, and would have found it much quicker had it been available on, or via the City Council website. As it is the City Council which collects the council tax, it is the City Council which I look to for details of how it is spent.

I have been campaigning for over two years to get this leaflet published online. (Leader of the Council Ian Nimmo-Smith blamed problems with rights to photographs for the failure to put the 2008/9 document online when I questioned him about this at the June 2008 North Area Committee ). It is fantastic to see that the whole document has now been placed online by someone – The County Council. (The Fire Authority publish pages relating to them online, but not the whole document).

I think if Cambridge City Council either linked to, or hosted a copy of the document, on its website it would help those trying to find information on the council's finances and what the council does with the Council Tax is collects. The finance information on the council's webpages links straight to the annual report and statement of accounts; which have their place but the council tax leaflet is, by design, a significantly more accessible and easier to read document. As well as the council's finance pages, the council's "About Council Tax" page would be another location from which a link to the document would I believe be of benefit.

On a related point the council has removed its "financial publications archive" from the web. In order to assist those trying to make sense of the council's current financial documents I suggest this page be re-instated.

–

Richard Taylor
Cambridge

http://www.rtaylor.co.uk
Cambridge City Council Income
Breakdown of Council Tax Vs Government Grant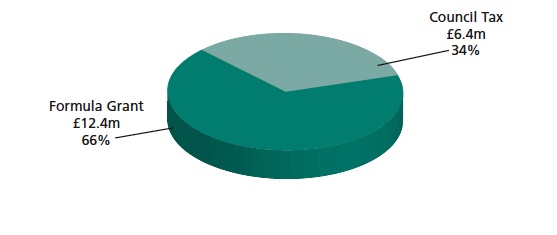 The key pie-chart showing the contribution council tax makes to Cambridge City Council's income fails to show how much other revenue is generated locally, from commercial property rates, housing rents, commercial rents, and other council activities. Much of this money is pushed round in circles – to central government and back – which adds to the complexity of local government finance.