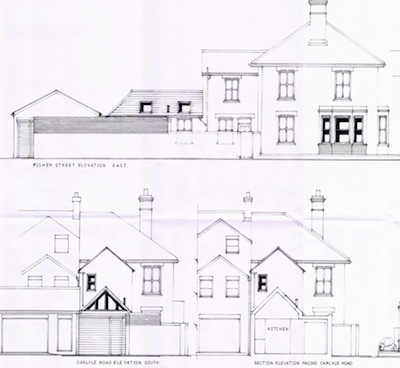 One Searle Street Plans
Yesterday I saw a Cambridge City Council notice on Searle Street stating an application had been made to the council to demolish part of the current extension, and the garage, at 1 Searle Street and replace it with a new building.
One Searle Street is a lovely property in a prominent location, situated opposite Alexandra Gardens on a popular cycling and walking route between the residential areas of North Cambridge and the City Centre.
I think that we should only interfere with people's right to do what they like with their own properties in exceptional circumstances. Sometimes though people are selfish and that's one reason we need planning controls on extensions such as this. A previous, October 2011, application proposing a loft style bedroom over the replacement extension and a balcony.
In the current proposal, from applicants who describe themselves as "Dr and Mrs Arthur Hibble", the pitched roof is now half as tall as proposed when it would have contained the loft bedroom. My view is the proposed extension is still slightly too tall and "slightly" matters in this context, due to overbearing and enclosing the rear of the properties along Searle Street. I think a slightly inclined roof over a single story extension sloping away from the main house would be reasonable, but the proposed pitched roof is excessive for the area between the house and garage.
Personally I think a slightly taller structure would be reasonable further from the main properties, over the garage area. I think a study, bedroom or other loft room over garages at the rear of the gardens of properties on both sides of Searle Street could be designed well. There's an opportunity here not only to make something which blends in almost invisibly into the scene; but also as an alternative option, to create a fabulous positive addition to the city which is of its time, if we had someone who wanted to put forward such a bold scheme I think councillors ought indicate they'd consider it with an open mind.
One benefit of a room over the garage area on the site could be increased overlooking of the street and green space, making the area feel safer and potentially reducing crime. As it is the proposed development does not improve the overlooking of this area, allowing the development as it is would be an opportunity missed.
I think that we should have a system where councillors consider the rear of all the properties on this side of Searle Street which back onto Carlyle Road, we should have a more proactive planning system, we could give outline planning permission now for what we think would be acceptable, and what wouldn't be, along the stretch, with a view to getting consistent and coherent development.
One way to achieve this under the current system might be letting councillors make a certain number of applications, in the public interest, without fees being charged.
The loss of the garage is another issue raised; the garage area is to be replaced with a workshop / utility space into which a bike appears to have been nominally drawn on the plan. Personally the lack of parking would make the property unattractive and impractical to me, but I think its up to owners largely to make their own decisions weighing up all the economic and practicality factors; I'm astonished that there are multi-million pound houses in Cambridge without parking, but that's the city we live in. It may well be that the garage here has become impractical and too small for modern cars in any case; that's certainly the case in many places around the city and making better use of the space appears logical.
If there is a loss of a parking space (and I'm not sure there really is given the small size of the garage) then there may be an impact on parking, which is something for councillors to consider as it has a knock on impact on the area. Councillors need to be properly informed about what exactly is being lost, and also on what, if any, process could be invoked to change that property's eligibility for on-street parking permits (simply because so often I see councillors discuss these matters from an uninformed position). I note the application form states the current garage/workshop is "unworkable". My view is that decent cycle parking is more important, and we shouldn't create a situation where there's a patchwork of entitlement to parking permits based on the history of properties.
In general I think that we have a lot of poor quality accommodation in Cambridge and we need to make it easy for people to improve their homes and make them more suited to modern living; this is one reason why I oppose the extension of conservation areas into the suburbs.
While a new build will almost certainly be built on a concrete slab, given we know from North Area Committee on the 26th of July however the neighbour consultation deadline is the 27th of July so presumably it may have to wait until the 27th of September meeting. The council has an eight week deadline for making planning decisions, after which as I understand it applicants can appeal on the grounds of "non-determination"; the council's deadline for this application is the 12th of July 2012.
Local Labour Councillors Don't Vote
Two Arbury councillors don't vote on planning matters. Cllr Todd-Jones doesn't because he has a principled objection the way it is done and Cllr Carina O'Reilly doesn't because meetings are held too early in the day for her to get back from work to attend and she prioritises her career over her public responsibilities as an elected representative.
Neighbouring Property Put Up For Sale
On the 6th of July 2012 the neighbouring property was put up for sale for £625,000.
The details don't mention the planning application under consideration (often even when properties in Cambridge back on to new development sites this isn't mentioned). A resident of 3 Searle Street wrote:
I am very unhappy with this application for the following reasons:

Immediately on my boundary and adjoining my house and garage.
High wall (approximately 2.5 meters higih) running the full length of my garden (approximately 7 meters long) = 17.5 square meters of solid wall
Loss of morning light
Loss of enjoyment in my home and garden
Large expanse of roof running nearly the full length of my garden
Unchanged steep pitch of roof
Bulky structure (from my side)
Over-development of site – a precedent would be set for in-filling between Searle Street and Carlyle Road.

…
My home and my outside space would be totally overwhelmed by the scale, length and height of this planned extension.
Obviously we don't know what's driving the sale, but given the objection to the planning application just a few weeks before, you have to wonder if the two are linked.
Raw Documents