An application to put a front dormer window in the roof of 7 Pretoria Road, and build a rear roof extension, was considered at Cambridge City Council's North Area Committee on the 27th of August 2009. The house is in the recently introduced "De Freville Avenue" conservation area. Other houses on the street light their loft extensions with Velux windows at the front; windows which are flush with the roof and do not significantly protrude from it. The applicant would probably have followed his neighbours had it not been for the guidance associated with the new conservation area which he believed was saying that building out to create a dormer was more appropriate.
The applicant noted that he had followed the conservation area appraisal in designing his proposed extension and thought what he was proposing was in line with it. The conservation area appraisal states that dormer windows are preferred over Velux windows; a statement which was described as being "contrary to normal guidance". Cllr Boyce had asked for the application to be brought to the committee so that councillors could resolve the conflicting messages in the council's policies.
The council's planning officer told councillors that they would not in-fact be resolving this conflict as all they would be doing is deciding this particular case. The officer advised there would be no need to change the conservation area appraisal even if they made a decision which went against what it was saying.
Cllr Boyce did not vote on the application because he knew the applicant. Cllr Todd-Jones did not vote for reasons I have published separately.
The remaining seven councillors all agreed with the officer's recommendation to refuse the application, with only Ian Nimmo-Smith giving his reasons why (councillors agreeing with their officers are not compelled to explain their vote). Cllr Blair did speak but only to comment on a minor grammatical error in the officer's report.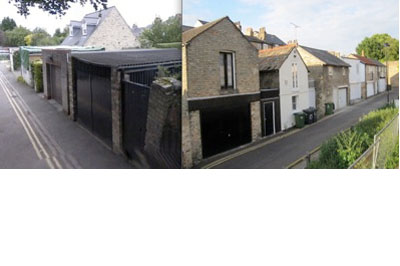 I think strategic planning is needed to in relation to areas of the city where it is appropriate to increase the density of housing. How will the evolution of places like North Street (left) into the likes of Salmon Lane (right) be influenced?
My Views
I agree a front dormer window would have been inappropriate on this property alone, but would like to see clearer strategic planning, looking at areas of the city and deciding if and how the density of accommodation ought be allowed to be increased. It may be that streets such as this are appropriate for a third story, and front dormers are the best way of ensuring that the accommodation on that third story is of high quality. If that was decided then change has to start somewhere. More high density city centre housing is in my view a good way to make housing more affordable and to increase supply. I think lack of affordable quality housing has to be given more weight in planning decisions and I would like to see more city centre development in preference to the sprawling new estates being built in fields in the middle of nowhere.
I have not seen the existence of conservation areas really affect planning decisions in the north of the city. When applied to areas such as parts of Chesterton or the De Freville Avenue area they simply push the costs of home ownership up and will I think result in a more divided city as cheaper rental properties will be less likely to be found in those areas in the future. People will also be forced to move, rather than be allowed to adapt their homes to cope with their changing circumstances. I think the planning system, in the absence of a conservation area, is sufficient to preserve the essential character of the area. I, unlike the Liberal Democrats, am in favour of ensuring Cambridge a practical place to live.
I think councillors ought to have considered the front and rear works separately. The officer's suggested reasons for refusal (which councillors agreed with) did not include any reasons relating to the rear roof extension. It was reported to a recent East Area Committee that the planning inspector criticised the council for not separating elements of applications.
The lack of clarity in the council's policies ought be corrected, it has already cost this applicant significant amounts of time and money, there is a need to ensure others do not suffer in the same way.
I think that all councillors have a duty to explain why they are voting as they are when they make such important decisions which have huge impacts on people's lives. I was very unimpressed by those councillors who chose not to speak and explain their views.
See Also