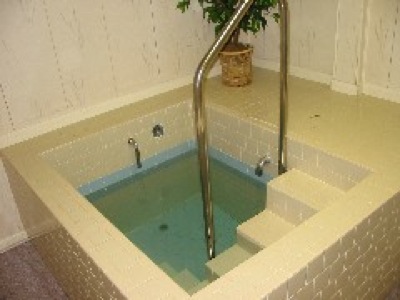 The installation of a Mikvah at 37A Castle Street was one of three planning applications considered by the West/Central Area Committee on the 20th of August 2009.
In Cambridge smaller planning applications which affect only one area of the city are decided at area committees. I observed the consideration of the following applications by the West/Central area committee on the 20th of August. I have reported on what happened below, personally I think the way this set of applications were dealt with highlighted many flaws with the way Cambridge City Council currently deals with planning applications at area committees.
37A Castle Street – Application for change of use from a Garage / Kitchen to a Mikvah (Jewish Ritual Bath)
5 Sherlock Road – Two story rear extension, roof extension, and and alterations to driveway/front garden.
18 – 18A St Peters Street - Application by St. John's College to build a new 3 bedroom block of accommodation and refurbish existing accommodation
Mikvah behind 37A Castle Street
Before this item was considered Cllr Rosenstiel made clear that despite his surname he had no interest to declare.
The city council's planning officer, Sarah Dyer, introduced this item, simply describing what was proposed.
Following the introduction a Mr Matthews spoke on behalf residents of the neighboring property. Mr Matthews started his presentation by referring to the fact he'd been on the TV show Dragon's Den. This is not the first time I have seen Mr Matthews appear in front of an area committee, he represented an applicant in relation to a planning item at a recent East Area committee too. I have no idea if he is a professional or simply someone residents of Cambridge like to ask to represent them infront of councillors (perhaps having seen his TV performance?).
I think that generally people are most effective and persuasive when representing themselves, and for those who don't want to speak or can't make the meeting the committee manager can read out a representation to the meeting. I would note that having a representation read out at a meeting is probably more effective than merely writing a letter of support or objection. Those Mr Matthews was representing were also present, but did not speak themselves.
Mr Matthews said that currently 37A Castle street was being used as a community centre, and this use was in breach of the current planning permission for the property. He said that the city council was in the process of investigating the use of the property and had not yet announced its conclusions or taken any enforcement action. He urged councillors to defer making a decision on this current application until the matter had been resolved.
The council officer's report and introduction made no mention of this key point. Sarah Dyer confirmed that what Mr Mattherws said was true, but advised councillors that it ought have no bearing on their decision, and did not prevent them from considering the application. I find this quite surprising, and feel councillors were being asked to make a decision without being in full possession of the facts; it also raises questions about Cambridge City Council's enforcement of planning decisions. I would have thought at least an update on the progress of any investigation would have been in order.
Mr Matthews also claimed that some sections of the Jewish community did not want to see another Mikvah in the city, claiming the area was already well served. Councillors rapidly dismissed that as an irrelevant point.
Councillors discussed the loss of the garage, and the potential increased pressure this would put on parking in the area. Cllr Dixon said the council had a policy of not objecting if people wanted to remove garages from their homes (the Liberal Democrats appear to promote impractical housing).
Councillors discussed the potential for extra travel to the site, they noted the applicants claim that the facility would only be used about six times a month, by one person at a time, but expressed caution that what is said in an application does not become a planning condition. The planning officer advised that a planning condition restricting the frequency of use would not be practical to enforce.
Councillor Dixon questioned why cycle parking had not been considered, the officer replied that there was a gated alley way leading to the door to the proposed bath, and a users bike could be brought through the gate and left securely on the other side of it.
Cllr Dixon had looked up the original planning conditions on the site which also were not present in the officer's report. The officer deemed these also to be immaterial to the application. Existing planning conditions prevented the garage / annex from being used for purposes unconnected with the main house.
Councillors eventually decided that they wanted the area to remain residential, they said they were not happy about the impact of the proposed bath on the neighboring properties. The committee's chair looked to Cllr Dixon, saying that he was the only member of the council's main planning committee present, to formulate a coherent and defensible reason for objection. He suggested: "to protect the amenity of residents in the area". He stated that this could be based on section 3/4 of the local plan, a section which is entitled "Responding to Context". Councillors then rejected the application via a vote in which three voted to refuse and two to approve and one abstained.
As with many planning applications, a number of those present left happy, and others left dismayed.
5 Sherlock Road Extension
After a brief introduction from the officer, a statement from the resident of no. 7 Sherlock Road, a Professor Thompson, was read to the committee. He expressed concern that his property would be overshadowed by the proposed development. He said he understood that no.5 was one of the smallest houses on the street, and saw the need for an extension, he just thought what was proposed projected too far back. He also wanted to correct a statement in the officer's report which said: "what was formerly a garage towards the south eastern flank has been converted and a new kitchen created with a rear facing window being circa 1m from the common boundary and a door adjacent to it." He pointed out he had lived in the house for quite some time and had not put the kitchen in its current location himself, he had bought the house in that configuration. He suggested the applicants were unaware of the location of his kitchen, and had wrongly assumed that bit of his house was a garage.
The applicants were present in person, one of them spoke to explain they were trying to create a six-bed house, of which there were few in the city, he cited statistics illustrating very few larger new houses were being built.
Cllr Zmura referred to her experience as an alternate / substitute member of the city's central planning department and said she had there been advised by officers that the local plan gave someone a right to light, but not a right to sun. This opinion was not shared by other councillors, with Cllr Dixon pointing to the local plan which states new extensions should not "unreasonably … overshadow". Councillors eventually got round to determining that what they were being asked to do was make a judgement on "reasonableness".
Councillor Dixon was again asked by the chair to comment on the issue of sunlight / daylight based on his experience of the central planning committee. Cllr Dixon appeared irritated by the fact the other councillors were looking to him too much for guidance and declined to answer. At the north area committee, councillors regularly look to Councillor Blair for guidance, as there she is the one who is also a member of the central planning committee. The planning officer referred to a "4m rule of thumb" – that generally one building extending 4m behind another was OK, but pointed out that in this case the buildings in question were rather close.
Cllr Rosenstiel stated that he had looked an aerial photo of the property on google maps and had even got a google streetview print out with him. He noted though that these were essentially useless for informing him about the main point under discussion – the overshadowing. He reclined back on his chair, with his hands cupped over his ears, announcing that he was "all ears", encouraging his fellow councillors to persuade him one way or the other. I got the impression the applicants were not impressed by Cllr Rosenstiel's contribution and antics.
Cllr Smith then said she too didn't really have a good conception of what was proposed, having not been to visit the backs of the properties. She said she had knocked on the front doors earlier that day, but had not been in. Neither Cllrs Smith or Rosensteil made clear if they had been into the planning department to see the full plans. One advantage of a central planning committee is its members regularly visit the planning department, and have some experience of interpreting plans (I have suggested that "artists' impressions" as well as plans ought be encouraged, as often councillors on area committees claim they find it hard to visualise what is proposed.
Cllr Kightley said he had visited the properties, and he apologised for not encouraging his fellow committee members to do so as well.
The suggestion was made that a site visit would be useful. The planning officer explained that a formal site visit could be arranged, with appointments being made to see inside both houses. Officers would accompany councillors to the site. The suggestion was made that the application ought be deferred to the next meeting – in about two months.
The applicant had explained that this application was itsself the end result of months of negotiations with planning officers and was clearly not happy with that suggestion. (While applicants and objectors are not allowed to contribute to the deliberation of their applications they often exert an influence though exaggerated facial expressions, and heckling, typically heckles to correct points of fact are allowed. In this case the applicant repeatedly reminded councillors that the element of his extension which they were considering might unreasonably overshadow his neighbour's kitchen was only single story).
Cllr Kightley, the meeting's chair, asked for the officer's advice on if the committee could refer this application to the council's central planning committee for a decision – on the grounds that the delay would be too great if they waited for it to return to the next West / Central meeting. The officer said this was impossible. Cllr Kightley asked what the impacts would be if councillors did not make a decision. The initial officer response was that there would be none, as the target date for decision on this application had already past. She advised councillors that it would be better to wait and make the right decision, rather than make the wrong decision.
Councillors continued to deliberate in an unstructured manner for a few minutes before the officer remembered that there would be an important consequence of not making a decision – that the applicant could appeal on the grounds of non-determination. Cllr Kightley chastised the officer for not mentioning that when he had asked.
Cllr Dixon suggested a short, two minute adjournment of the meeting so that councillors could talk to the applicant. There are strict rules about contributions to planning meetings, which sometimes, when it suits councillors, they follow to the letter. Here Cllr Dixon was essentially trying to find a loophole to allow the applicant to talk with councillors. Cllr Dixon was struggling to get support for his proposal, so he explained that he wanted to ask the applicant if they would appeal if they didn't make a decision, this resulted in Cllr Bick supporting the proposal. Cllr Kightley was clearly not happy with this proposed abuse of due-process and did not allow the proposal to go to the vote. Councillors ummed and erred for a few more minutes, with one saying: "We don't have enough of a plan, we're just guessing"; before the chair called a vote on if the application ought be decided at the meeting or deferred.
Three councillors voted to defer, two to make a decision there and then and one abstained.
The applicants walked out, exclaiming : " It's ridiculous". I don't think they'll be voting Liberal Democrat at the next election (if they realised they were in-front of an all Liberal Democrat committee).
The Liberal Democrats support localism to an absurd degree where it becomes very expensive and makes for bad and often undemocratic decisions. I think we need to reduce the number of layers of government and ensure decisions are made at an appropriate level.
I think the full [informative] plans and representations ought be available online for councillors and the public to access.
One thing I've learnt watching the Liberal Democrats in Cambridge is that you cannot trust their internal process for selecting candidates, you can't put your cross next to the Lib Dem logo (or any other party's logo) without looking at the individual who's standing and asking if you'd be happy for them to take major decisions on your behalf.
The area committee system needs reform; I want local public meetings, but the don't think the current system is acceptable.
St. John's College – Accommodation 18 – 18A St Peters Street
Mr Catchpole, A resident of Honey Hill mews spoke to oppose this application. He was only opposing the new build element, which he said was too high (at three stories) and he thought the proposed wood cladding would be impossible to maintain given its intended location.
Jenni Neilson, apparently an ex Cambridge City Council employee, spoke on behalf of St. John's college. She was accompanied by two other people who appeared to be with her. She responded to Mr Catchpole's comment about the height, saying that the proposed flat roof would slope, and this would have the effect of reducing the appearance of height. She made no attempt at all to explain the virtues of the proposals to councillors; the only thing she did point out was that it was to be built against a blank gable end.
Cllr Bick was the first councillor to speak, he condemned the proposed new building; describing it first as "out of kilter" then "too high" and finally: "very ugly".
Other councillors complained the flat roof was "very 1960s" and not in-keeping with the area. Cllr Kightley stated the proposed building was "too tall and too square", and removed the view from existing residents.
My notes say one of the reasons councillors rejected the application was "policy 8/13″, but on looking it up that referred to the "Cambridge Airport Public Safety Zone", so can't possibly be relevant (the chair and planning officer agree the exact wording of the refusal after the meeting, so a clear statement is not made in public). Other policies relied on were 4/11 Conservation Areas, 3/10 Sub-division of Existing Plots (councillors described this as an extreme example of building in a garden), and 3/4 Responding to Context.
The final vote was all six councillors against.
Councillors made clear it was only the new build element they objected to, and indicated they would have not objected to a proposal simply to refurbish the existing accommodation.