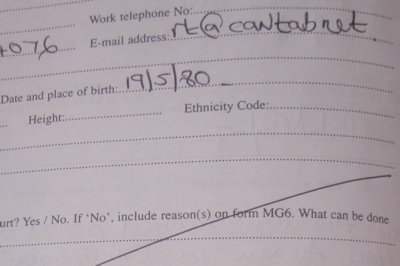 Cambridgeshire Police can't cope with leaving questions on forms blank, even when they are irrelevant.
I attended Cambridge City Council's North Area Committee on the 12th of November 2009. During the policing agenda item members of the public are given the opportunity to ask questions of the police and make suggestions. Councillors then vote on the local policing priorities.
I used my opportunity to speak to question if the drop in crime levels in the policing report presented to the meeting reflected a true reduction in crime. I expressed a concern that people are deterred from reporting crime because the police focus too much on those reporting crime, rather than those committing it. I suggested to councillors that this was a clear matter of prioritisation and therefore something they could attempt to influence. I said I felt our local police's tendency to investigate and harass those who have reported crime, perhaps in a deliberate attempt to deter such reports, is inappropriate.
I have previously drawn attention to the fact that some of the problems come right from the top, from the Chief Constable; she advocates and defends an approach allowing, in certain situations, the police turning up and arresting everyone indiscriminately. During an interview on BBC Radio Cambridgeshire a caller complained he had been arrested by her officers after he had called them to report a crime. In response the Chief Constable said: "unfortunately it happens; sometimes we have to round everyone up and process them through our cells". I have just this afternoon been called by an elderly lady who was arrested after calling the police – she got in touch with me as she was shocked, not only by her arrest, but at the conditions custody which I have written about before.
At the area committee meeting, where I was asking for less priority to be given to dealing with those who report crime and victims of crime, I gave the example of Cambridgeshire Police's procedure for those giving statements. I asked why the police needed the height and town of birth of someone reporting a burglary. I also asked why those who decline smart-water are still visited by officers who request a signature to say that the smart-water has been refused. I said I can understand why people don't want to come into contact with the police and don't want to report crime. I suggested the police's resources were being misdirected.
Police Response
Sector Inspector Steve Kerridge responded. He specifically defended Cambridgeshire police's procedure of asking those reporting burglary for their height and town of birth as being smart policing and said it was good to collect detailed information.
In response to my suggestion that the police focus more on those committing crime; he said the police were doing that, and were moving away from tackling crimes like burglary on a geographical basis and putting more emphasis on targeting the people involved wherever they were. He said there was a balance to be struck with respect to how much contact the police have with those who have reported crime.
He, as he and his colleges have started to do routinely at area committee meetings, tried to dismiss my comments as being merely my "perception".
Councillors' Response
No councillors responded in public. As with other suggestions made in this section of the meeting my suggestion of shifting the balance towards prioritising investigating crime and dealing with criminals over giving attention with those reporting it was dismissed unilaterally by Cllr Blair who was attempting to direct proceedings from her seat next to the meeting's chair Cllr Armstrong.

My Experiences
When I spoke at the area committee meeting I did so in general terms; based on information from a range of sources. My own recent experiences have also informed me that the problems I raised are current and real.
In early October I came home to find a window smashed, a door open, and computers missing from my house. I called the police and they came round a few hours later. The police also sent a scenes of crime officer who took away bits of broken glass, and a cigarette-end and looked for fingerprints. I sat down with the officer and she asked me questions as she filled in some forms. Up to that point the police response appeared to all be exactly as I would expect and hope for. I was shocked to be asked my height and town of birth. I asked why they were needed and was told that they were questions on the form so had to be filled in. I refused to give the information.
The inability to see a form and not fill it all in is a serious problem throughout Cambridgeshire police. I support the force not using the government's ContactPoint database (The national ID database for children), but their reasoning is not a principled objection, but that their officers are unable to leave the elements of the input form that don't apply to them (eg. the elements intended for teachers and doctors) blank. (more)
I was eventually handed a statement and told to sign it. I objected to being told to sign it. I didn't think I was doing anything out of the ordinary when I pointed out a number of major inaccuracies and misrepresentations in the statement, and said I wasn't prepared to, as was being suggested, sign a form with elements left blank for the officer to complete later. I offered to write my own statement, in the style indicated, and send it in. I was surprised when the officer was surprised by this; she said it was the first time anyone had refused to sign a statement which she had written. I didn't dare ask if it was the first one she'd written.
A few days afterwards I was visited by two, initially quite intimidating and unpleasant, detectives who said they had come to investigate me. Just to clarify: I had reported a break-in at my home, and the police sent detectives to investigate me. DC Charlie McCabe explained he and his colleague had been sent to investigate me as I had not signed the statement which had been written for me on the day of the burglary. To their credit the officers did get a lot less unpleasant and aggressive within a minute or two; once I had explained why I had refused to sign the statement.
The detectives then turned their attention towards the burglary. They insisted on writing out a new statement (the detectives didn't ask the irrelevant questions about my height), and despite a couple of relatively minor problems (which I pointed out) under some degree of duress, I agreed to sign the statement. Commendably the detectives also explained that should the case get to court they would return for a victim impact statement (a useful process which can help ensure Magistrates have the full facts available to them which the original officer completely neglected to mention). They appeared genuinely committed to trying to solve the crime and did some investigating there and then.
Since then the detectives have called me a couple of times to up date me on "progress". They have checked the serial numbers of the computers against cash converter type shops and their databases; and they have obtained DNA from the cigarette end, but they've not yet had it analysed. While I understand what the police are doing here, and if they had anything to actually tell me such as if they'd found the computers, or if they'd caught someone then I'd be interested. It strikes me as a waste of a detective's time to keep calling people just to say there's been no-progress and to ask if I've found anything else out to help them in their investigation.
It's not only the detectives; but a pair of PCSOs were tasked with trying to give me smartwater. They phoned me up asking if I wanted it (describing it as being "like DNA"), I politely rejected the offer. Despite me saying I didn't want smartwater they still came round and ask me to sign their notebook to confirm that I had declined the offer. I was astonished; I explained the ludicrous series of events since I reported the break-in and asked them to go-away.
This isn't the first time I have been personally investigated by Cambridgeshire police recently; they also investigated me for reporting, and photographed, those riding scooters and mini-motos on the roads and pavements around where I live. I don't think we should be allowing very young children – aged about 8 – to drive motor-vehicles at speed around the roads and pavements of the city. (See also What's The Problem With Mini-Motos?)
Police Should Visit Every Victim Says Home Secretary
It was reported in this week's Sunday Times that the Home Secretary, Labour MP Alan Johnson had said: "My gut reaction is that a victim of crime should be seen and should be spoken to. " I fully agree with his sentiment but think we have to ensure the police are allowed to exercise professional judgement; I would not like to see the police move even further towards focusing on those reporting crime rather than on the criminals.