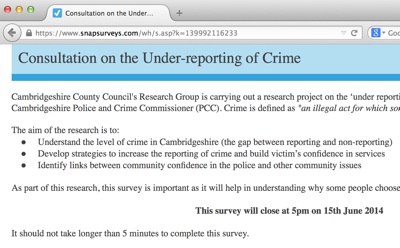 Cambridgeshire's Police and Crime Commissioner Graham Bright has commissioned Cambridgeshire County Council to run a research project on the 'under reporting of crime'. As part of this work a public survey has been launched, which is available at:
I think our Police and Crime Commissioner is tackling an important issue here. When I see reports that the rate of recorded crime is reducing I wonder if people are getting less likely to report crime and if the police are becoming less likely to formally record those reports they do get. It's great to see our Police and Crime Commissioner trying to gather input from residents on this important matter.
Despite all his talk of using technology our Police and Crime Commissioner here in Cambridgeshire is behind the curve when it comes to making it easy for people to report crimes. Elsewhere in the country Police and Crime Commissioners have introduced online systems for crime reporting.
One such system can be seen at
Personally I would be more likely to report low level crime online than I would by phone. I don't want to tie up a police phone operator with something minor, not even on the non-emergency 101 number. Currently I report minor matters such as obstructive pavement parking via my local councillors, but would welcome a direct route to enter the reports directly into the police computer system.
On a number of occasions I have reported crimes only to find the police response targeted against me, rather than those responsible for the crimes. I have been investigated for reporting a burglary for example. This kind of targeting of those reporting crimes I think is a deterrent to reporting and something I would like to see the Police and Crime Commissioner address.
We often see the Police trying to direct people to report crimes to bodies other than the police; for example to Cambridge City Council. I suspect this is done to try and improve reported crime statistics.
Just yesterday in the Cambridge News we saw the police encouraging people to report crime to "Consumer Direct"; that was a particularly inept case, given that body has ceased to exist as of a couple of years ago.
There are many cases where it is not clear who a report of crime ought be made to; and if it is appropriate to report issues to a regulator, such as OFCOM, the Higher Education Funding Council, or the Charities Commission, in the first instance, rather than the police.
People have very different thresholds for contacting the police about crimes. Some will report a scam email or phone call for example whereas others will not.
I have seen variation within Cambridgeshire with the way the police deal with bank fraud. In some places the police refuse to accept reports of fraudulent transactions; directing people to just report it to their banks; elsewhere officers will accept, and investigate, such crimes.
Given my experience reporting simple crimes; I have had no confidence that the police would be able to respond appropriately to more complex crimes, with much more significant consequences on peoples' lives and health.
I have attempted to complete the survey; however found it hard to do so accurately due to the design of the survey; which for example asks how many times you have been a victim of crime in the last year; but then asks "Did you report the crime to the police?" rather than "In how many cases did you report the crime to the police?".
Cambridgeshire police appear to struggle with those reporting crimes they are not a "victim" of. One personal example was coming across a car seconds after it had been broken into. A number of police officers and staff were unable to comprehend they were talking to someone other than the car's owner.
There is also the problem of the police insistence on providing advice to those they consider a victim of crime. A Chief Constable has even been subjected to crime prevention advice after his car was targeted by thieves. A lack of proportionality and common sense in the way the police deal with those reporting crime is in my view another deterrent to reporting crime in the first place.
One specific problem I have experienced in Cambridge is Cambridgeshire Police being unable to take reports of crime which occur in parts of the city covered by British Transport Police. I think the two forces ought operate more closely together.
See Also