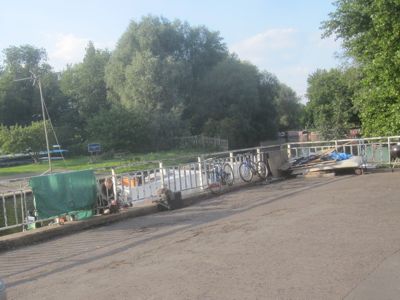 Cambridge City Council to Spend £25K Painting 100m of These Railings
Councillors at Cambridge City Council's East Area Committee are struggling to spend their Environmental Improvements budget. At at meeting of the committee on the 23rd of June councillors said they didn't have enough ideas for how to spend their spare budget.
One item councillors approved further consideration of, for mopping up the excess cash, is spending £250/meter on painting the Riverside railings in Cambridge.
Councillors were told that if you do painting really well (by taking the railings away for sand-blasting) you can pay for it out of a capital budget as it is no longer classed as maintenance, but "renewal". The committee agreed to progress plans for spending £25,000 on painting 100m of the railings.
Some painting is already being done as part of what councillors and their officers call the "conflict reduction scheme" – the works on the road near the Elizabeth Way bridge. The East Area committee didn't agree where to splash its £25K but considered both the stretch from Midsummer Common to the current works, or starting from the Stourbridge Common end.
Green councillor Adam Pogonowski questioned the high cost of the repainting. He said a resident had told him that the probation service were looking for repainting projects for those doing "community payback" and would be able to do the work much more cheaply. I spoke to that resident after the meeting and he told me he'd had a quote from the probation service – of just £1 / meter (the cost being for materials), the labour of course being free. He, and Cllr Pogonowski pointed out the community payback work would be of a high quality, including rubbing down the railings and getting rid of the present paint. They said the quality of work done by those serving community sentences painting railings on Midsummer Common was excellent.
I have previously made an FOI request asking about Community Sentences Served With Cambridge City Council but there appears to be no real idea within the council of what's being done for the council under this scheme.
It appears odd to be considering spending £250/meter refurbishing railings which, at the Stourbridge Common end of the stretch, are currently used to store bikes, firewood, and junk by a resident boater, big issue salesman and bike repair man.