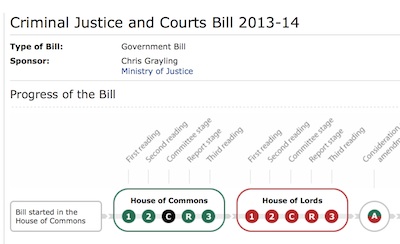 The House of Commons Public Bill Committee on the Criminal Justice and Courts Bill 2013-14 is currently in operation.
I have made the following submission following the: Public Bill Committees – guidance on submitting written evidence.
Submission from Richard Taylor, an individual writing in a personal capacity.
I would like to make a submission in relation to two elements of the Criminal Justice and Courts Bill 2013-14; firstly on openness and transparency of the court system, addressed in paragraphs 1-9 below; and secondly on the proposed provisions relating to juries, addressed in paragraphs 10-15.
On the 24th of February 2014, in relation to clauses 26 and 27 of the Bill which provide for "Trial by single justice on the papers", Minister Chris Grayling told the House of Commons: "we cannot allow the new process to take place behind closed doors. I am a strong believer in transparency in the courts, and we will provide mechanisms to ensure that the public have access to court decisions. That is only right and proper: we cannot have secret judgments." (http://www.theyworkforyou.com/debates/?id=2014-02-24c.47.0#g55.3)
I hope the Government will bring new provisions describing the mechanisms to ensure transparency which the minister promised to the committee. If the new provisions are not proactively submitted I hope the committee will press the Government for them, or failing that committee members will propose their own.
Currently there is no effective public access to full court lists, providing details of upcoming cases, or of court registers, containing details of court decisions. While the doors to the courts are open and anyone can walk in and observe, without proactive publication of information on the court's activities proceedings are being effectively held in secret as it is very hard to find out when cases of interest are scheduled.
I think it would be bizarre and inconsistent to introduce mechanisms to ensure proactive publication of court lists and registers for cases to be heard under the proposed "Trial by single justice on the papers" provisions, but not to make the lists and registers information similarly available for those cases heard in court.
I have attempted to obtain full court lists and registers for specified days at my local magistrates courts, but have had my requests rejected both under the Criminal Procedural Rules and the Freedom of Information Act. In one instance some court listing information was released, but the Ministry of Justice / Courts Service later stated they had made the release in error. (http://www.rtaylor.co.uk/5890)
I am aware at least one MP is under the impression magistrates courts lists and registers are already published (http://www.rtaylor.co.uk/5890#comment-77508) so I think it's worth clarifying they are not. Only very limited information is published on noticeboards in courts, essentially a list of defendants names along with the court number and an indication of when the case is to be heard. Access to the full list, even for inspection in person at court, appears arbitrary, I have on a number of occasions been refused access to a copy.
The Government has set up an independently chaired Crime and Justice Transparency Sector Panel made up of experts from across the private, public and third sectors, to provide support and advice on greater transparency in the crime and justice sectors. The panel has been pushing for publication of court list and register information online, leading to the consideration of a proposed amendment to the Criminal Procedure Rules requiring online publication of information from court lists, but in February 2014 the panel was told by the Courts on Tribunals Service that their aspirations could not be met: (https://docs.google.com/document/d/1l_PPUflGuVeJ586a5mJtl7BFZzHwLvgpfqPLuMp1uJE/edit?usp=sharing)
Some elements of the proposed Criminal Procedure Rules amendments, and the justification for their rejection, appear out of touch with modern technology. The idea of publishing material online for two business days would surely be rendered irrelevant as search engines, archiving organisations, newspapers and others will be able to obtain, store, and re-publish the information. The argument that giving people access to information online inevitably creates a security risk in relation to other information held by an organisation is also nonsense. Does a newspaper publishing articles on a website make its internal IT systems more vulnerable?
The culture, and technology, within our courts system will need time to adapt to a more open and transparent way of working. I would suggest the Bill ought allow an period of time for the transition to proactive publication of court lists and registers, but this shouldn't prevent legislating for an open and transparent courts system now.
I am concerned by the general tone and impression given by clauses 40-44 of the Bill. The courts are already an intimidating place for jurors. I think justice, and our society, is best served by jurors who feel empowered, and who can be focused on fulfilling their role to the best of their ability and who will not be overly concerned about committing a criminal offence or a contempt of court.
I am concerned that jurors required to surrender electronic communications devices could be prevented from contacting their friends, families, employers and others while on jury service; particularly if that service involves the jury being sent to stay at a hotel. I think the proposed law gives too great a power over juries to the courts. I would like to see jurors where possible given notice of an intent to issue an order to surrender electronic communications devices so jurors could have the opportunity to leave them at home, or in their cars, for example.
I'm concerned that clause 42 "Research by jurors" is too broad. Making it an offence for a juror to research the law, or court procedure could make it illegal for a juror to even read up on the new laws introduced by the Bill, describing what conduct is and is not permissible. A juror who goes online to read official information about jury service, perhaps seeking to re-watch the introductory video, to find out about arrangements which apply to expenses, illness, etc. or to find out if a judge was within his powers to order the confiscation of their mobile phone, could find themselves committing an offence.
Jurors might legitimately wish to consider looking up aspects of court procedure, which may not be covered in material provided by the courts. A juror experiencing a judge asking a member of the jury to stand up and declare the defendant guilty, with no deliberation after a late guilty plea might want to research to see if that action was appropriate and permissible. A juror finding themselves on a jury considering jury nullification (an option which jurors may not be proactively be made aware of by the judge and court staff) may reasonably want to research to what extent a jury has to follow directions from the judge.
Jurors may gain more confidence to challenge court staff, or the judge, in relation to a ruling if they are able to check their understanding of the law, and court procedure, by researching the matter before raising the matter via a jury note. I want jurors to feel able to question proceedings; and feel confident in raising concerns with the judge via court staff.
Where a juror has acted in the public interest, or in the interests of justice, I think that ought be a defence to those offences for jurors introduced by the Bill. In all but the most egregious cases where jurors have behaved recklessly and irresponsibly I suggest the worst that ought happen to a juror is they get taken off jury service.