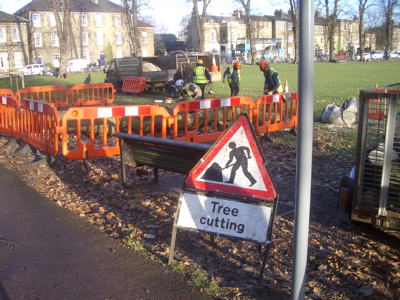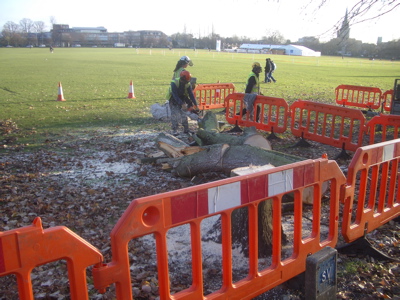 At Cambridge City Council's Full Council meeting on February 26th 2009 Labour opposition Councillor Lucy Walker received an answer to a written question in which she had asked:
Where and how may trees have been felled in the city during the last year, and where are more planned to be felled?
I do not think she got a clear answer. What I think is needed is the council's internal tree database to be made available online so that the public can see which trees it is proposed to fell and comment on them. I do not think this would be overkill in a technological city where so many people passionately care about the city's trees and green spaces. Even if just the data was released that would be a start.
As an example of the flaw in the answer was the omission of the eighty-five trees the council is proposing to fell on Jesus Green, or the proposals for felling on Midsummer Common. The whole question of proposed future felling was largely ignored.
When Councillor Reid, the Executive Councillor for Climate Change and Growth replied she appears to have produced an intentionally obfuscated response, it certainly didn't contain a clear headline figure. I believe she was inferring that in the last year 307 trees were felled in conservation areas and 41 trees on the council's land protected by tree preservation orders were also felled. In addition, on housing and highways land 161 trees were felled and 56 trees were removed from the city's open spaces (though 35 of these were "saplings" removed from Hobson's conduit). In addition the removal of nearly 100 trees (previously quoted at 73) from Byron's Pool which is just outside the city boundary but managed by the city council was mentioned. That's a total of 665 trees felled in the last year, and there are many not included in those categories. The Executive councillor has not been particularly clear on if fellings have actually taken place, perhaps as her answer was based on statistics relating to applications to fell, rather then confirmed fellings.
Cllr Walker's question was not limited to City Council owned and managed trees. Cllr Reid did not give a number for the quantity of trees felled by others in the city, but did note the proposal to remove 117 trees during the station area redevelopment.
I do not believe the current Liberal Democrat councillors are taking enough interest in protecting the city's trees and green spaces. The council is too eager to fell trees; I would like to see a stronger emphasis on conservation. I accept felling trees is a key part of good management of the city, but when trees are felled because of a mis-formed branch, to let light into a river, because they are not in a straight line or to make way for a temporary car park we need to say stop. Cllrs Reid and Smith should not be letting substantial trees be removed without them being aware of what is happening. (At the recent West/Central Area Committee Cllr Smith revealed she was unaware of the proposed tree felling programme on the common). Too many of Cambridge City Council's schemes start with felling, rather than starting with planting and felling only when replacement trees are established.
I do not think the last year is particularly special, and it appears the felling will continue next year. This isn't a one off decimation but an ongoing campaign.
Full Answer from Councillor Reid, the Executive Councillor for Climate Change and Growth:
Private

The City Council, as the Local Planning Authority, is responsible for determining works to trees that are protected by virtue of being in a conservation area or a Tree Preservation Order. There are 10 conservation areas covering 710 hectares and 11,000 addresses and 500 Tree Preservation Orders. An Order can encompass a single tree or a street of 250. Last year there were 371 Tree Works Applications to carry out works to protected trees. Of the 252 Section 211 Notifications in conservation areas 129 were to fell 307 trees. The Council has no powers to grant consent subject to conditions, but where a tree is felled, and it is appropriate to plant a replacement, the Council recommend the planting of another tree.

There were 27 applications to fell 41 trees protected by a Tree Preservation Order. The Local Planning Authority required 20 replacements to be planted and waived the requirement to replace 21 trees.

Public

The City Council manages and maintains 15,000 trees in the Highway for the County Council and communal Housing land on a cyclical programme. Last year 161 trees were felled on this land. 273 new trees were planted on the highway.

Of the 30,000 trees on Active Communities open spaces, 56 trees were felled including 35 saplings and young trees from Hobson's Conduit as part of a management and habitat restoration programme.

In addition nearly 100 trees were removed from Byron's Pool as part of a woodland restoration programme; they have been replaced by oak, field maple, alder trees inter planted with guelder rose and hazel to create an understorey. 55 trees were planted by Amenities and Recreation as part of a programme to replace trees felled after the comprehensive survey of 2007-2008. The Tree Team secured the planting of 85 trees on the open spaces through Environmental Improvement funding.

Development Control

Policy 4/4 of the Local Plan sets out clearly that 'development will not be permitted which would involve the felling, significant surgery or potential root damage to trees of amenity or other value unless there are demonstrable public benefits accruing from the proposal which outweigh the current and future amenity value of the trees.' Last year there were 1351 Planning Applications of which the Principal Arboricultural Officer provided comments for 201 on the retention and protection of trees in accordance with British standard 5837:2005 'Trees in relation to construction – recommendations'. In the largest planning application last year on the Station Area, whilst 117 trees are shown for removal, the landscape strategy shows 375 new standards and 130 new pleached trees to be planted.

The Principal Arboricultural Officer is involved in the forward planning of the growth areas and has consistently argued for the planting of trees both in the highway and on public open spaces.