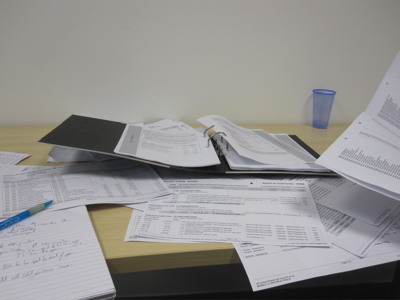 Geoff Jones and I Visited Cambridge City Council's Finance Offices to Look Through the Council's Accounts.
For twenty working days a year the Audit Commission Act 1998 allows people to go into local councils and inspect their accounts, including all documents such as invoices and contracts from which those accounts derive.
Cambridge City Council's open period for the 2008-9 draft accounts has been running since the 8th of July and will continue to the 4th of August 2009. On the 21st of July Geoff Jones and I went in to the council to make use of this opportunity. A week before our visit I had written to the council with a list of areas which I was interested in.
We had arranged to meet Julia Minns the Head of Accounting Services and when we arrived she and one of the council's accountants, Charity Main, were available to assist us. Both Julia Minns and Charity Main were incredibly helpful, accommodating and welcoming.
Based on the areas of interest we had highlighted various reports had been printed off the council's accounting system for us in advance, these detailed things such as all transactions with a particular third party across the council, or all transactions under a particular cost centre. We were invited to inspect these and offered any invoices or back-up documents for any items we wanted. The accounts department didn't have copies of these documents itsself but was prepared to request they be faxed over from other parts of the council for us – this is apparently the way they usually work if they need to inspect documents themselves. Interestingly, according to the officers, the council's systems have no keyword search capability this meant that we couldn't ask for all transactions about Quayside or about Jesus Green Pool for example.
There were some documents we were not permitted to see, including the City Council's contract with SLM relating to swimming pool management. We were not allowed to even know the value of SLM's "management fee" for the contract. Geoff and I were surprised at the amount of apparently routine items relating to running the pools which the council was paying for directly so wanted to find out exactly what SLM were supposed to be paying for and what was the council's responsibility. As well as routine items there were also cases such as a boiler being installed for one sum, then shortly afterwards the contractor apparently being called back to "adjust" the newly installed boiler and making an additional charge of more than £1000 for the adjustment.
In the case of the SLM contract we were told that a freedom of information request had been made, and a redacted version released. I have made a request for a copy of that document. Julia Minns expressed a view that FOI was a more powerful law enabling greater access than the Audit Commission Act, pointing out that under the Audit Commission Act while inspecting the accounts I was limited to information directly relating to the year's accounts whereas with FOI I could ask for all years information and not limit myself to documents relating to entries in the accounts. I expressed my view that the right to view documents relating to the accounts was in-fact stronger, but an argument was made against this with the council claiming they could still withhold information on the grounds of contract negotiations being adversely affected or due to ongoing legal action.
Below are just a few lines from the accounts which I thought were worth sharing:
Corporate Marketing
In March 2009 the City Council paid an £80 two-year renewal for the domain name: http://www.itsaboutme.net/ to local PR company Black Pig. It appears to me the site is advertising the 2007 City Council elections. £80 is also in my view well over the odds for a domain registration renewal. Black Pig also charged an annual hosting fee of £300 for an unnamed website, and charged £100 for one hour's CMS training.
Also in March 2009 Cambridge City Council paid £1,310 for a website evaluation from North Square Interactive. If anyone makes a FOI request for that report via WhatDoTheyKnow.com do post a link in the comments.
In March 2009 the council paid £3,237.50 to Studio 24 Ltd. for "My services postcode search updates". I wonder if Ernest Marples would have been able to help them with that?
There were no records relating to the new online allotments management system which Cllr Julie Smith had proudly announced in a full council meeting. I was told this was because the system was simply a spreadsheet.
Trees
During 2008/9 the council spent around £200,000 on tree surgeons.
There is one line in the accounts for £5,291.48 for watering 200 trees
To hire the Buckingham House lecture theatre for an urban trees presentation cost the council £1,129.45 – no wonder they're complaining that consultations on tree works are expensive if that's the kind of sums there're paying for a room to hold a presentation in.
Quayside
There are a number of entries for consultants and professional fees under a commercial properties heading. The descriptions include "Legal disbursements – Objection to adverse possession", "Legal disbursements – Quayside Statutory Declaration" and "Professional Fees RE: Adverse Application Quayside". The council is fighting a legal battle over the ownership of Quayside. During 2008-9 it doesn't appear to have been as expensive as I'd feared with related bills appearing to total around £10,000.
Civic Pomp
It appears that the council's Chaplin charges £10 to make an appearance. Personally I'd keep the crown and the religion out of running the city – not just to save the £10!
The council paid £87.50 for a hire car to the war memorial. Hiring the fleet of Marshall's luxury cars for Reach fair cost £495.
Cambridge City Council has a mayoral car, which it spends money taxing, MOTing and servicing.
£228.50 was spent on a uniform for the council's Sergeant at Mace – the man who enforces the no-photography rules in full council meetings and carries in a crown on a stick as the meetings start.
Policing
The police charged the council about £34K for policing the folk festival
Policing midsummer fair cost the council £9349.19
Policing the fireworks cost the council £1,736.67
Environmental Improvements
A Mrs P M Isherwood gets paid by the council to deliver consultation leaflets where environmental improvement schemes are proposed. I wonder if Mrs P M Isherwood is related to the council's senior engineer Mr J Isherwood and if there's any nepotism involved there?
Some yellow lining at Marlowe Road and Eltisley Avenue cost the council £324.97 (they paid this to the County Council) – that appears to be quite a bargain for some yellow paint compared with the £2,000 for some yellow lines they're currently quoting the East Area committee. (Apparently most of the cost is not yellow paint, but advertising the proposed works – which they still do in a newspaper rather than on their website!).
I didn't see any evidence of staff being paid as "consultants" rather than employees either in the Environmental Improvements area, or in Finance, and I asked quite specifically.
CCTV
£1,086.40 for "2 no Wine colour KAB Controller Chairs @ £543.20 each".
£7,250.00 for a "Domehawk camera with DVR and encoder" – bought from Mel Secure Systems. .
CCTV staff costs for 2008/9 were broken down to: £300,448.27 in basic pay, £3,149.29 in "additions to pay", £22,380.37 in national insurance and £45,750.08 in pensions contributions.
The total spending on the CCTV cost centre in 2008/9 was £491,430.20
Magdalene college is the only non-council institution to pay fees and charges to the council for CCTV services. (The county council pays £5,200 for coverage of the bus station, and there are internal charges to the housing department and a £72,200 fee paid by East Cambs District Council – which I expect is due to the fact Cambridge's CCTV system covers Ely and Soham)
Geoff Jones asked that if the extracts from the council's accounting system which had been printed for us could be easily made available electronically – ie. if there was a "print to file" rather than print out to paper option on the council's computer systems, we were told there was no such facility, and Julia Minns has confirmed this since by email. I would have thought that creating such a capability ought be trivial and would easily enable the line by line, penny by penny, detail of the council's accounts to be made easily accessible to everyone.
Geoff Jones has written an article on his own website about our visit to the council. What we saw was only a very tiny fraction of the total accounts held by the City Council.