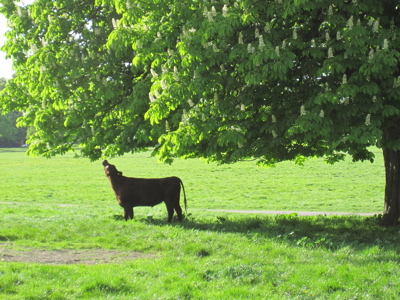 A cow enjoys munching on a tree at Midsummer Common in Cambridge.
During the open period under the Audit Commission Act 1998 I visited the accounts department of Cambridge City Council to inspect the council's accounts (I had written them first to let them know I was coming).
Having written about this on my website I received two questions from readers:
Tree Works – 2008/9
The below figures are excluding VAT and derive from a report I requested on all council spending on tree contractors:


Tree Contractor
Total Spend 2008/9
Example Items
SP Landscapes and Tree Contractors Ltd.
£22,702.47

£5,291.48 for watering 200 trees
The remainder is for tree planting with £1,344.01 lacking a description

ACACIA Tree Surgery
£49,905.42

£9,176.75 for work on trees on Walpole Road
£616.87 to remove a stem fallen from a willow on Midsummer Common
£6,670.00 for the work on the thirteen london planes on Maids Causeway

Elite Tree Services Ltd.
£13,630.40

£705.00 to remove ivy from a tree.
£8,337.50 work on Vicars Brook.
£6,462.50 work on Jesus Green and Parkers Piece

Peterborough Tree Services.
£25,154.63

"Tree maintenance for West Chesterton extra tree at Milton Road" – £6,690.13

P R Newson Ltd.
£56,915.89

Main invoice for work at Byron's Pool – £10,781.25

PG Horticulture Ltd.
£3,080.78

£2,466.33 Drip Irrigation Bag

Barcham Trees Ltd.
£14,389.55

Various trees quantity 30: Betula Pendula Dalecarlica – £2,150.37

Sandy Lane Nursery
£1,377.25

Various Species of Trees – £1,241.39

James Coles and Sons Nurseries Ltd.
£17,369.65

Various species of trees – £4,545.49

Tree Life AC Ltd.
£1,421.75

Professional Tree Inspection Course – £470.00
The total spending listed in the above table is £205,947.79. The council's full spending on dealing with trees is much higher as it includes, among other things, staff costs for their substantial internal tree team which comprises at least four people working full time.
Green Spaces
The officers I met at Cambridge City Council were unable to do a free text search on the descriptions of items in the accounts so could not provide information on a particular green space eg. Midsummer Common. Due to the different areas of the council involved in work on green spaces it was not easy for them to identify all related spending. They were able to provide me with details of how every penny of the £729,437.22 spent under the "Green spaces – Development and Management" cost centre in 2008/9 was used.
Example amounts and descriptions:
£638,460.00 – Grounds Maintenance (an internal charge to the council's city services department).
£795.00 to Hurst Surveys Limited for Survey Work at Jesus Green relating to Lottery Work
£3,225.00 to one of the council's favourite consultants – "Phil Back Associates" for a report on the "Future use of the Cherry Hinton Hall Propagation Centre"
The council spent £2,070 on a "Midsummer Fair Management Plan" prepared by the Wildlife Trust.
An external consultant – Ashley Godfrey was paid £4950.00 for work on "Parks Strategy" (The council pays many internal professionals to manage its green spaces). Ashley Godfrey also received £553.13 for consultancy related to the council's play area works strategy – again this sounds to me like the council's core business in an area where they already have expert staff so I can't imagine why they're outsourcing it.
£1,200 is spent by the the council's green spaces section on an advert board at the station.
£660.00 was paid to Positive Media Promotion for 1000 pens and rulers containing details of Greenstat.
£50.00 was spent on red Tyvek wristbands.
Angelika Von Heimendahl was paid £211.50 in "Grazing costs", she is the owner of the cows on the city's commons and the person who pays the "Grazing charges" so this looks like money going round in circles.
The council paid £80.00 to "Wilkinson Bros" for moving the Midsummer Common Cows in December 2008.
In March 2009 £62.59 was spent on Wellington Boots.
£3,000 was spent on cycle stands.
Green Spaces Income:
Grazing charges raised £2,070
Rental income from the green spaces was £93,420