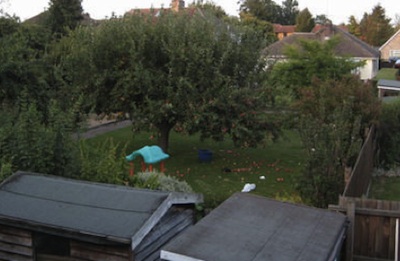 Liberal Democrat councillors have approved building a new bungalow on the site of this tree in a Cambridge back garden
At a national level the coalition's governing document, the programme for Government, states an intent to give "councils new powers to stop 'garden grabbing'". Localism is still at the core of the way planning decisions are made, especially in Cambridge where small scale planning decisions are made by local ward councillors at area committee meetings; if councillors want to allow new homes to be built on gardens they can.
I attended Cambridge City Council's South Area Committee on the 9th of September 2010 where councillors gave planning permission for a bungalow to be built in the garden of 71 Mill End Road Cherry Hinton. Mill End Road is the main road of the estate between the High Street and Cherry Hinton Hall.
Who Was There and Who Voted Which Way
No formally recorded vote was taken so all that will be noted in the official record is the result of the vote – 4:1 in favour of the development in the garden. In fact those voting in favour of the development in the garden were:
Cllr Jean Swanson, (Liberal Democrat, Queen Edith's)
Cllr Viki Sanders, (Liberal Democrat, Queen Edith's)
Cllr Andy Blackhurst, (Liberal Democrat, Trumpington)
Cllr Sheila Stuart, (Liberal Democrat, Trumpington)
Only Cllr Amanda Taylor, (Liberal Democrat, Queen Edith's) voted against the planning application.
Local residents in Cherry Hinton have elected Labour councillors. One of them Cllr Russ McPherson was present at the meeting, but he moved to the public seating area during the planning decision and did not vote. He did however ask a question of the officer during the deliberation. Cllr McPherson did not explain his actions, leaving the meeting's chair to hypothesise for the benefit of the applicants, objectors and public that Cllr McPherson might be protesting at the council's rules which some Labour members believe prevent them form both representing their constituents and taking part in planning decisions. (I prompted my own local councillor not just to flounce off in silence but to explain the substance of his protest when he refuses to vote on planning applications).
One of the other Cherry Hinton councillors, Stuart Newbold, turned up while the planning application was being discussed; leaving him ineligible to vote. The meeting's chair suggested that he too was protesting, but in fact he made clear to the public that he had simply arrived late. Both he and Cllr Dryden had given their apologies as they had decided to attend a residents association meeting rather than the South Area Committee.
Lib Dem Cllr Al Bander was absent without explanation.
Introducing the Report
Mr Carter, the City Council's planning officer introduced his report in a summary fashion saying simply and curtly: "This is a bungalow in the back garden of a dwelling, there is a recommendation for approval. I have little more to say." While I approve of officers who don't waste time reading out their reports I'm not sure he really earnt his money there.
Late Objection
Mr Carter then went on to present a late objection from residents of 35a Malvern Road, he reported they had raised concerns about the loss of an apple tree (just as other objectors had) and queried a possible breach of planning conditions in the neighbouring property – they were under the impression that when permission was given to build in a neighbouring garden permitted development rights were suspended, yet had seen additional development. Mr Carter explained that while permitted development rights had been removed that didn't stop applications being made for additional development and that such applications had in fact been made, and approved by officers under delegated powers (ie. without reference to elected councillors). The residents of 35a clearly claimed they had not been notified about the planning applications. Photographs provided by the residents of 35a Malvern Road were posted on display boards at the meeting and were consulted by councillors.
A report on the late objection was included in the meeting papers, along with the colour photo of the apple tree illustrating this article.
Two things strike me about the way this late objection was handled:
Despite being late it was given greater prominence at the meeting than those objections made in time.
Liberal Democrats at the North Area committee, led by Cllrs Blair and Boyce, claim where objectors live is totally irrelevant to a planning application. Cllr Blair even promotes removing addresses from planning objections (and she's the one the Lib Dems have made Executive Councillor in charge of planning policy). At the South Area committee a more sensible approach was taken by the officer and councillors and objectors' addresses were reported and informed discussion.
Absent Objection
An objector, a Mr Baker, was unable to attend the meeting due to a medical problem within his family but he would otherwise have wanted to speak. The committee manager read out his letter, without being subject to a time limit. I have previously noted that objectors seeking to influence the committee would be well advised to write to the committee as well as formally objecting to get their views put across in this way, even if they don't wish to speak in person.
Mr Baker said he represented residents from 29 to 39 Malvern Road. He claimed the assessment by the planning officer undervalued the neighbourhood and said "there is no reason for local councillors to cave in to greedy garden grabbers". Mr Baker claimed that mature trees to be lost gave character to the neighbourhood and supported wildlife. He also claimed the fruit trees were a remnant from a historic orchard and had submitted plans showing the trees and noting where trees had already been removed for development at no. 69 Mill End Road. He said that "all neighbours enjoy the view of the apple tree" and "if it was removed a link with the past would be ripped out too". Mr Baker appeared to go on to argue that the fact a fruit tree can't be protected with a Tree Preservation Order (a point used by the planning officer to discount its importance in the decision) did not affect its value to the area. [I thought that was a good point]
Mr Baker's objection finished saying if there was to be a bungalow built it ought to be smaller than what is proposed.
Architect on behalf of the Applicant
Often architects address planning meetings speaking in favour of their proposals. Mr Freer of J.A.P Architects spoke to say he had consulted with council officers from the beginning of the process. (I thought it was notable that he said this whereas typically applicants say they have consulted closely with the neighbours). He said that the report reflects the architect's views and he claimed to be "sympathetic to the neighbour's concerns". He explained that in his view the proposal was: "little different to the recently constructed bungalow at 69A and that he was trying to use this opportunity to create a rational grouping of four dwellings". He claimed that by comparison with the neighbours the garden of No.71 is very large.
Mr Freer called the reference to a historic orchard "spurious" and said it "can have no planning weight" claiming "neighbours from whom objections have been received have seen to the removal of most of it". He assured councillors that as part of the development new trees would be planted and the fences (which had also been mentioned by objectors) would be repaired or replaced.
The Debate
Cllr Taylor, the meeting's chair, asked councillors if they had any comments.
The councillors, all of whom are pretty wet Liberal Democrats who rarely say very much, all sat there saying nothing for almost thirty seconds or so. Cllr Taylor asked again – seeking confirmation that none of her councillor colleagues had anything to say: no questions; or no items they wished to debate.
Cllr Blackhurst broke the log-jam after something approaching a minute or so to say: "This should not go through without some debate and some considering happening". He laughed at the situation where the councillors were all sitting in silence. The architect, and local residents who had come to observe the decision, must have wondered why the residents of Trumpington and Queen Edith's had elected such a bunch of lemons.
Cllr Blackhurst spoke to say it was interesting to see objectors saying off street parking should not be allowed as it was more typical to get the opposite argument being made. He also stated: "It had not occurred to me before that fruit trees are exempt from protection". He commendably addressed the objectors' point and explained his view that: "it would be wrong for us to protect the tree if the tree itsself is not protectable". While I don't think that, as he said it, amounted to a coherent argument I think it is reasonable to say that a fruit tree is not of itsself of such value that it ought be allowed to prevent an otherwise acceptable development. Cllr Blackhurst then said: "beyond that I have nothing to say".
Cllr McPherson heckled from the public seating area. This prompted the committee manager to call a halt to proceedings while he took advice from the planning officer, Mr Carter. Cllr Taylor ruled that Cllr McPherson could speak as a ward councillor for the ward in which the application site sits, just as ward councillors can address the main planning committee. Cllr McPherson didn't really explain why had walked away from the committee table, he said though he was "a slight advocate for the vote against" and claimed he was "not taking part in the debate or decision".
Cllr McPherson then launched right into taking part in the debate. He brandished a recent policy paper on garden grabbing. He said "garden land is now considered to be green field land" and said there is no national policy and it would basically be up to a planning inspector to determine if it is a green field site of if it isn't. He asked the planning officer: "Are we saying that the garden is a green field site or not?".
The officer, Mr Carter, Said: "What the government has said is that garden land is no longer brown field; other than in certain circumstances, so one should be looking at this as green field". He added: "Green field does not mean it cannot be built on, but there is a wish to use brown field, a priority should be given to using already developed land."
No councillor expressed any view on the key issue raised about if appropriate priority was being given to development on brown field sites in the area.
Mr Carter then decided to fill the silence as the councillors were still not speaking. He said there was a proposal some time ago for two chalet bungalows and councillors refused it and this refusal was upheld by the planning inspector, but the inspector left the door open for a development of some kind – which Mr Carter said left the council in no position to say no the application for developing the garden of No. 69. He said that two houses in the garden of 69 would have been too much on the grounds of disturbance due to the number of vehicles accessing the properties via a narrow drive.
Mr Carter then turned to the apple tree. He said it was "very splendid but could be taken out tomorrow so can't be a justification for refusal". He then turned to the distances between the proposed building and the neighbouring properties; he said the distances involved were "acceptable despite policies on garden grabbing".
Cllr Jean Swanson then spoke. She asked where a reference to loss of light or overlooking had been made. Cllr Taylor, the meeting's chair said it was in the report. Cllr Swanson clarified that what she was asking was where, geographically, the problem was occurring and "if it was still happening". Cllr Swanson obtained no further response and didn't push for one.
Cllr Taylor then decided to express her own view. She said she had viewed the site, but had not gone into the gardens. Cllr Taylor said she appreciated the development would increase the sense of enclosure and declared she would be voting against the application on the grounds of planning policy 3/10(c) "visual amenity / enclosure".
Cllr Taylor asked if anyone else was planning to vote against, and prompted them to give their reasons. Again there was a period of silence.
Just before moving to a vote Cllr Taylor again commented on the behaviour of the Labour councillors saying they had "fettered their discretion by behaving as their constituents clearly expect them to." Cllr Newbold shook his head, indicating dissent.
Cllrs Sanders and Stuart made no comment at all during the deliberations and along with Cllr Swanson didn't even attempt to explain why they had not been persuaded by the objectors. This is standard form for Liberal Democrat councillors who are voting in line with an officer's recommendation.
I am writing this on the 14th of September, five days after, the decision was made but the council's planning portal still lists the application as "pending decision". The city council does not issue timely decision notices even on decisions with substantial public interest.
My View
If the objectors had objected to the loss of the open green space on which the apple tree is growing rather than on the apple tree itsself perhaps the decision would have gone the other way. I agree the apple tree was not a factor which ought to have been taken into consideration.
I think councillors, especially Cambridge's Lib Dems ought give more weight to their own views and opinions. I'm a supporter of representative democracy – the ideal being you elect someone who's judgement you trust and then don't have to keep up to date on every decision being made in the city yourself and keep having to speak up if you object.
I support increasing the density of housing in the city; but I don't think this application, or the one in the next door garden, is an appropriate way of going about it. I think the impact on the houses in Malvern Road will be far too great to have allowed the developments.
I think the planning guidance needs to be reviewed to allow councillors to both behave as their constituents expect them to and vote on planning matters. My view is planning ought be a democratic process; and not the quasi-judicial process the current rules attempt to make it. More
Further Details: