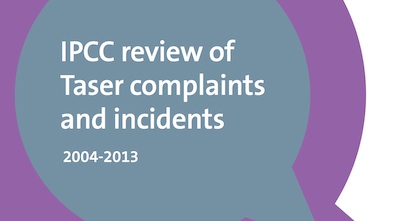 The Independent Police Complaints Commission is today recommending that Police and Crime Commissioners take a more active role in overseeing their force's use of TASER weapons.
One of the recommendations in the IPCC report titled "IPCC review of Taser complaints and incidents" states:
The frequency and type of Taser use, and its justification on each occasion, should be carefully monitored and analysed by forces and Police and Crime Commissioners.
I think this is an excellent recommendation and one I hope Police and Crime Commissioners will act on. I would like to see Police and Crime Commissioners publish statistical information as well as suitably redacted details of each case too, along with their comments, so the wider public can have an informed debate about the use of TASER.
As well as overseeing the use of TASER Police and Crime Commissioners are responsible for setting the policies and strategy for TASER use in their areas.
In Cambridgeshire the Police and Crime Commissioner, Graham Bright, has, distanced himself from decisions on TASER use; describing all aspects of TASER use as an operational matter. Cambridgeshire's Police and Crime Commissioner has also not reporting his decisions relating to TASER to the Police and Crime Panel for scrutiny. Cambridgeshire has seen a substantial increase in the number of non-firearms officers armed with TASER under our Police and Crime Commissioner Graham Bright. Cambridgeshire Chief Constable Simon Parr has not defended the decision to arm more officers with TASERs either saying astonishingly that he didn't know enough to comment.
The IPCC report also suggests consideration is given to the use of TASER in custody and other confined spaces where individuals are already in a controlled environment and the use of TASER in "drive stun" mode (where it is held against someone without firing the barbs) to gain compliance. I have previously expressed concerns about the use of TASER where an individual is already under control and it is being used in an effort to gain compliance.
In relation to TASER use in drive-stun mode the IPCC write:
When used in this way, the Taser does not have the incapacitating effect it has when used with a cartridge and is purely a means of pain compliance. Yet in several of the cases we reviewed, where it was used for the purpose of gaining compliance, it in fact had the opposite effect, stimulating further resistance.
The IPCC also notes the police TASERed the wrong person in three cases:
Three complaints involved the use of Taser on someone other than the identified suspect. In two complaints, the person on whom Taser was used was wrongly identified as the suspect in an incident. In another, the person who had been "red dotted" and upon whom Taser was going to be used pulled another person in front of them, causing that person to suffer the effects of Taser.
The IPCC report states:
Since Tasers were introduced, it has been mandatory for those using them to complete a Taser deployment form recording any and all uses. This data is kept by the Home Office and reported publicly.
This is not quite accurate; while statistical information derived from the deployment forms are published (after a substantial delay) the full content of the forms themselves are not published.
The report provides statistics on the number of uses by a force, the total number of officers in the force and calculates TASER use per 100 officers. What neither the IPCC or any other national body does is produce a table showing the number of TASER trained officers in each force (or the fraction of officers going on duty armed with TASER weapons).
ACPO has also admitted that giving more officers the weapons has resulted in increased use, writing following the last release of police TASER use statistics:
The increase we see in the figures released today accounts for a corresponding increase in the number of Taser users during this period."
The force with the greatest level of use per 100 officers is Staffordshire, at 33 uses per 100 officers in 2013. I suspect it is not a co-incidence that a large fraction of Staffordshire Officers are armed with TASER weapons (around 25%, compared with the national average of 10%*).
At the time of writing a search for TASER on the website of Matthew Ellis, the Police and Crime Commissioner for Staffordshire, gives no results.
We have previously seen the police in Sussex state that the increase in TASER use is a direct result of issuing more officers with TASER weapons. I think this is worrying as no one is suggesting that increased TASER use is as a result of more violent crime; what is changing is the police response to what they are faced with.
I am concerned with the police increasing the level of force they are using; by carrying and using TASERs more often.
The IPCC report does not contain details of each of complaints about TASER use referred to them. While the IPCC has published reports on those TASER incidents it has investigated it is not publishing detailed information about the vast majority of TASER related complaints referred to it. The report released today is a commentary, and summary of a body of material which has not been released.
At the time of writing the IPCC have published a press release titled "IPCC review of Taser use and complaints published" but have not actually linked to the report from that press release nor published it elsewhere on their website. I have made a version of the report I was sent indirectly available via my website.
See Also