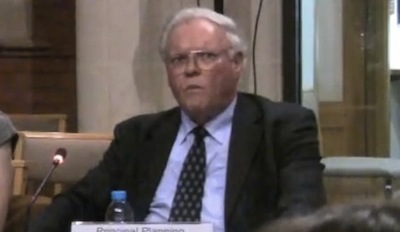 Cambridgeshire Police and Crime Commissioner Graham Bright
Huntingdonshire District Council have invited Police and Crime Commissioner Graham Bright to lead the council's "headline debate" at its meeting on Wednesday the 26th of June. The show starts at 7pm and 45 minutes have been scheduled for councillors to grill Commissioner Bright.
Huntingdonshire District Council is "in the process of reviewing the Neighbourhood Forums in Huntingdonshire". There is no structure in place for local police priority setting, and holding the police to account for their performance against local priorities in the area. This is an area where the district is getting a particularly poor deal, particularly when compared to Cambridge where democratically elected councillors set the priorities. Finding out the Commissioner's plans to fill this void in local democratic influence and oversight of policing in Huntingdonshire is one of the top things I would like to see addressed.
I would hope Huntingdonshire District councillors might also press Commissioner Graham Bright on some of the more general matters, which affect, but are not specific to, Huntingdonshire. I've put together ten additional questions I think it would worth putting to the Commissioner Bright: