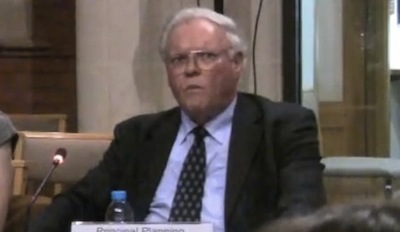 Cambridgeshire Police and Crime Commissioner Graham Bright
Cambridgeshire's Police and Crime Commissioner Graham Bright (Conservative) has just announced his plans to increase the policing element of council tax by 1.9% as of April this year.
Mr Bright stood on a ten point manifesto, number six of which stated:
Not to put any additional burden on council tax
My view is that he has broken this promise. I think that those who stand for election and then break their manifesto pledges in this way damage the reputation of our democratic system.
I have published my views on the commissioner's pre-election promise on council tax.
Police and Crime Commissioner Graham Bright has published only the figure for his proposed council tax increase; unlike other commissioners around the country he has not published his full budget and policing plan, not even in draft form, for comments.
Proposing a council tax increase probably suggests the commissioner is not envisaging signing up for wholesale outsourcing to G4S; however he hasn't released sufficient information to enable informed commentary, we also don't yet know to what extent the tax rise is required as a result of spending on his own office, his staff and deputy.
Our Police and Crime Commissioner could have accepted a government grant which would have paid the equivalent of a 1% increase in the police element of the council tax; this would have been paid for out of general taxation, yet he has decided he needs to take yet more money directly from council tax payers. As a property tax council tax hits those who might not have the income to pay it, it isn't in my view as fair as income tax, yet the commissioner has decided to take yet more police funding from it.
Not accepting central government grants to freeze council tax was the position taken by the previous police authority; perhaps the fact their staff are still present, and advising the current Police and Crime Commissioner explains the continuation of the same policy.
This is a rebellious move from Conservative Graham Bright who is going against his party's policy, as annunciated by Minister Eric Pickles, of seeking council tax freezes.
I hope the commissioner has made his party colleagues in government aware of the reasons he has not accepted their offer of a grant to enable a council tax freeze. A key problem appears to be uncertainty as the grants are for one year only (but have been made repeatedly). The commissioner may feel that he doesn't have the profile or ability to communicate the problem to the people of Cambridgeshire, as the rational thing is surely to take the "bonus" from central Government now, but accept that as a result, if the "bonus" is not forthcoming in the future, a council tax rise might be needed then, but with Cambridgeshire residents keeping their money in their pockets in the mean-time.
It appears that the commissioner may have succumbed to pressure from the Chief Constable who made clear he will be pushing for an increase in the council tax precept, saying without it he will be forced to cancel recruitment and officer numbers will drop.
A 1% rise in the police element of council tax raises about £500,000 for the police *; so the commissioner's proposals will raise about £1m.
In the current year Cambridgeshire Police has a budget of £127,625,000 funded by £48,973,000 from council tax and £77,825,000 from general taxation via central government *.