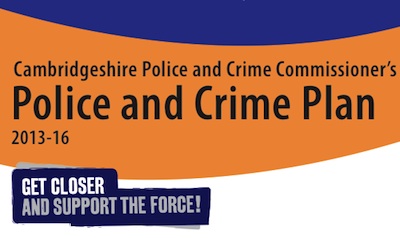 Cambridgeshire's Police and Crime Commissioner Graham Bright has today (26 February 2013) published a draft of his Police and Crime Plan for comment.
This is something I and others have been suggesting the commissioner ought do for some time, given he was elected without a detailed manifesto or significant electoral mandate. Had the commissioner been elected with a detailed plan I would have said he would be right to just get on and implement it.
Other Police and Crime Commissioners around the country have been carrying out consultation exercises for many weeks.
Overall the plan appears to me to not show any significant change of direction. This is perhaps unsurprising given the commissioner is still working with staff from the old police authority and he was elected without any manifesto to change anything. There is little evidence of the commissioner's input in his plan. It appears as if his input is presented in pull out "aside" boxes describing his pledges.
Key Points
On Local Democratic Priority Setting: p8 of the draft plan states:


People who live and work in the county are able to suggest priorities for policing in their particular area. These 'people's priorities' are set at the neighbourhood panel meetings and enable people to have an ability to truly affect policing at
a local level. The meetings also allow officers to highlight their achievements in tackling previously-set priorities in a publically accountable way.

It is positive that locally set priorities and the holding of the police to account at a local level has been mentioned. As there are no "neighbourhood panel meetings" in Cambridge it is unclear to me how this paragraph will affect local police priority setting where I live. Will councillors on Cambridge's Area Committees continue to set local police priorities and hold the police to account for their performance? I think it is disappointing that the commissioner has not:

Insisted that local priorities are set democratically, by elected representatives.
Ensured there are ways to suggest, and debate, potential priorities without attending a meeting in person.
Made a commitment to help move towards local priorities being evidence based, and set in a quantitative manner.

I'm concerned that these locally set priorities are dubbed the "people's priorities"; I would rather they just be "the priorities". Calling them the "people's priorities" gives me the impression who ever wrote this plan thinks the police have better things to be doing than what people want.

On non-emergency (101) call answering: The aspiration to have all calls to 101 answered within 30 seconds, which the commissioner announced at Cambridge's West Central Area Committee on the 10th of January 2013 has been turned into a "pledge" on p15 of the plan:


I want to see a better and faster response to all telephone calls, not just 999 calls. The aim should be to answer every call in 30 seconds.

On TASER: The plan does not mention TASER at all, despite the fact TASER is being rolled out to an increasing number of officers in the force area, including neighbourhood officers in Cambridge and dramatically changing the front-line face of policing.
On PCSOs: The plan states:


A project to review the role of PCSOs within Cambridgeshire Constabulary will be carried out in 2013

I think this is excellent; the Commissioner indicated he at the last Police and Crime Panel meeting he understands that PCs are better value for money than PCSOs and described his first budget as slightly moving resources from PCSOs to PCs; I would like to see more of this. p25 shows a reduction in PCSO numbers from 195 to 180; though when presenting the budget there was a line about there only being around 180 actually working at the moment which confuses the picture.

On Trust: The commissioner has not published any plans to improve trust in the police.
On Burglary: The commissioner has stated in his plan:


All burglaries should be investigated by the police within an appropriate time of the offence taking place. We need to catch burglars. I will be monitoring burglary detection rates.

This is a little weaker than the "within the day, if not a few hours" that he promised when speaking in Cambridge.

On Officer Numbers: This section is unclear as two different figures are given for police officer numbers in 2012/13 – 1,370.3 and 1352.4
On Privatisation: There is no mention of privatisation, or G4S. In terms of outsourcing to save money what is mentioned is: "Strategic collaboration with other forces or local authorities".
On Selling Off Police Stations: the plan refer to: "officers and staff moving into partner-owned premises and the sub-letting of unused space in police-owned buildings." however in this, as with other areas, there is little detail.
On Openness and Transparency: There are no commitments to operate in an open and transparent manner, for example to publish key performance information, spending data, or meeting papers.
On the Courts: there is a vague mention of collaboration with the Cambridgeshire Criminal Justice Board, but no details of what the commissioner is seeking. My view is the commissioner ought be pushing for greater transparancy and speedier justice.
On Cycling: "Cycling" is not mentioned in the draft police and crime plan. "Cycle" is mentioned only as reducing cycle theft is a Cambridge Community Safety Partnership priority. The section on roads policing states: "continue to seek to keep people safe on our roads, whether a pedestrian, cyclist or motorist" and there is "action" on p23 stating: "Participate in…initiatives such as BikeSafe". This is very light coverage for cycling given the prominence the commissioner has given to his crackdown on so-called anti-social cycling since his election.
On Police Complaints There is no plan to reform the handling, and monitoring of police complaints. I would like to see much greater transparancy; the police ought publish depersonalised information about complaints, how they were investigated, and what action was taken.
On Anti-Social Behaviour: p28 appears to suggest that the current level of antisocial behaviour is "1.3%". What can this possibly mean?
On Road Injuries:The commissioner has set himself a target to: "Reduce the number of people killed or seriously injured in road traffic collisions" from the 373 (which appears to be the 2012 figure to November). In my view this is an excellent target, and I would like to see deaths and injuries related used as as a measure of police performance more widely, eg. when looking at violent crime.
On The Commissioner's Office: The Commissioner appears to have omitted the costs of his office from the plan, though does state he intends to employ. The plan states: "The Commissioner has pledged to reduce the cost of his office by ten per cent." but there is no detail on what base line he is using for this despite this being a point questions have been asked about. My view is the expenses and allowances of the police authority members ought not be counted towards the historic cost of the police authority (if that is in fact what the pledged reduction in cost is being compared with).
On Neighbourhood Watch: The commissioner's pre-election promise to give Neighbourhood Watch the powers like those London's Neighbourhood Boards appear to have been dropped. Neighbourhood watch is to receive just £10k from the commissioner's ~£1m community safety budget.
Star Chambers: The plan introduces "Star Chambers" stating:


At the star chambers partners will be asked to share information relating to performance, finance and proposals for more efficient working individually, collectively and with new partners

It is not clear if these will be public, minuted, meetings or just for the benefit of the commissioner. There is no detail and the paragraph looks as if it might have been written by an officer who has no idea what the commissioner is proposing. It certainly doesn't get anything across to me.
Responding
There is no online mass-deliberation system for discussing and providing feedback on the draft police and crime plan. Comments are invited via phone, fax, email, twitter, and physical mail.
I will tweet a link to this article to the commissioner's office.
See Also