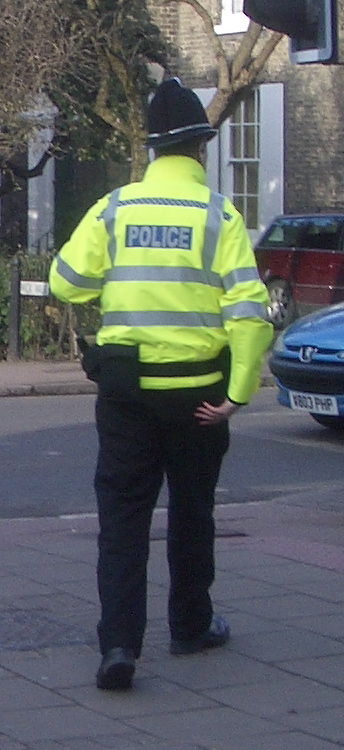 On Thursday the 19th of March 2009 I attended Cambridge's North Area committee, where councillors vote on what they believe ought to be the local policing priorities and hold the police to account for their performance in the areas they have prioritised. The police were represented by Sgt. Jason Wragg.
Using the opportunity given to members of the public to ask the police questions and suggest items for prioritisation I raised the following points:
Publicising the Opportunity to Influence Policing
I asked why the police had not publicised the meeting in an e-cops email message sent to Arbury residents the day before the meeting. I said that while occasionally an area committee is mentioned in a police ecops email this is far from consistent and routine practice. I suggested the police could do more to publicise the fact that local policing priorities were set at these meetings and there was an opportunity for people to comment on local policing.
Sgt. Wragg didn't answer the question, but instead took the opportunity to draw attention to the fact that the council didn't promote the meetings very well either.
(I have advertised a North Area committee meeting myself and have met with council and police staff and obtained unfulfilled assurances that publicity will be improved. )
Recording the Cost of Crime
During his presentation Sgt. Wragg asked if there was any additional material which people thought ought be in the "neighbourhood profile" document produced by the police and council officers prior to the meetings. I suggested that the costs of crime ought be recorded; for example as well as stating how many wing mirrors and car windows were damaged in Arbury during the period, the police should also put a value on that damage. I noted that other police forces ask those who have suffered damage to submit evidence of their repair costs to the police as a matter of course. I complained that this was not currently happening in North Cambridge. I stressed that this was important, not just for adding depth to the statistics, but to ensure magistrates were aware of the full picture should the police catch those responsible. Accurate valuations of damage (receipts for repairs) would make it easier for magistrates to award compensation to those who have suffered damage.
Sgt. Wragg responded to say that the police did have a specific form for recording the cost of damage, and that sometimes it gets used and compensation is awarded. He did not address my concern that this was not happening routinely (I know this from my own experience and that of others I have spoken to).
Cllr Blair supported my suggestion, but as none of the other councillors spoke up to say they did too, the police were not asked to improve either their reporting or their service.
Recording Crime
Again with respect to damage to vehicles, which is a problem in parts of Cambridge, I asked about the recording of crimes. I questioned if the police recorded all damage occurring in one incident separately, I also wanted to know if damage observed by police officers was recorded. Police officers now place notices, including an incident number, on damaged property such as cars, I wanted assurance that when they did this, or when damage was reported to officers it was recorded and that it wasn't necessary for someone finding their property damaged, with a police notice on it, to phone up and report the crime. I am concerned that these notices might be intended to reduce the number of crimes reported. On the subject of recording crime I also questioned if reports of crimes made to the council's "anti-social behaviour" team were recorded and asked (as I often do) about crimes reported via Ecops. The police in North Cambridge encourage the reporting of crime via e-cops. This used to be directly in contradiction of a notice included on Ecops emails which stated:
Contacting us on E-Cops does not raise an incident it is purely a quick and easy way for you to get in contact with your local policing team. If you are wishing to raise and incident then we require you to phone in your complaint in the usual manner.
The police have now removed this disclaimer. Sgt. Wragg was ambiguous in his response, he said only that Ecops was not a good way of reporting crime, he did not say if it was recorded or not. This is a point the police in the North of Cambridge have, over time, been very inconsistent on.
While Sgt. Wragg decided to ignore my question about damage being recorded when police notices were left on cars, Paul Griffin, Cambridge City Council's Strategy Officer (Community Safety) did note this point and committed to find out if such damage was properly recorded without further action by the owner of the property.
PACE Code A – Stop and Account
I reminded councillors that Cambridgeshire Police were still refusing to comply with PACE Code A with respect to Stop and Account. I noted that the code had been amended as of January 2009 in light of complaints that the form took too long to fill in. All that is now required is for the police officer to give you a simple receipt with their name on it and the officer must record what you say your ethnicity is in their notebook. I asked why the police in Cambridge were not following this new procedure. (It appears to me that Cambridgeshire Police have no consistent policy for dealing with Stop and Account, and are not complying with PACE Code A.)
Sgt. Wragg declined to answer, saying that it was a question which was not for him, but for those higher up in the police. (While I have drawn the Police Authority, and the MP's attention to this I think Sgt. Wragg has a duty to ensure that he and his officers follow the PACE codes). He was also present representing the police as a whole so I do not think his response that something was not his responsibility was at all acceptable. Labour Cllr Mike Todd-Jones suggested that we needed, on occasion, to have a higher ranking police officer present at the North Area Committee, he said he'd like to see the Chief Constable present annually, I think that was an excellent idea which ought be followed up.
I have previously written to Cambridgeshire police who have confirmed they believe they can ignore the PACE codes. The PACE codes provide the key safeguards that ensure people are treated properly when they are stopped, arrested, detained and questioned by the police, I find it very worrying that the police in Cambridgeshire see fit to ignore them. I am appalled by the lack of action on this by councillors, particularly County Councillor Wilkins who is on the police authority and could be using his position to request action.
Tasers
I reminded councillors' of the fact that at the North Area committee in December 2008 Mr Wilkins had told the committee he would try and raise the issue of the expanded TASER deployment at the police authority. I noted that despite there being two full meetings of the police authority (which I have observed) since then he has failed to raise the matter.
Mr Wilkins told the committee that he had raised the matter of TASERs at the police authority. I believe he misled the committee by saying this because what he has not done is get a meeting of the Cambridgeshire Police Authority to discuss the expanded TASER deployment.
What he has done is reported in the minutes to the January North Area Committee, where I also asked why Mr Wilkins had not yet ensured the issue of TASERs was discussed at a police authority meeting; he responded:
Earlier this month members of the Police Authority met with the Chief Constable and other senior officers to discuss the issues of TASER.
Within hours of the November 2008 ministerial announcement of the expanded TASER deployment the Metropolitan Police Authority decided not to extend TASER use to all front line response officers in London on the grounds that they may cause fear and damage public confidence. It can be seen from the minutes of the meetings that Cambridgeshire Police Authority failed to even discuss the matter at their December 2008 and February 2009 meetings. I think those who have voted Liberal Democrat, a party which has a national policy of opposing the TASER deployment to non-firearms officers, would expect Liberal Democrat members on police authorities to be actively opposing the TASER deployment.
Having misled the committee once, he went on to say that the force had been given 150 TASERs by the Home Office. This contradicts what as been said by Home Office minister Vernon Coaker who has said "Clearly, the number of Tasers that a force has is not dictated centrally. It is a matter for individual chief constables, with their authorities, to determine what they should have" *. Mr Wilkins appears unaware that he, and his fellow police authority members could have stopped these weapons arriving in Cambridgeshire.
The Home Secretary speaking on the 19th of March 2009 stated:
… I have given every police force the number of Tasers they have requested.

I am pleased that police forces up and down the country have used the additional funding I made available for Tasers
It is clear that according to the Home Office this is not a case of TASERs being forced on unwilling police forces by the Home Office, forces themselves have made decisions to accept them.
Mr Wilkins told the committee that despite "being given" 150 TASERs Cambridgeshire police had no plans to routinely arm front line police (ie. they are not going to use them in the way that the Home Office intended). Mr Wilkins finished by saying that a paper on TASERs would (eventually) be brought to a meeting of the Police Authority, if this does finally happen, it will be many months late.