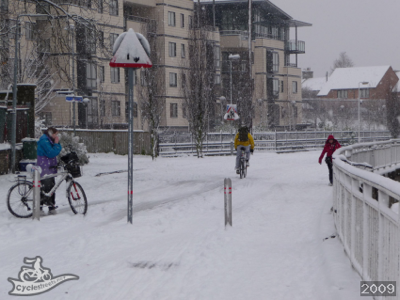 On the 12th of November 2009 I attended Cambridge City Council's North Area Committee. I asked City and County Councillors if Riverside would be gritted this winter. This area was a problem in icy conditions last winter and it has still not been resolved as the frosts start this year.
County Cllr Kevin Wilkins responded to my question. He said that as far as he knew Riverside will not be gritted this winter. He explained his answer was based on information from the letters page of the Cambridge News. I was shocked that a county councillor had no more authoritative source of updates.
No other councillors spoke on this matter, none expressed any interest in taking any action.
My view is that it is really important that, where and when needed, heavily used walking and cycling routes are gritted. I am astounded at the councillors lack of interest and action in this area given the level of local demand for a basic service which the council should be providing here.
I understand that council resources are stretched at times of ice and snow but I think this area ought be prioritised. If the County Council won't do anything then, as a last resort, the City Council ought act. Rangers and street cleaners do some gritting and snow clearance; it is within the power of city councillors to get them to do Riverside even if its not technically a City Council responsibility.
I am rather confused by the Liberal Democrat inaction on this. My best guess is that it is down to the poor quality of councillors the residents of East Chesterton elect. In addition to the notorious Cllr Blair, they've got Susannah Kerr whose most significant action I've noticed since her election has been to talk about her intention to apply for a grant to fix a fence and Jennifer Liddle, who also rarely contributes, and now has an address tens of miles away in Woodditton south of Newmarket.
One of the contributory problems here is that the very expensive new bridge works have been poorly finished off leaving a lot of standing water on the road in wet weather. Councillors get very poor value for public money and I'm sure if they were spending their own money on works they would demand a higher standard than they do when they are spending millions of our money.
Almost 2,000 People A Day Use Riverside Bridge
Shortly after I had asked my public question on gritting a Cambridge News article reported that "As many as 1,900 cyclists a day are using Cambridge's new bridge, which connects Riverside to Chesterton."
County councillor Roy Pegram, cabinet member for infrastructure, was quoted as saying:
"The council is investing heavily in getting more people on their bikes. "Encouraging cycling is not only good for people and the environment but also for reducing congestion.
I think this is a highly disingenuous thing to say given his councils decision not to grit the adjacent roadway, which is heavily used by cyclists in icy weather.
The city council is considering spending many millions (over time) in this area to alter the road and improve the cycle route but it is unable to get the basics, like gritting, sorted out.
See also: