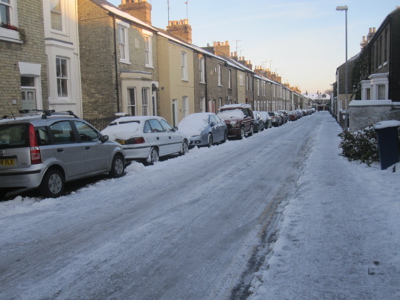 Searle Street is one of many Cambridge streets where both the road and pavements have been coved by a sheet of ice for many weeks this winter..
Last night I attended the North Area Committee where the state of gritting in Cambridge was discussed.
Key Points
City Council Leader, Liberal Democrat, Ian Nimmo-Smith revealed the city and county council have no combined plan for dealing with snow and ice.
Executive Councillor Mike Pitt says Cambridge City Council only has responsibility to grit its own depot, the crematorium, and city owned paths to council houses.
Cllr Pitt claimed it would be illegal for the City Council to get its own staff to clear snow and ice; claiming they must act under the direction of the County Council .
Bin Men are to be made available to help deal with ice and snow if conditions are too bad for them to collect bins.
Poor co-operation between councils, and a lack of grit, resulted in the City Council being denied access to grit supplies earlier this week
Re-instatement of salt-bins "unlikely" says Cllr Pitt
Councillors took the unusual step of using the "Open Forum" section of the north area committee to ask questions of their fellow councillors. Ward councillors, particularly Labour's Mike Todd-Jones and the committee's Liberal Democrat chair, Diane Armstrong asked county councillors and Cllr Pitt, the City Council's Executive Councillor for bins and gritting about the state of the city's roads and pavements.
Mike Todd-Jones kicked things off by asking if the answer which councillors gave to a question I asked about gritting riverside at the previous meeting still stood. He was told it was a question for the county council.
Cllr Armstrong's husband was one of the five members of the public present; he reported that someone had, on occasion, been gritting areas of riverside; but that this wasn't sufficient as he had come off his bike further along his route in any case.
City Council Leader Admits No Plans in Place to Deal with Snow and Ice
Ian Nimmo-Smith the leader of the City Council commented on Riverside. He said he was aware of the need, but said all the City Council could do was act in support of the County Council. He said there was a need to set up a "strategic approach to respond jointly" in weather conditions such as those we're experiencing now. He explained that while the City and County have a "significant plan" intended to deal with floods there is nothing comparable in place for ice and snow.
Cllr Todd-Jones said that he felt the public don't care who sorts it out, they don't want to see a blame game between the two councils. Cllr Todd-Jones asked what exactly the city council's employees had been doing.
Cllr Pitt, the City Council's Executive Councillor for bins and gritting responded to explain the city councils responsibility only extended to its own depot, the crematorium and housing land. Mr Pitt repeated a line which has been used extensively by the council saying "City Council staff have been made available to support the county", asked to explain exactly what this meant and why the City Council couldn't direct its own staff Cllr Pitt said: "We're legally obliged to act under direction from the county council, we cannot take on the county's responsibilities".
Mr Pitt also said he had spoken to the city council's bin men and obtained an agreement from them that if the snow and ice is so bad they can't do their jobs they too can be made available to the county to help deal with ice and snow. That sounds like an impressive bit of "industrial relations" there from Cllr Pitt.
Cllr Wilkins reported that he had received an email from County Council Cabinet member for gritting, Conservative Mac McGuire, at 18.55 that evening. He said the county had very little salt left even though it had been focusing only on the top priority major routes; the implication being that salt supply was the limiting factor. Cllr Pitt commented to say that due to the County Council's lack of grit the City Council had been refused access to the county's grit supplies which had not made reacting on Wednesday easy.
Cllr Liddle asked county councillors to clarify that top priority routes did not include those where many people walk and cycle in the city. Cllr Wilkins confirmed that was correct.
Mike Todd-Jones then asked about salt-bins and called for their re-installation. Cllr Pitt said the city was considering the options but thought it unlikely they would be able to take the suggestion on. Mr Bond of the Old Chesterton Residents Association spoke to say there used to be salt bins around, saying one had gone from the Church Street / Chesterton High Street junction. (There has also been a salt bin on Riverside – by the path to Tesco).
Cllr Pitt said that the salt bins were present from an era when there was an "agency agreement" under which the City Council managed the City's roads. He said since this arrangement stopped and the county council took over there has been a reduction in provision; illustrating this by saying the number of roads in the city which were now overdue for re-surfacing was astonishing.
Cllr Armstrong said she had been told by a solicitor who works in the Magistrate court where Cllr Armstrong is an usher, that on calling the county council to complain about the lack of gritting she had been told that it is up to the City Council to tell the County Council where to grit in the city.
Cllr Pitt, the City Council's Executive Councillor for bins and gritting said that was not the case, but the City Council was trying to do its best to work with the County Council. County Council officers said that if they were given the name of the person who called in then they could investigate.
My View
I think the city council are best placed to direct their own staff (street cleaners, rangers, bin men etc.) to grit and clear pavements where it is most necessary, they ought get on and do this irrespective of any crazy belief it might be illegal. Prioritisation of which pavements to grit is one thing that really ought be done at a City not County level; the Liberal Democrats in power supposedly believe in localism but they won't get on with it.
The lack of co-ordinated planning between the city and county council is astonishing and inexcusable.
This crazy blame game between the City and County councils is fuelled by petty party politics on both the Conservative and Lib Dem sides; I can't see what value party politics adds to key discussions about how we run our city, I think we'd be better off without them.
The whole country is not focused enough on resilience. Speaking in Parliament yesterday Department for Transport Minister Labour's Sadiq Khan, said:


The good practice advice given to local authorities is that there should be supplies of at least six days' worth, and they can follow that advice or not do so.

That guide is clearly insufficient and more salt / grit needs to be stockpiled; as is the case in many councils. Cambridge City Council should probably keep a stockpile itsself.

In Cambridge one thing we don't know is the view of City retailers. The City's main shopping streets were covered in ice during the peak shopping days of Christmas resulting in many injuries and a reported reduction in sales. I'd like to know what discussions have been taking place within the newly privatized City Centre management organisation – "Love Cambridge" but the group meets in secret, only publishes information to members, and Cllr Cantrill, who is the city council's representative on the body has failed to fulfil his assurance that the company will operate to the same standards of accountability as the council.