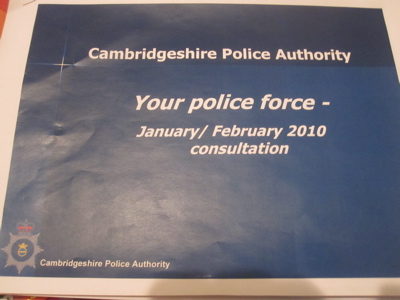 Cambridgeshire Police Authority gave a presentation at the West / Central Area committee on the 4th of February 2010. While it wasn't clear from the meeting I believe the intention may have been that it forms part of a consultation process before the Police Authority decide how much they're going to charge us though the policing element of our council tax bills next year.
Ex. Home Office Civil servant Ruth Joyce, who now serves as an unelected and unaccountable appointee on Cambridgeshire Police Authority was used to front the presentation. I was disappointed, but unsurprised that, Ms Joyce did not introduce herself to the committee in the way I have just described her. Having not been entirely open and upfront about her own position, she went on say that councillors (pointing to the Area Committee) were represented on the authority, I felt this was misleading as this could have been interpreted to suggest that City Councillors had representative on the Police Authority when they don't.
After the presentation I spoke to complain about the way in which the Police Authority had been portrayed. After having introduced Ms Joyce in my preferred manner I explained that I want to see Police Authorities made more democratic, with more existing elected representatives on them. I think there ought be more local consideration given to the make up of Police Authorities. In Cambridgeshire I would like to see a Cambridge City Councillor representing the interests of the city. Across the country I would like to see more elected Mayors, and perhaps some MPs (AMs and MSPs) given a role. I do not think there is an appetite for direct election of members or chairs of Police Authorities, as proposed by the Conservatives, and worry that the standing of authorities would be damaged by poor turnouts in such elections. Police Authorities (particularly outside of London and Northern Ireland) need reform, and how this happens will be a key question for the next Parliament.
I said that my experience of Cambridgeshire Police Authority over the last year had been that it had been supine and ineffectual. I pointed to the fact the authority had done nothing in response to the fact that Cambridgeshire Police ignore the PACE codes, and have said they see them only as guidance. PACE codes are the key safeguards designed to ensure those stopped, searched, arrested, detained and interviewed by the police are treated properly. I reminded the West Central Area committee I had spoken at one of their previous meetings asking them to consider the reported failures to follow the codes in custody at Parkside. I am also concerned about the effect of Cambridge police ignoring the PACE codes when it comes to stop and account. The Chief Executive of the Police Authority told me in June 2009 she would seek a statement from the Police making it clear if they only intend to knowingly breach the PACE codes during Stop and Account. I've not seen such a statement. That is really only an aside as it is the authority itself which I would like to see holding the police to account, not its secretariat.
I related my observing Liberal Democrat member Kevin Wilkins seek to use his position on the police authority to question the deployment of TASER to non-firearms police; only to be told it was an operational decision and therefore a matter for the Chief Constable and not the authority. I have asked questions about TASERs myself at the Police Authority but hit the same problem. I suggested that more elected members on the authority would result in a more powerful body with a stronger mandate better able to fulfil its role of overseeing and strategically directing the work of the police force and holding the chief officers to account.
When I finished speaking I was surprised to hear a number of Liberal Democrat councillors applauding. Members of the public commented, in response to my criticism of appointees, saying: "Jobs for the Boys" and "Home Office Stooges". There appeared to be a lot of support for all elements of what I had said.
The Police Authority's Chief Executive was in attendance to field questions from councillors and the public. She responded to my points expressing her view that the authority is democratic as there are nine elected and eight independent members. (She merged the magistrates and appointees into one group she called "independents"). I have attended a number of authority meetings and have not noticed elected members being in the majority. At the June 2009 AGM there were five elected individuals out of ten members present; in April 2009 there were five elected individuals out of twelve members. Those represent latest two meetings with published minutes, I have no reason to believe they're anomalous. (Details below)
Cllr Julie Smith followed up my point about a lack of democratic accountability; she related it to the council tax bill; effectively complaining about taxation without representation and asked how the authority was held to account.
The authority's Chief Executive responded weakly to note that, like local councils, the authority was subject to "capping" with respect to the tax it is able to levy.
Points from the Presentation
Cambridgeshire Police have a high number of police staff per police officer.
Many investigations and interviews are conducted by police staff rather than by police officers in Cambridgeshire.
Cambridgeshire has a below average number of police officers per resident.
"Population Change" is one of the top police priorities for the force; along with "Vulnerable Victims" and "Prolific Offenders".
In 2001/2 Council Tax provided 20% of the Police budget, in 2009/10 it will provide 36%
Cambridgeshire police have one officer per 540 residents. The national average is one per 377 residents, to reach the national average Cambridgeshire would require a further 570 officers.
Councillors, member of the public Anthony Bowen, Ruth Joyce and the Chief Executive of the Police Authority all appeared to have trouble understanding that it is possible to have both a relatively high number of police staff per police officer yet a low number of police staff per head of population.
Liberal Democrat Asks Intelligent Question
Cllr Bick asked why many the police statistics were being presented in relation to the population of Cambridgeshire; rather than in relation to the demand placed on the police which he suggested might be determined from an assessment of the number of incidents (or calls) and some assessment of their severity.
The Chief Executive of the Police Authority replied, as she often does, on a tangent saying: "It is a national funding formula". Baffled by the lack of a connection between his question and the response Cllr Bick had a second go, explaining that his question related to the slides in the presentation and the way the relative funding levels and staffing levels had been presented. The Chief Executive's second attempt at answering amounted to: "There are lots of ways the information could have been presented".
Elected Independent Councillor John Hipkin pointed to the number of officers dedicated to "Counter Terrorism and Extremism" in Cambridgeshire. He asked "What is extremism?". Neither Ruth Joyce or the Chief Executive could answer, they turned to Inspector Kerridge, who was present for another item and asked him. He said it was outside his area of expertise but he thought it was "what could become terrorism". Cllr Hipkin queried how it was possible to have so many officers working on something which no one could define and explain. "It's the national 'Prevent' strategy, for counter-terrorism", was the answer he was eventually given.
Liberal Democrat Cllr Julie Smith followed up Cllr Hipkin's question. She asked if dealing with the BNP counted as dealing with extremism. On terrorism Cllr Smith said: "for most people terrorism is not a pressing issue"; I was astounded by this statement, and its implication it shouldn't be on the force's list of priorities for the forthcoming year, especially as it came from a councillor who was until a couple of weeks ago seeking to be a Parliamentary candidate.
Inspector Kerridge responded to say that tackling the BNP would count as tacking extremism.
Cllr Smith also asked how "population change" could be a police priority; the meeting, which had been taking a turn for the bizarre with the discussion on extremism got more surreal as Inspector Kerridge cited the change in ethnic origin of those living on the Fen Road travellers' site, from Irish to Eastern European as an example of the Police's work related to population change. Cllr Smith asked where these priorities had come from and was told that all but one of the Police Authority's priorities had been largely set on a national level and the one remaining was a "people's priority" and that the Police Authority presentations were part of the process of determining what that priority ought be.
Cllr Whitebread noted a police priority of "Increasing public confidence in what we do"; she asked how the police went about doing that; saying she hoped the police didn't spend a lot of money on marketing, telling people they're doing a good job rather than spending their money on policing. Neither the authority representatives not the police inspector had an answer to that.
Councillors enthusiastically scribbled away on the questionnaire the police authority had distributed. The document asked for a series of priorities to be ranked "Alternative Vote" style, but using a table intended to enable people to rank their priorities, and thus number them 1-8 but let them do so by only marking crosses in boxes.
Neither the police presentation, nor the consultation questionnaire / survey distributed are available on the Police Authority website. This presentation has been to the South Area committee, and is yet to go to the East and North.