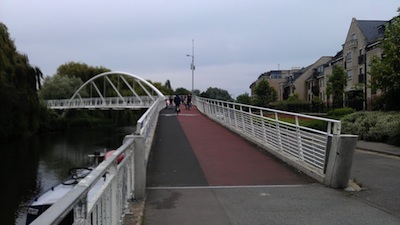 Riverside, Cambridge.
Cambridge's homelessness emergency accommodation centre, Jimmy's, is full tonight and has been turning away an average of nine people a night over the last week.
Being approached by people begging for cash is a reasonably common experience for me in Cambridge.
Typically the context is someone in one of the city's shopping streets approaching anyone and everyone asking for something like £1 for a bus fare; or money they say is for something to eat. Often (though I've seen exceptions) any offer of food, drink, or help is ignored and they just move on to the next person if cash is not immediately forthcoming. People can often be seen to continue begging after they have been given cash.
In other cities the situation is worse and this has resulted in me having a high degree of cynicism when someone approaches me asking for cash and I'm primed to say no, although I'll be open to listening and trying to be helpful.
Earlier today I was approached by someone on Riverside in Cambridge. They were begging for money. I can't remember exactly what I asked but I inquired about their circumstances. My view is I'm taxed very heavily; and one of the things I want, and thought I was getting, in return for my taxes, is excellent services to help those who are homeless and particularly those sleeping on the streets, in Cambridge. I expected to be able to point this person to some of the sources of help available within the city.
I was surprised to be told that by the person I was speaking to that they had approached Cambridge City Council, the Cambridge Citizens Advice Bureau, and emergency accommodation provider Jimmy's but none of them had been able to provide any help and they were left facing another night sleeping under one of the bridges over the river Cam.
I was incredulous at this story; assuming that there would be help available. Details were offered, such as Jimmy's being full and only able to offer a place on a waiting list, which made me think what I was being told was genuine. It's not right to relay details of a private conversation but I think a key point is this is someone without a connection to Cambridge who felt they had to leave where they were and decided to come to the Cambridge seeking, as they put it, a fresh start.
Our conversation was brought to end by the person I was speaking to after I reiterated I wasn't going to give any money, and following a mild insult along the lines of: "as long as you're ok, and you've got a house"; the person I was talking to was called to by name by a group of people near-by.
At the time I thought knowing a group of people in the city was inconsistent with what I'd been told about just coming to Cambridge; but on reflection I realise that when he visited Jimmy's and other places in the city seeking help he could well have met and got to know others in a similar situation in quite a short time.
I've sat through very many council meetings, and meetings of other bodies such as the Community Safety Partnership where homelessness in Cambridge has been discussed. Invariably the line given by councillors and officers has been that anyone sleeping on the streets of Cambridge is doing so voluntarily because they don't want to accept offers of assistance. Cambridge City Council spends large sums of public money on emergency bed and breakfast accommodation for homeless people. I would expect people in the position the person I met on Riverside to be someone who would be offered such accommodation (even if the bed offered was outside Cambridge).
This evening I tweeted Jimmy's to ask if they were full tonight, and was quite surprised to hear they were, and they were turning people away:
@FandC_Cambridge @RTaylorUK @camcitco @CambridgeCAB sadly we have to turn people away every night as we are always full.

— Jimmyscambridge (@Jimmyscambridge) May 29, 2014
@FandC_Cambridge @RTaylorUK @camcitco @CambridgeCAB this week we have turned away an average 9 people a day.

— Jimmyscambridge (@Jimmyscambridge) May 29, 2014
Cambridge city council provides some, but far from all, of the funding to Jimmy's (which is also part-funded publicly via residents' housing benefit); and Cambridge Citizens Advice bureau also receives funding from the council.
Our elected representatives ought be ensuring that we get the service we want from the homlessness services public money is being spent on in Cambridge. In particular I think our councillors need to use their influence, and spending power, to ensure organisations are getting their priorities right.
Councillors also have direct responsibility for ensuring the council itsself is advising people correctly and acting properly and humanely when people approach the council seeking emergency accommodation.
Councillors need to be checking if the approved "no second night out" policy/aspiration is in-fact functioning, and being met, in practice; and ensuring that the city's policies particularly on helping those who have no local connection, and so the council has no legal duty to provide accommodation to, are being operated humanely.
£4,000 of taxpayers money was recently spent in Cambridge on posters urging people not to give money to beggars. That would have bought a lot of emergency bed and breakfast nights. I think this is an example of our councillors getting their priorities wrong.
As usual I think we need to elect better councillors to make sure public money is spent in such as way that ensures we get the services we want. I will point the two local ward councillors who are on Twitter to this article.
I have in the past either myself, or advised others to, let Cambridge City Council officers know where people are sleeping rough; with a view to the council's specialist officers being able to find them, and offer assistance. In this case though such "outreach" is apparently not required with the person in question, claiming to me, they actively sought help from the council.
In addition to the bodies mentioned above the person I spoke to said he'd also been to the police; in relation to some of his belongings, which he had left, having gone missing. He said they were rude, dismissive, unhelpful, and not prepared to consider what had happened a crime they ought record. This is as far as I can see exactly the same way the police treat everyone else in Cambridge; but it is another example of an organisation which I would expect to be able to at least assist someone to find help, failing to do so. Not providing help to people who are homeless and destitute surely leads to a risk of those people committing crimes (initially begging, and potentially going on to worse, if only in the pursuit of survival).
See Also