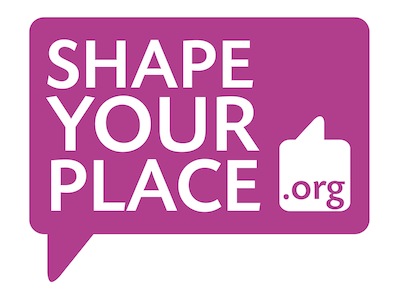 Soon (mid-June 2013) a Cambridge ShapeYourPlace website will be launched for a trial period, presumably at cambridge.shapeyourplace.org.
Shape Your Place websites are run by Cambridgeshire County Council, at taxpayers' expense. Such websites already exist covering various parts of the county (eg. Ely, Wisbech). The websites aim to enable people to "discuss local issues with their community leaders and local service providers" online, in public, without having to attend public meetings.*.
Benefits
For quite a while now I've been lobbying Cambridge's Area Committees, urging them to provide a way for people to have public input without having to attend in person; particularly to the open forum and the part of the meeting where the local police are held to account for their performance and their priorities for the next period are set.
Hopefully the new site will closely link to Cambridge's area committees. It may even enable many matters to be resolved before the meetings and simply be reported in public to councillors. In other cases it will make it easier to make a case to councillors, for example providing photos and detailed information, which it is impossible to do in a few seconds members of the public get to ask a question or make a statement at a meeting.
The ShapeYourPlace websites elsewhere in Cambridgeshire have had a "service level agreement" with the police, councils and other bodies such as housing associations and health care providers meaning those raising matters on the sites are promised a rapid response in public. This is not something which has yet been available to Cambridge residents; I think it is potentially very valuable.
Concerns
Being the public sector, instead of going to where people already are, on Facebook, and making use of a service which would be free for them to use, Cambridge's councillors have gone for an expensive and bespoke system which will start with no public users. Cambridge's North Area Committee did briefly have a Facebook page, however there was never any formal link between it, and what was discussed at the meetings, it wasn't possible to use it as a route for raising or following up items if you could not, or didn't wish to, attend in person.
I hope the Cambridge Shape Your Place site launches with the area committee links, and service level agreements with service providers in place.
The new site will directly compete with those who write about civic matters in Cambridge, like me, with my own websites; as well as with the Cambridge News, and with local residents associations and campaign groups. My view is the state ought only get involved with things it really has to do. Backed as it will be by the power of the state, the Cambridge ShapeYourPlace site may prevent, or make it much harder, for other "hyperlocal" websites in Cambridge to establish themselves. (Or it might well just end up as part of a thriving "ecosystem").
Those who oppose the council's propaganda newsletter "Cambridge Matters" may well oppose this foray into online publishing on the same grounds.
If Cambridge City councillors really must spend money on online community engagement (and that wouldn't be top of my spending priorities) I'd suggest looking to where people already are online, such as the Cambridge News, and the major institutional websites in the city, as well as Facebook and other social media and to working with, and using them, rather than setting up on their own website.
My Exchange with the City Council
I sought to use the pubic speaking slot at Cambridge City Council's Community Services Scrutiny Committee on Thursday, 14th March, 2013, however I was advised that my question was better suited the Strategy and Resources Committee, which I was unfortunately unable to attend. I published the question I submitted to the central scrutiny committees on this website.
Despite not putting the question to a meeting in person, my question resulted in the below message from Cambridge City Council leader Tim Bick informing me of the intent to launch the Cambridge ShapeYourPlace website:
Dear Mr Taylor

Thank you for your recent question about multi-agency forums. Sorry that you weren't able to make it to last month's S&R meeting to raise it as a public question.

I agree that it could be beneficial to provide some additional online means of surfacing an issue outside the open forum at area committees.

In particular, I'm interested to see if we can achieve some collaborative public forum with other agencies like the police, such as you describe. This is important in our complex world where partners work closely on issues like community safety, but where members of the public may not be sure which agency to address an issue to.

Therefore we are going to participate in the Cambridge Shape Your Place site that is being launched in mid-June on a trial basis, and see how this works for us and our residents. We'll review the extent to which it's actually enabling more meaningful community engagement after six months or so.

Thank you again for your interest,

Councillor Tim Bick
Leader & Executive Councillor for Strategy, Cambridge City Council
How I May Use Cambridge.ShapeYourPlace.org
I have used the Wisbech ShapeYourPlace website to post a summary of an article I posted on my own website; I have used the Ely site in a similar way I may seek to use the Cambridge service in that manner too. I think this will be particularly useful in relation to matters where a response from the police or county council would be desirable.
For example while neither the police, my local councillor, or the County Council have responded to my concerns about the state of the cycleway markings on Milton Road as a result of an article on my own site, reports on FixMyStreet, tweets and use of the public speaking slot at the North Area Committee, the ShapeYourPlace site may provide me with a way to obtain a response and lobby for improvements.
Key Questions
Will there be a service level agreement in place with the police and other public bodies from the time the site launches?
How will Cambridge.ShapeYourPlace.org relate to the area committees, will there be a formal link?