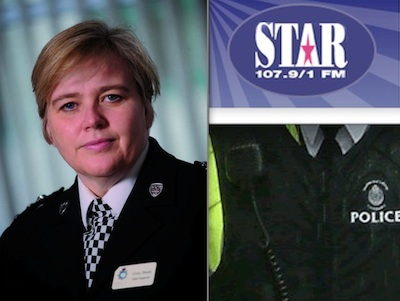 Superintendent Vicky Skeels, Police Commander for Cambridge
The latest Star Radio Police Podcast is an interview with Superintendent Vicky Skeels, the new area commander for Cambridge.
Following operation redesign Cambridgeshire Police has aligned its organisational structure to the local authority areas. As I understand it Skeels took on the role in January 2012 but the re-organisation has been happening gradually and the new arrangements are going to be fully in place from April 2012.
Superintendent Vicky Skeels said she lives in Cambridge, has done for about twenty years and described herself as: "a cyclist, a motorist, a mum and resident of the City of Cambridge".
TASER
The Chief Constable of Cambridgeshire Police has made clear his intention to issue TASER weapons to non-firearms officers.
Supt. Skeels said she was:
taken aback about the level of interest, and level of concern, about this roll out.
She offered reassurance that governance of this tactic locally will comply with all the rules set by ACPO and the Home Office. Skeels told interviewer Emma Howgego she was commander who has authorised the use of TASER on a number of occasions over the last few years as a way of dealing with someone who is hostile, violent and threatening.
Skeels described TASER as a neuro-muscular incapacitant which acts by causing the contraction of muscle between the two barbs. My understanding is it has a much wider, systemic effect over the whole body.
When asked Skeels confirmed the weapons were "not going to be carried around as standard". I think there needs to be clarification from the police on exactly how non-firearms officers will use these weapons, if they are not to be carried around as standard will they be kept at police stations, or in vehicles until they are authorised?
The roll out was described as an extension of what's already in place as firearms officers carrying it since 2005; concealed in a pouch, with a lanyard attached, not something which would be very obvious.
Skeels confirmed something which had been mentioned by the Chief Constable, that non-firearms officers would carry the weapons in a concealed manner. Skeels said that as the weapon would be concealed it would not be hostile, and officers carrying TASER will be able to speak to, and engage with the public.
When asked what advice she would give to those faced with a police officer armed with a TASER Skeels gave an assurance the officer will do everything to use force as a last resort, only if someone was exhibiting violent threatening behaviour, if there was a need to protect the public or themselves.
Skeels stated most people would be familiar with TASER from TV and YouTube.
Knife Crime
This subject was raised in the context of the recent murder of Miciajah Brown.
Skeels said the incidence of knife crime in Cambridge is very low and reported significant reductions in admissions to Addenbrookes for all assault related injuries. I think it is excellent that our local police commander is looking at this statistic; I think that such injury related statistics are an excellent way to measure how safe an area is; it's a hard statistic which is difficult to "game".
We were told the police have reassurance plans, and will be keeping people updated and that there will be additional patrolling.
Skeels said the Knife crime campaign which has emerged is positive, focus efforts of those who want to support the police and deter young people from carrying knives.
Mobile Phone Thefts
Skeels confirmed the presence of active groups of thieves operating on Friday and Saturday nights in Cambridge and said the police were giving out bungee cords for people to use to attach phones to bags.