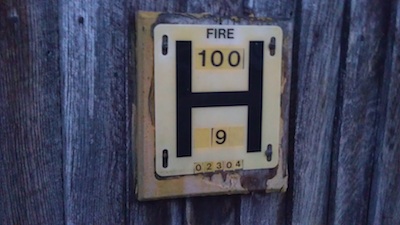 The nearest hydrant to the 1920s built house I live in is just ~30m away. There are hydrants every ~100m or so throughout the area.
On Saturday the 3rd of March 2012 I received an email from Cambridge City Council's executive councillor for planning, Liberal Democrat Tim Ward, stating:
…hydrants are a nice-to-have feature but that they are not a safety requirement.
The background is explained in the following email exchange:
On 22/02/2012 00:11, Richard Taylor wrote:
Cllr Ward,

I'm writing to you in your capacity as Executive Councillor for Planning and Sustainable Transport at Cambridge City Council.

I observed a little of Cambridgeshire County Council's full council on the 21st of February 2012. An oral question was asked to the representative of the Cambridgeshire and Peterborough Fire Authority about provision of fire hydrants in new developments in Cambridge.

Both the questioner, and the individual responding on behalf of the authority, stated that Cambridge City Council had made a decision to cease requiring the provision of fire hydrants in new developments (either via planning conditions, or via S.106 agreements).

The representative of Cambridgeshire and Peterborough Fire Authority, the questioner, and various other Conservatives who jumped in, described the Liberal Democrats running Cambridge City Council as reckless for ceasing to ensure the provision of fire hydrants via its planning policies and called for the City Council to reverse its decision.

Can you let me know what has happened here?

I can't find any relevant entry in recent decisions published on the council's decision register or in recent council meeting papers.

–

Richard Taylor
Cambridge

http://www.rtaylor.co.uk
Cllr Ward's reply:
From: Tim Ward
Date: 3 March 2012 15:26:54 GMT
To: Richard Taylor
Subject: Re: Fire Hydrants on New Developments

Richard,

The planning officers' response is as follows:

"South Cambs have a policy that requires them but we don't. In terms of recent development, they will be provided in Trumpington Meadows as that site straddles both council areas and is subject to both planning policies. As far as Clay Farm goes (which is within the City), the Fire Authority requested fire hydrant provision but the Planning appeal inspector who gave outline planning permission for the Clay farm development did not agree that they could be justified and did not include them as a s.106 requirement. In that area there won't be any unless specific developers now agree to provide them. The difficulty from the planning policy position (that has to underpin our request for these requirements) is that there is no national planning policy basis to require these, they do not appear in our 2006 local plan or the Council's 2010 planning obligations strategy.

"As I've said we will be looking at this as we move forward with local plan review. We will try to take a pragmatic view in negotiations but the planning basis for insisting on their provision is not there at the moment. The Fire Authority have asked that these are provided within new development proposals but are not in a position to advise the local planning authority that planning permission must be refused if they are not provided. I am very happy to meet the Fire Authority to discuss this and will be writing to them about that."

Further I am told that hydrants are a nice-to-have feature but that they are not a safety requirement.
Notably Cllr Ward has distances himself from the decision; he has not admitted to being responsible for the city council having a policy of not requiring fire hydrants in new developments within the city and promised to correct it, in fact he's not made any personal comment at all, simply passed on the officer's response to my message.
The recently revealed situation makes me wonder if fire hydrants are present within recent and current large developments in the city, such as St Matthew's Gardens, the Brunswick Site, the Vie Estate and the Station Area?
Clearly the Fire Authority – the experts here – are keen to see hydrants provided, it is astonishing that the Liberal Democrat run council are taking a position at odds with theirs.
As well as use in fires, there hydrants can also be used in times of drought. While Cambridge Water's draft drought plan doesn't mention the potential use of standpipes connected to hydrants; in previous UK droughts making water available only via standpipes was has been a tactic used to reduce usage.