At 00:45 on Saturday night / Sunday morning on the 22nd of July 2012 a couple, both aged 23, were attacked by a group on Riverside in Cambridge while walking onto the new footbridge over the river.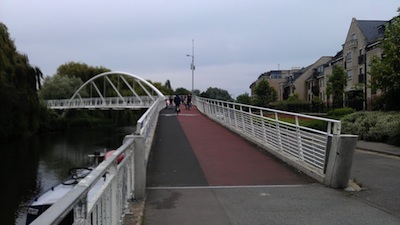 Riverside Bridge, Cambridge. RCCTV on Lamppost
A police press release, issued on the 26th of July 2012, states:
The offenders threatened the pair before two of the group punched them in the head. The others joined in the attack and demanded they hand over money, but the couple managed to run away.
…
Detective Constable Amie Meston, investigating, said: "This was a nasty attack and the victims were lucky to escape with only minor injuries".
This is an appalling violent crime, which feels very close to home for me, as I am often in this area, sometimes at the time of day the attack ocured. The police clearly didn't consider they had solved the crime straight away as their press release, seeking assistance to identify the offenders, was published a few days later.
Cambridge City Council has one of its re-deployable CCTV cameras on the bridge, covering the surrounding area. I suggested to the police via Twitter that they might want to review it as part of their investigation. The CCTV isn't obvious to those who don't know what to look for. There have been a number cases revealed at area committee meetings where police officers have not been aware of where the City Council's CCTV is located within areas they work in. Also, the city council, don't pro-actively supply the police with CCTV footage, the police have to request it. This is a problem with the council's policies and practices caused by councillors getting their liberal principles in a twist; and one I have been lobbying to have changed since 2009.
The council tweeted on the 27th of July to say
We routinely help @CambsCops with situations like this; they will decide if they need to examine any CCTV footage
When I followed up on the 30th of July saying:
@camcitco Have @CambsCops asked for the footage yet? Have you preserved it for when they might get round to asking for it? @chailey_
No, we haven't been asked for it yet. We hold footage for 31 days.
The council's current CCTV code of practice states in section 6.3 "Access to images" how the police and other agencies may request images, but there is no section on the council pro-actively letting the police have images even in very serious cases.
I have observed councillors debate the point, but they have concluded it is illiberal for them to protectively provide evidence to the police even in cases where it could lead to violent criminals being arrested and brought to justice.
I am aware the Cambridgeshire police are often astonishingly slow at seeking CCTV footage following even the most serious of crimes, but unless there's they know of a reason why the footage in this case is not going to be helpful, I think they should obtain and view it.
See Also
My articles tagged CCTV – I have been lobbying the council for years to improve their CCTV policies; and while I've had some success there is still much room for improvement.