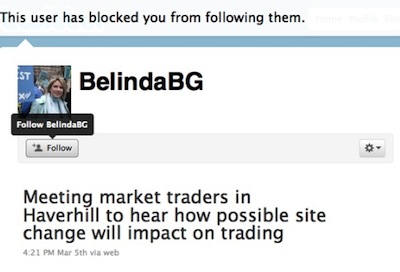 A few days ago I noticed that Belinda Brooks-Gordon, the Liberal Democrat County Councillor for Castle Ward in Cambridge, had blocked me from following her on Twitter. This piqued my interest so I made sure I monitored her public twitter feed carefully. On Friday she posted a tweet saying she was in Haverhill and I noticed her Twitter "Bio" had been updated to read: "Lib Dem PPC for West Suffolk".
An article published on Monday the 1st of March in the East Anglian Daily Times confirms that Brooks-Gordon has been selected as the Lib Dem Parliamentary Candidate for West Suffolk in the next general election; the constituency includes Haverhill, Mildenhall and Newmarket.
Brooks-Gordon has launched a new website dedicated to her Parliamentary campaign. Interestingly that site as a whole, and particularly the biography where it would be expected, doesn't at the time of writing mention the fact she is a county councillor for a ward in the city of Cambridge. On the flip side Brooks-Gordon's distinctly separate website, aimed at her constituents in Cambridge doesn't mention her parliamentary candidature at all. Those electors in Castle following their representative via the original website won't see any evidence of a new-found interest in Chedburgh, Wickhambrook and Withersfield.
When I first saw I had been blocked from following Brooks-Gordon thought it was just me. (Though Brooks-Gordon has been supportive of some of my campaigns eg. opening up secretive City Council meetings and reforming the police authority). Now I'm wondering if all those based in Cambridge have been removed as a result of the new change in focus as part of attempts to keep it under wraps, or at least not draw too much attention to it within the city. The Lib Dems are well practised at this kind of thing; Julian Huppert managed to stand as a Parliamentary Candidate in Huntington without drawing too much attention to his activities there back in Cambridge.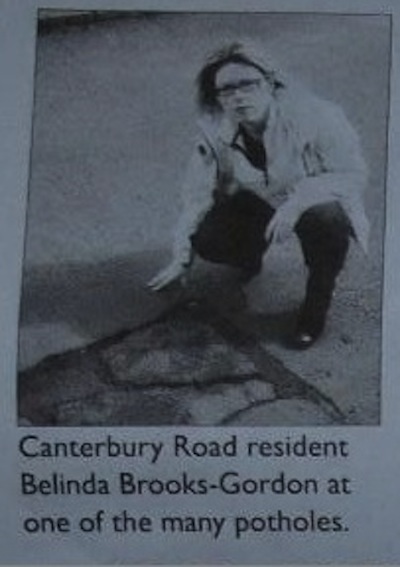 I think there is marked difference in openness and transparency between Brooks-Gordon's activities and those of Tariq Sadiq who is both Labour's county councillor for Coleridge and Labour's PPC for South Cambridgeshire. Cllr Sadiq is very open about his dual role, with his website tagline of "for Coleridge and South Cambridgeshire". I recall that during Cllr Sadiq's election as a county councillor the fact he was to be the PPC for South Cambridgeshire was known and was part of the campaign; those who elected him in Coleridge did so in the full knowledge that he would have a major campaign outside the ward with potential to distract him from his duties there.
I get the impression that as yet many Castle residents are unaware of what their elected representative has been getting up to; I wonder what they'll make of it.