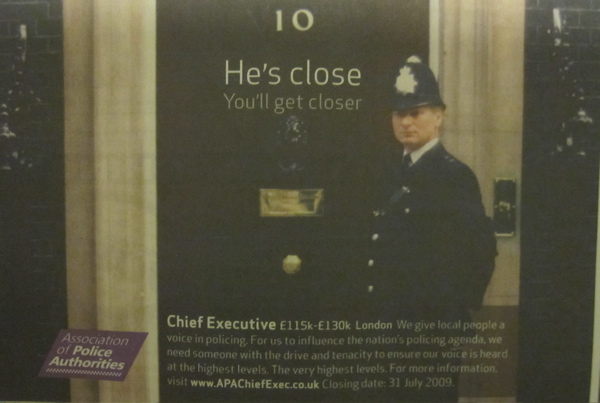 The front page of the appointments section of the Sunday Times on the 5th of July 2009 carried an advert for a new Chief Executive of the Association of Police Authorities (APA). The APA is one of many organisations which are publically funded and have a substantial influence on the way the British state works but are not subject to the Freedom of Information Act.
The advert shows a policeman outside ten Downing Street, indicating the APA's proximity to the centre of state power in the UK. The text states the APA are looking for someone to ensure their "voice is heard at the highest levels, the very highest levels".
The advert contains a link to a dedicated recruitment website for the £115K – £130K role which involves managing 15-20 staff. The influential position of the APA is stressed further in the application documents which state:
Police Authorities and the APA form a key element of policing's 'Tripartite arrangement' and it is essential that the APA is able to act as an equal and effective partner with the Home Office and Chief Constables (and their representative body, the Association of Chief Police Officers (ACPO)).
and
The aim of the APA is:

to seek to influence the policing agenda at national level on behalf of police authorities and local communities
to support police authorities in securing efficient and effective policing services across the country
to help police authorities to improve
to promote awareness of policing needs and the role and achievements of police authorities
to uphold and champion the principles of local accountability and policing by consent.
The Association of Police Authorities is, like ACPO, a Limited Company. It is registered in England & Wales with No. : 5214716.
I have written a previous article on the subject of extending the Freedom of Information Act and have published the response I received after writing to Justice Minister Mr Wills urging him to extend the scope of the act. That reply stated that the Government is planning to publish its response to a consultation on extending the FOI act in the summer of 2009.
A large list of organisations and officials with public responsibilities which are not subject to the Freedom of Information Act is being collated on a wiki. The list contains ACPO, Exam Boards, Housing Associations, The organising committee of the London Olympics and many more groups. Anyone can add to that list; I have added the APA and a number of other bodies.