I wrote to Cambridge City Councillor Colin Rosenstiel today following his apparent claim that food waste is currently collected weekly in the city:
Cllr Rosenstiel,
In an article published earlier today on the Cambridge Liberal Democrat website entitled: "Lib Dems attack Tory's £1.2m plan for weekly rubbish collections" you are quoted as saying:
The city council already makes two refuse collections every week from every household and collects rotting food on a weekly basis.
This is clearly nonsense. I live in Cambridge and, in line with the Council's instructions I put my food waste in a green bin which is collected every other week. According to the city council's website your green bin is collected every other week too.
Are you under the impression the council's advice is to put food waste in whichever bin is due to be collected soonest? This is not the case.
As the executive councillor for environment and waste services I would expect you to have a firm understanding of how often green bins in Cambridge are collected.
I look forward to an explanation, or correction of the quote and article – whichever is appropriate.
[...]
–
Richard Taylor
Cambridge
http://www.rtaylor.co.uk
I have previously written about split green bins in Cambridge.
I have taken a screen shot of the article at the time of writing: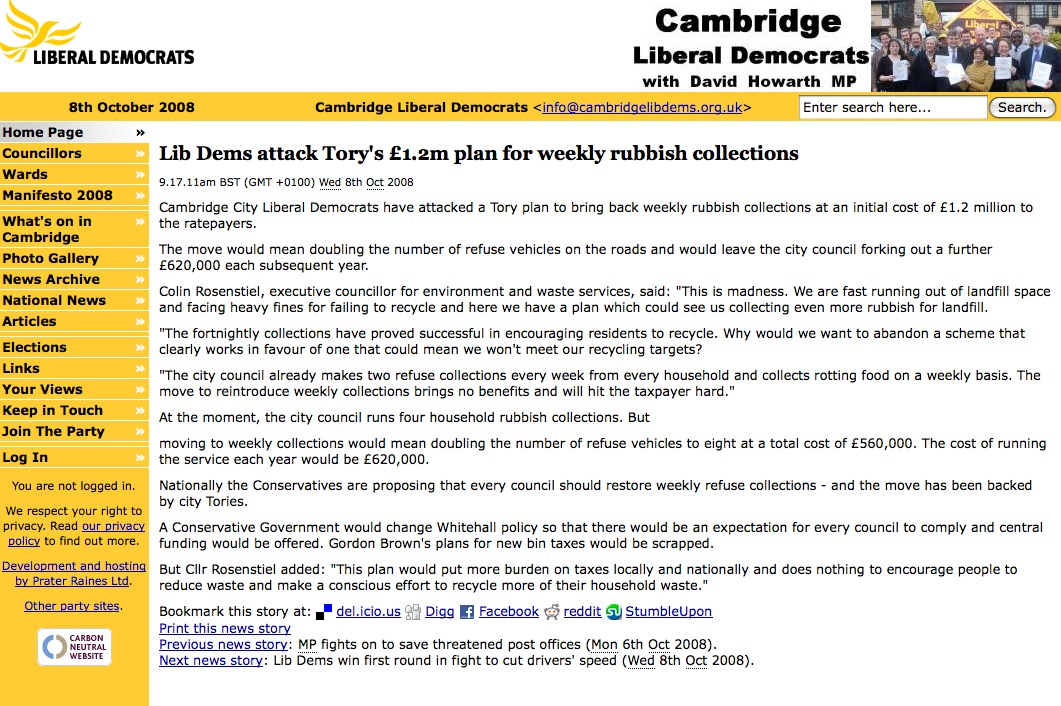 Click to enlarge image.