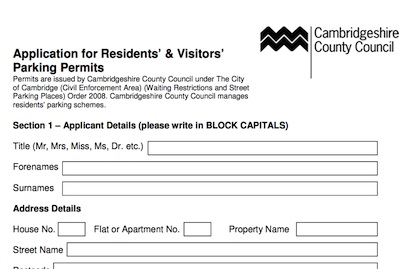 Cambridge's bizarre, unfair and unclear rules on parking permit eligibility might now be shaken up following a public question from resident Emma Chin raised during the open forum section of the West Central Area Committee on the 1st of November 2012.
One problem is that some properties on a street have become ineligible for parking permits because they have been built, or modified, since residents parking schemes were introduced to an area. Now many of these properties are no longer particularly new or particularly recently modified. There is also no list held by the County Council, which operates the parking scheme, of these ineligible properties. The rather bonkers Liberal Democrat anti-car policy of restricting access to parking permits has, inevitably, over the course of time, resulted in a confusing, incomprehensible, and unfair patchwork of eligibility for parking permits with some properties on a street eligible and some not. Eligibility status is due to what is now ancient history which current residents, or prospective tenants or purchasers, have little realistic chance of being in a position to find out about.
Another problem appears to be council officers selling visitor permits to those ineligible for them; as well as selling them for use not for visitors, but knowingly for use by residents ineligible for permits, in apparent contravention of the regulations (ie. the law).
Emma Chin told councillors that she had purchased a house on a road where residents are eligible for parking permits and she had been advised by officers running the parking scheme that while she could not have a parking permit because her house was a relatively new build she could purchase and use visitor permits albeit at quite a cost (around £50/month). Chin told councillors that parking officers had now decided, after a few years of taking her money, that she was abusing the scheme and they had threatened to target her car for enforcement activity if it was seen parked in residents parking bays.
Cllr Kightley, one of Emma Chin's councillors, pursued the issue on her behalf, brandishing an letter signed by a named council parking officer which he said amounted to advising that visitors' permits could be used as Emma Chin had. (However Chin appeared less sure there was anything really substantive in writing)
Cllrs Kightley, Brooks-Gordon and Reiner (and apparently the committee as a whole as no councillor demurred) stated that as advice had been given by officers and then rescinded there was a clear case for a making a successful complaint to the Local Government Ombudsman and the council's rules could not be upheld if the public had been mis-advised.
Emma Chin noted that her neighbours had been told similar things by council officers, and one of their solicitors had even been told, and passed on, the same advice when conducting searches/checks prior to a house purchase.
The committee as a whole recommended that Emma Chin ought be allowed to continue to use parking permits in the way she had been advised was acceptable, and asked her ward councillor, Cllr Kightley to correspond with the county council on her behalf.
Councillors may have been swayed by an emotive argument by Chin who claimed to have been targeted by ignorant people due to her race, and that she felt unsafe walking from a few streets away back to her home as her car had been vandalised recently. If councillors get their way and an exception is made for Emma Chin because she made a persuasive case to a committee of councillors, that would create even more unfairness and inconsistency in the scheme's application which is why I am suggesting her case may provoke a shake up of the system.
Cllr Brooks-Gordon's Silly Suggestion
Cllr Brooks-Gordon, who is now seeking to become a Member of the European Parliament, suggested the council ought do more to ensure developers tell those they sell homes to about ineligibility for parking permits. Cllr Brooks-Gordon's point was politely ignored by the other councillors and not taken up; it is clearly nonsense as the issue is not with those buying new-build properties, it's with people buying properties which were at one point (since the introduction of a scheme) newly built or modified and as a result property continues to be ineligible even if it changes hands a few times and its history is not immediately obvious or easily discernible.
Cllr Whitebread
Cllr Whitebread appeared confused; she made a belated contribution to say that she often tried to get the county council to take action against those in her ward who mis-used visitor parking permits for their own vehicles but without much success.
Which Properties Are Eligible for Permits?
This case is very interesting, and could have broad implications, because not only does it appear advice given in person to individuals has been wrong, but the County Council is giving the public at large bad advice about parking permit eligibility because it does not publish a list of which properties are ineligible for permits due to them being new builds or having been modified. The information given by Cambridgeshire County Council on its website is incomplete and misleading because it, for example states all properties on Emma Chin's street (as with many other streets) are eligible for permits within the detailed definition for the parking zone.
The entire house of cards could be demolished by a ruling from the local government ombudsman.
The County Council do publish a caveat:
Please note certain properties may not be eligible for residents' parking permits because they have been modified after the residents' parking scheme was introduced.
However, as I have said, they do not list those properties which are not eligible for this reason. In July 2010 I made a Freedom of Information request, in public to try and find out if the county council which operates the scheme holds a list of exempted properties but the council then stated it did not.
Traffic Regulation Orders
The law underpinning the parking permit scheme involves "Traffic Regulation Orders". These laws are not pro-actively published, however local resident Ben Harris has been pursuing a campaign using FOI laws and related activism involving visiting the council premises in person when the council has sought to apply exemptions to withhold copies of the regulations, to try and get them in the public domain. His website is at:
While Mr Harris' website is a fantastic resource, it is not official, and cannot be relied upon to be comprehensive and up to date, so it is all but impossible to find out what the current position is.
The key question I've got for Mr Harris if he reads this is where are the latest amendments to the TRO(s) which regulate parking in Cambridge. Are the TROs really being kept up to date in light of new-builds and planning permissions?
My Own Experience
Around ten years ago, when Cambridge City Council ran the parking permits scheme, I approached the council and inquired about obtaining a permit and was told I could obtain one, but to be eligible I had to change the address on my documents so they all matched up with where I was living. I duly changed the addresses, but when I returned a different officer denied me a permit. The system, and advice given by officers, has been in disarray for years.
See Also