On Wednesday the 23rd of February 2011 the Cambridge News ran an article on problems with students parking in Guest Road, Cambridge. The article contained a quote from a Cambridgeshire County Council spokesman who was reported as saying:
The council does not issue parking permits to students and if we find out a student has one it will be withdrawn.
The vast majority of students in Cambridge cannot obtain parking permits because they live in properties which are not eligible for them. Only those living on certain properties, on roads with residents parking schemes can have parking permits. I was not previously aware of any county council policy or practice which expressly directly discriminated against students simply as a consequence of them being students and I think such taking such a position is wrong.
Presuming the spokesman had mis-spoken, or the Cambridge-News had fully reported on what was said, I sought clarification from the County Council via twitter. I was shocked to see the County Council not only stand by their response, but go much further: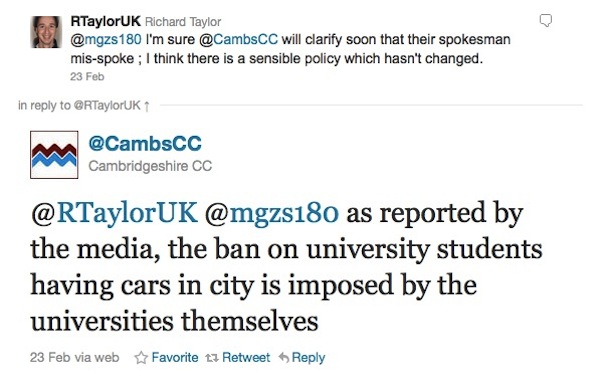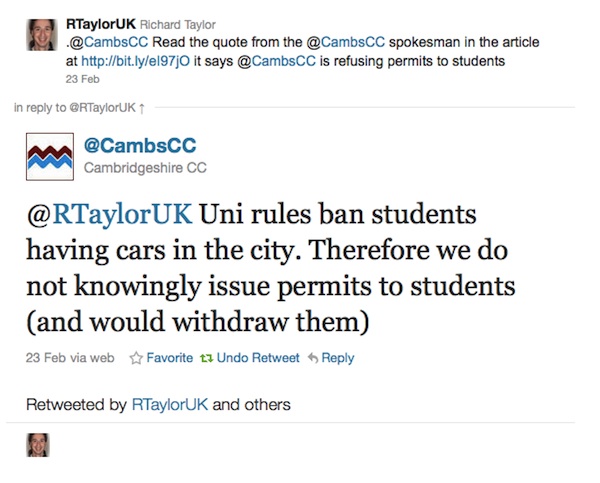 Astonished by this I raised the matter during the "open forum" the West / Central area committee on the 24th of February.
I explained what had been said in the Cambridge-News, and what the County Council had said when I tried to follow it up with them. I told councillors that I would illustrate the problem with a blanket ban on issuing parking permits to students giving by giving an admittedly extreme example of a Cambridge resident holding a parking permit becoming an Open University student and under the County Council's stated "policy" facing the withdrawal of their parking permit if the County Council found out they had become a student.
I also explained that I was very worried by the County Council seeking to enforce university rules. I told the committee many of the University of Cambridge's rules were utterly bizarre, and illustrated this with the example of graduate students over the age of 24 being exempt from the university's "regulations for motor vehicles", while younger researchers were subject to them . (S.3(d)). I noted at least one member of the committee would be aware of the absurdities as they are been involved in the operation of the rules. (Cllr Smith is a Graduate Tutor at Robinson College).
I asked for councillors to urge the County Council to back down from its ludicrous blanket ban, and for a them to push the County Council to seek a the publication of a clarification of the position in the Cambridge News (perhaps via a letter).
Councillor Responses
Cllr Rosensteil replied first; he spoke about the within fact that ARU and Cambridge University, according to the university rules student cars ownership was under "proctorial control". The then went on to the even more tangental point that the City Council has garages to-let near East Road, before stating that if the students living on his street had cars and parked them on the street there wouldn't be enough space.
Cllr Julie Smith raised her hand and was acknowledged by the chair.
Cllr Brooks-Gordon spoke next. While noting the problems arising from students with cars she agreed with me that the County Council shouldn't be getting into enforcement of the University's rules. She agreed to seek clarification of the County Council's statements via either a written or oral question. She said she didn't want me to criticise the way she was to follow this up so would follow it up via whatever route I suggested she should follow.
City Council leader Cllr Sian Reid said she worked for the Open University and that it would be "absolutely absurd" if the County Council were operating a blanket ban on all students.
Cllr Simon Kightley, the meeting's chair proposed getting the City Council to write to the County Council, seeking an explanation of their statements. The committee agreed and resolved to ask their committee manager to write and send such a letter. I was very pleased with the way my question had been handled and the fact it prompted action from councillors.
Cllr Smith never did make a contribution to the discussion (the comments are open below should she wish to share her thoughts now).
East Area Committee
This matter had been first raised a week or so before the Cambridge-News article at the East Area committee on the 10th of February which I observed. Residents of Guest Road (Off Mill Road near the ARU Campus) attended and described how they believed that visitor permits were being abused, they called for action on that, and an investigation into if any fraud was involved. From what was described it sounded as if one or two individuals were seriously breaking the rules of the parking scheme.
I tweeted, and Andy Bower who was also in the public seating re-tweeted, from the East Area meeting commenting on the shocking degree of anti-student; and anti- young professionals venom which came from both councillors and members of the public present. This was sparked by, but not directly related to, the issue of parking on Guest Road.
My View
There is a democratic deficit, and a lack of localism, here as control of the Cambridge's on-street parking has recently been moved from the City Council to the County Council. This means that ultimately decisions are taken by representatives of those who live outside the city, by the Conservatives running the County Council. I think this kind of parking policy question should be dealt with at a more local level.
I am terrified by the prospect of the city and county council enforcing university rules. Those wishing to study or carry our research at Cambridge University have to submit themselves irrational and draconian rules, many of which are inconsistently enforced. That situation is bad enough given the public funding which goes into the university, but to have the councils putting their weight behind their nonsense is alarming. Sometimes when the University or Colleges discipline people they seek to ban them from the City itsself (See: Para (q) & Para 1); I wouldn't want to see the City and County Councils starting to try and help them try and enforce that for example. There is a very steep and slippery slope here which must be avoided.
I think the Cambridge is treating graduate researchers terribly when we should be welcoming them. The City Council has been wrongly persecuting some through the courts for council tax they don't owe, and now the County Council is denying parking permits even if they rent or own a property which would otherwise be eligible for them.
Some students, such as disabled students, those who commute daily to work outside Cambridge eg. at the Babraham Institute are permitted cars by the universities. Very few of these will be living in properties eligible for parking permits, but those who do surely should not be denied them.
The fact ARU and Cambridge University have their own internal rules restricting student car use and the fact a bike is a lot cheaper and often more practical than a car in Cambridge keep the number of students with cars in Cambridge low; a blanket ban is an over-reaction, and an inappropriate reaction, to a specific problem that was raised.
I still expect, and am hoping for, a rapid retraction, and admission that their spokesman mis-spoke. This ought occur as soon as someone at Cambridgeshire County Council with some common sense takes a look into this.