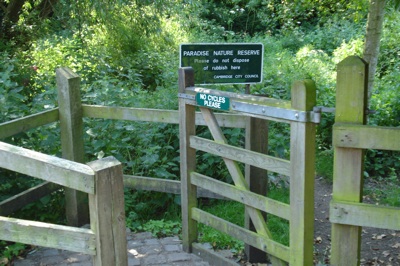 On Monday the 22nd of June 2009 Cambridge Liberal Democrats issued a press release titled Lib Dems welcome cash help for city's wild spaces in which they announced a number of projects to be carried out in Local Nature Reserves. In the winter of 2008/9 the Liberal Democrat run City Council felled 73 healthy trees at the Byron's Pool nature reserve which it manages. The trees at Byron's pool were healthy and established, they were felled because the council considered some them non-native and thought others were shading the river too much.
On Tuesday the 23rd of June 2009 I observed an Environment Scrutiny Committee. While the content of the press release was not formally presented at the meeting, Labour Leader of the Opposition, Lewis Herbert, was able to ask if the proposed Nature Reserve works involved felling more trees. I think he expected this to be a flippant jibe commenting on the recent fellings in the city; however shockingly he was told that the council does intend to get rid of more trees. Those under threat are at the Paradise Nature Reserve, which is on the banks of the River Cam between Owlstone Road and Lammas Land in Newnham. The council plans to remove the large self-seeded ash and sycamore trees from this area; this appears to be on the grounds that they are "self-seeded" and therefore not growing in the ordered manner the City Council likes its trees. Councillor Ward said:
The work proposed is essentially weeding. It is just that these are large weeds made of wood.
I think that the slightly wild and natural elements of this area make it a pleasant place to walk along the river; it's not a place that I think would benefit from clearing and formalising. The council's proposals will follow a new protocol for tree works; under which it will depend on if the works are classed "major" or "minor" to determine if any public consultation, or even consultation with elected members will be held. There is no specific provision in the new decision making protocol on trees to deal with self-seeded saplings.
As yet no further details of the proposed fellings are available to the public; though given Cllr Ward's comments presumably the Liberal Democrats have some idea of what they are planning. Cllr Ward's description might well even be accurate. I'm taking a moderate view on this, (as I do with everything else too): many self-seeded saplings won't thrive, most barely get off the ground. However just the fact a tree is self-seeded, isn't in itsself an argument for removing it. I would entirely support some thinning out intended to give selected saplings the best chance of long term survival.