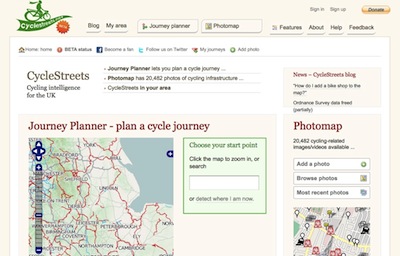 CycleStreets offers UK wide cycle route planning; it has received a few thousand pounds of public money.
There has been a free online cycle route planner for Cambridge since the Cambridge Cycling Campaign Journey Planner was launched in 2006. The cycling campaign's system has now become a nationwide project, CycleStreets, which suggests cycle friendly routes with users given options for either an "unhurried" or "quick" ride. In mid-2009 a UK government service, made available via the transportdirect.info website, was launched which enables people to find cycle friendly routes in eighteen specific areas of the UK. Whereas the government website only covers a small handful of selected locations CycleStreets covers the whole of the UK limited only by the quality of Open Street Map data for the area. Personally I think that CycleStreets is a better service than the government system, not just because of its much wider coverage but because of its extensive set of features including integration with a national photomap which allows people to see photos taken along the route (as an alternative the site also integrates with Google Earth).
Recently I used mySociety's freedom of information website WhatDoTheyKnow.com to ask the Department of Transport to release information about how much their cycle journey planner cost. I found out that one of biggest differences between CycleStreets and Transport Direct services is that one has cost me and other UK taxpayers, just a couple of thousand pounds whereas the other has cost us a couple of million. CycleStreets has had a grant for £3,200 from Cambridge City Council, a small grant from "cycling Scotland" for version of the site for Edinburgh. The response to my freedom of information request revealed that the "Find a cycle route" feature on the Transport Direct website will have cost us £2,383,739 (£2.4 million pounds) by the end the current financial year, and there are plans to spend a further £400,000 on adapting what has been produced to provide route planner for a Cycling for Schools programme. The figures given in the response can be used to calculate that each cycle route planned using the government website has cost the taxpayer about £57.
I find these figures shocking and astonishing. It is an astronomical amount. The Department of Transport have spent over seven hundred times as much public money on their project as has been spent on Cyclestreets. Even if we add salaries for CycleStreets' core team of Simon Nuttall and Martin Lucas-Smith (who don't work full time on the project) the government website has cost in the order of a hundred times more than independent offering. I am regularly appalled at the poor value which government at all levels gets when it is spending our money; this is a particularly bad example.
Why did the government decided to spend millions building their own system, when they could have simply linked to the existing CycleStreets service, or got much better value for public money by working with CycleStreets? I think there are major cultural problems within government when it comes to working with small companies (particularly very small ones employing one, two or even no people). Government is simply much more comfortable handing over millions of pounds to an IT consulting company, in the case of transportdirect.info ATOS Origin, than it would be dealing with the likes of CycleStreets.
The £2.4 million spent on the government cycle route planner is just part of a much bigger "Transport Direct" project which cost £55 million between 2003 and 2007. The rational for spending this kind of public money on the website is very questionable, not only given the existence of CycleStreets, but in light of Google's move into the public transport with its Google Transit service which already offers walking, driving, and perhaps some train directions in the UK and covers cycling and a broad range of public transport options in many locations in the USA.
I think there is a role for government, in collecting and making mapping and transport data available, I think that things like a map of the "Integrated Transport Network" including road names ought be maintained by the government as it is a valuable resource for many companies, local councils and innovators who want to build useful tools using it. Last week it was excellent to see data get released by the Ordnance Survey in a major step forward for opening up government held data. While I understand CycleStreets doesn't directly use any Ordinance Survey data the release of the OS data is already helping improve the Open Street Map coverage, and through that is improving CycleStreets. It would be great if where the government has influence over transport providers such as regulated and subsidised train and bus companies if they required them to freely provided information on their services in a format which would make it easy for anyone who wanted to to build systems making the information accessible. I don't think it is really necessary for government to get into the business of competing with those offering existing services.
One key question which I asked in my FOI request was: "What is happening to information which the Department of Transport has been paying "Cycle City Guides" to collect?" I have been told this information includes details of if there is a cycle lane on a road and if there are streetlights. Surely if this information has been collected at public expense there ought be no reason it is not made freely available to anyone who wants to use it. Via my FOI request I have established that the cycling information is, like other government information, being reviewed with a view to release and the decision ought be made by November 2010. Interestingly while the Freedom of Information Act exempts information which is due to be published, it doesn't exempt information which is being considered for publication so it might be possible to short-cut this process with a further FOI request.
In terms of the data being collected, some information is being obtained from local authorities. The fact "Cycle City Guides" are being contracted record things like which roads are lit, and what road markings (and traffic / parking regulations) are in-force in a particular location suggests local government doesn't have its own comprehensive record of such things. In Cambridge the most detailed information on what is technically allowed or not on the city's roads is available not from the County Council, the Highways Authority, but has been compiled by a local Freedom of Information expert Ben Harris. The role of central government ought be to define open standards which local councils could use to record, and share, such information. The systems would help not only find out what the law is, and aid those producing transport tools, but might also help the democratic process open up the process of deciding the rules by which we run the city. If the process of consulting on changes could be brought online large sums of money could be saved.
Other examples of public money being used to duplicate services already being provided to a better standard and cheaper include Cambridgeshire County Council's current proposals to build its own version of FixMyStreet for reporting problems. Huge sums of public money were spent by the BBC on their Democracy Live project, but it doesn't really provide much more than was made available already by either the BBC or mySociety's TheyWorkForYou (The expensive BBC option still doesn't allow embedding of Parliamentary video on sites like mine). Imagine if in those cases too the value which would have been obtained for public money if it had been spent in collaboration with, rather than competing against, the existing offerings.
This kind of thing doesn't just happen in internet and technology related areas. In North Cambridge voluntary organisations and a charitable company which had been helping parents with young children in the area were negatively affected when the state heavy handily imposed New Labour's inconsistently and unreliably funded Sure Start centres; these didn't do as well as, and weren't as attractive to parents as, the independent services and they cost more both in terms of public money as well as in terms of bureaucracy and people's time. Again the government did its own thing rather than working with what was already in existence.
Others' Citing The FOI Request
As a side effect of making my request in public via WhatDoTheyKnow before I even had the chance to write this article about the response to the FOI request I had made myself, it had already been picked up by others. The response has been noted in the Wikipedia article on Transport Direct and Martin Lucas-Smith from CycleStreets cited it at a hustings for Cambridge's parliamentary candidates from the main parties on the 6th of April while drawing attention to the fact that working with community groups, non-profits (CycleStreets is a non-profit) and similar organisations can provide the government with good value for money. He made this point after all the candidates had suggested that due to public money being in very short supply over the next few years, voluntary and charitable organisations ought expect cuts in funding.