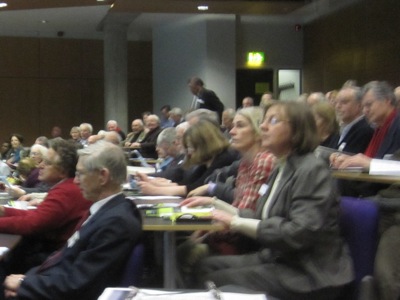 Around 150 people attended a public event for Cambridge city residents to discuss the potential for tall buildings in the city. .
On the 3rd of March I attended a series of talks, and a workshop, discussing tall buildings in Cambridge. Kati Preston, the wife of Cambridge City Council's Historical Environment Manager, John Preston, explained the background to the event. She said that through her husband she had become aware that secret discussions between city council planners, architects, and developers were taking place about tall buildings. City Council officers are working on creating a "Supplementary Planning Document" on the subject of Tall Buildings which will form part of the city's planning policy. While there are proposed public consultations to be held in future years as part of the process of adopting (or rejecting) the proposed policy Mrs Preston said she thought the public ought have input right at this early stage so prompted Cambridge Past Present and Future to hold the event aimed at city residents.
The public event on the 3rd of March followed a private one held on the 17th of September 2009 to which only by the city and region's elite were invited. In the evening following the CPPF organised element of the September event Cambridge City Council hosted an, also private, presentation and debate on Tall Buildings as part of "Urban Design Week".
Cambridge Past Present and Future recorded the presentations made on the 3rd of March on video. They said that they will post them, along with views on tall buildings submitted by attendees, on the CPPF Website and they will also send them to Cambridge City Council.
Robin Pellew – Chair of the Event
Mr Pellew introduced the event talking about the challenge of expanding Cambridge while retaining the character and appearance of the city. He said that tall was a possible option for containing the city's creep into the countryside. For the purposes of discussion he raised the possibility of "height zoning" an asked "Do we have an agreed vision for Cambridge in 20/30 years?". Using photographs he pointed out that "dreaming spires still dominate".
The recent concerns that Cambridge City Council's planning policy, and planning decisions, are starting to drive away developers was raised. Mr Pellew expressed particular concerns that developers of properties which it is hard for developers to make a profit on, but which the city needs, are finding it difficult. He cited the "low budget hotel" and "affordable housing" as examples.
The meeting was told that Cambridge was following in the footsteps of London and Oxford in looking to create a planning policy which gave consideration to the skyline. He told the meeting that London Mayor Boris Johnston had introduced the "London View Management Framework", which among other things protected the view from Richmond Hill. Mr Pellew suggested the views of the college backs, and the views of the city from the top of Great St. Mary's Church could be considered equivalents in Cambridge.
Peter Carolin
Mr Carolin was introduced as the chair of the City Council's Design and Conservation Panel. He didn't explain the role of this panel, or how he was appointed. He was accompanied by three colleagues and each discussed reasons Cambridge might want tall buildings. Mr Carolin first spoke about the view of Cambridge as one approaches the city. He showed slides showing what you see approaching via main roads – essentially my impression of what he was saying is the city is pretty much invisible as you come in on the M11 or A14 due to the flat landscape on which the city is built.
Commenting on a photo he noted that most of Cambridge is below the tree line, with the exception of the college chapels and university library. Mr Carolin showed a photo of the new Thompson's lane hotel taken from Jesus Green. The audience groaned and shouted "no" and "terrible" when presented with this example of a new tall building in the city. Mr Carolin asked the audience if they would feel differently about the building if they knew the top floor was an art exhibition space and accessible to local people. (Is it to be?!)
Giving examples of heights of buildings Mr Carolin said Kings College Chapel is 45m high, and Church spires in the city reach 65m. He gave examples of the materials science building on the new museums site, Peterhouse accommodation blocks, and buildings at Addenbrookes as examples of what he described as unseen towers in the city. He talked about the possibility of 9-16 story buildings away from the city centre and suggested that was what was realistically under consideration when considering tall buildings for Cambridge in the near future. Carolin said that high density housing in such buildings offered an opportunity to maintain vitality at ground floor level.
The presentation continued with four options (being raised to promote discussion) for tall building development in Cambridge:
La Defense. To follow the example of Paris where tall buildings are clustered in one spot away from the historic core. The suggestion was a cluster of tall buildings on the airport site could be Cambridge's equivalent.
Mini local centres. This suggestion was for high rise living above local shops such as those at the Cherry Hinton Road / Perne Way junction. The suggestion was the tall buildings would serve to mark these local centres
Entrances to the city. The example given here was the station site, the idea being tall buildings would be used to indicate where the city centre begins.
Having tall buildings around the perimeters of Cambridge's green spaces was the last suggestion. This was illustrated by a photo of Central Park in New York. An argument was made that large open spaces demand appropriately scaled buildings on their borders. It was suggested that as well as applying to open space in the city this could also apply to the edge of the city where it meets the countryside.
Other notable elements of the presentation included a slide showing an image from about 1960 illustrating a plan for the New Museums Site – the idea was for a cluster of towers which, like Ely Cathedral, would be a landmark in the fen. The "Tim Brinton" garage site – was also discussed as an opportunity to complete the square at the Cambridge Leisure development; this was presented as being a potential improvement to a gateway to the city.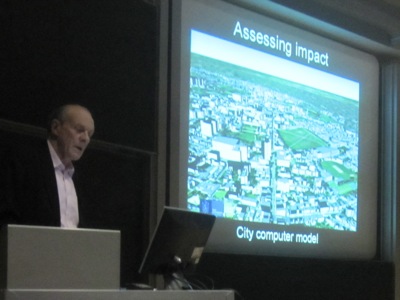 Peter Carolin showed the output of a computer model of the city of Cambridge which is being developed.
A slide showing work in progress towards a 3D computer model of buildings in the city was shown. At the moment every building is illustrated with a height corresponding to its highest point, but Mr Carolin thought there was a great deal of scope to improve the model and use it in relation to planning the future of the city.
Mr Carolin returned to where he had started – the view of the city from outside. He pointed out that Cambridge is typically pictured from within, he illustrated this with a photo of a punter on the river as it passes through Kings College, whereas Oxford is typically depicted from outside with a photo of the City from above.
He finished by sounding a note of caution about the City's current plans for expansion saying he worried that new low rise housing surrounding the city may lack a sense of space.
Ian Gilder
Mr Guilder said he had been invited to put a point of view from a developer. He jumped straight in to highlighting the costs of providing infrastructure and services as a consequence of new developments. He estimated these costs were £25-40K and said there were not all met by the developer at the moment. I'm not too sure what Mr Guilder was saying – he appeared to be avoiding making a specific comment for or against current levels of S.106 taxes on development. He seemed to me to raise the question but not address it.
Mr Guilder said that residential property prices in Cambridge were not high enough at the moment to justify the construction of tall buildings. He said that "tall could be part of a scheme if desired" but said that there was no economic drive to build tall.
Mansion blocks were cited as being better than tall buildings at achieving high densities of homes. He suggested it was harder to create mixed and balanced communities in tall buildings than in other options for high density housing.
Mr Gilder suggested "sweeping away" the Newmarket road retail park and said that some tall buildings could be possible as part of its replacement.
Richard McCormac
Mr McCormac started by saying tall buildings are bad for Cambridge. He said that building high was not the same as building at high density and gave vanity and showing off as more significant drivers for building tall than an aim to provide as many homes as possible on limited space. He backed up what he was saying with statistics, he said traditional terraces were as dense as typical 12 story buildings. He showed slides of various arrangements of homes along with the number of "dwellings per hectare" achieved. The highest density being achieved by blocks of flats around a square (as seen in parts of London) which achieves 187 dwellings per hectare.
Mr McCormac called for a national database of housing densities for various ways of arranging homes to be created; councillors in the audience indicated they too thought this was needed.
Having shown various options for high density housing Mr McCormac concluded: "There is no reason to invade the green belt". Talking about commercial buildings he cited extension to BBC Broadcasting House as an example of a ground-scraper and described how light wells enabled skyscrapers to be essentially built next to each other and achieve very high densities.
Commenting on the new, world's tallest tower in Dubai, Mr McCormac put up a slide and said "That's just silly really".
Mr McCormac said that ideally a developer would build on a site where they are able to maximise profits by making use of existing infrastructure around them. He said there was a need to "densify not build tall", though he noted that some people were attracted to high rise living – as some people want anonymity – though he questioned if it was good for society.
With respect to planning Mr McCormac warned against doing something along the lines of allocating an area of a new development site for tall buildings. He said that would artificially affect land prices and he said he thought it would be hard for planners to stick to their policy and avoid "developers creep" – someone with adjacent land seeking to build tall there too. He proposed imposing a minimum of rules.
Workshop Sessions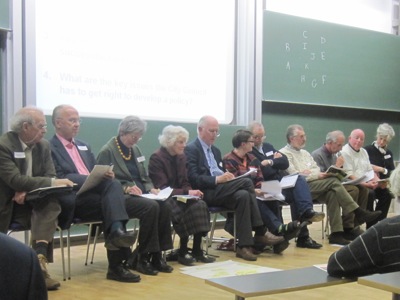 The outcomes from the workshops were shared in a plenary session.
We then had an hour of workshop sessions where in small groups of ten or so people we discussed tall buildings in Cambridge. The organisers had put all the councillors together in one group, along with the speakers.
At the end of the hour one member of each group had a minute and a half to comment on the group's discussions. It was notable that while all the other groups were pretty consistent the councillors' table was certainly the odd one out when it came to reporting back. The councillors claimed that it was inconceivable to build tall to densify areas where people are currently living, such as the area between the Airport and the City Centre. They explained that this was due to the fact it might result in complaints from residents – to which they are very sensitive. All councillors present were Liberal Democrats and this does accurately reflect what I've seen of their attitude to running the city. The councillors' group said they thought if tall buildings were to be seen in Cambridge they could form a part of new development sites where there are not existing residents to oppose them.
My View
I don't think we ought be relying on Mr and Mrs Preston's chats across the breakfast table as a means of getting information out of Cambridge City Council. I can't find any information about the Cambridge City Council's website about a proposed supplementary planning document on tall buildings.
I think we ought keep an open mind about tall buildings. If someone was to come to Cambridge and propose building the new Kings Chapel – a new landmark building for our generation then I don't think we should have ruled that out before we hear the plans.
I think maintaining some of Cambridge's fabulous views is a role of planning; I'm not sure we need a specific planning policy to protect views of and from the backs, but I can't see any harm in one. I wouldn't like to see development along the river frozen though; there have been some fabulous new buildings created in some visually sensitive spots such as Trinity Hall's Jerwood Library.
Cambridge has a real, problematic, lack of quality housing at an affordable price. I think if we are to have tall buildings they ought address problems we have in the city such as providing accommodation, but as was reinforced by this event – they're typically not the best way to go about providing high density living.
If a proposed tall building is acceptable or not is all about context. There are some existing fairly tall buildings in the vicinity of the station. I see no reason why the redevelopment of that area ought not include some reasonably tall buildings of a similar scale to those already built there. If the beehive centre was to be put to a more dense, use then perhaps some taller buildings would be appropriate there – mirroring the new flats on the opposite side of the railway line.
I think there is a lot of potential to make residential areas denser and to redevelop areas; we need to be bold and not take the easy option of sprawling out into the surrounding fields; especially not if we're going to to it badly as we've seen with Arbury Park.
Attendees
Attendees were generally older, especially if the handful of students who had offered to attend and act as timekeepers for the workshop sessions were taken out. That planning the future of the city appears to interest the older generation more than the young appears rather ironic to me.
I'd estimate about a hundred and fifty people attended, including Cllr Baker the Chair of the City Council's planning committee, City Cllrs Dixon and Blair and County Councillor Harrison. Cllr Rosensteil registered but did not turn up. I noticed a couple of Milton Keynes councillors on the registration list.
Notably despite the need for changes in planning law being discussed, along with questions relating to funding infrastructure required to support development, none of the main party's Parliamentary candidates attended.