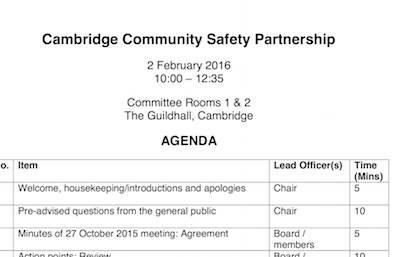 According to the police in Cambridge burglaries are often committed by burglars who re-offend when they are released from prison.
Offenders do not serve their whole sentence in prison, they are released while still serving their sentence, and supposedly under supervision. In Cambridge that supervision is, as I understand it, undertaken by The Bedfordshire, Northamptonshire, Cambridgeshire and Hertfordshire Community Rehabilitation Company, a private company owned by Sodexo.
The rehabilitation company is represented on the board of Cambridge's Community Safety Partnership.
I have submitted the following statement to the Cambridge Community Safety Partnership meeting on the 2nd of February 2016:
In relation to the "personal property crime" priority report I would like to urge the board and members to determine if the Community Rehabilitation Company is working effectively with those released from prison and the local policing teams in Cambridge.

Are local police officers informed when relevant offenders are due to be released from prison? Do those released have access to accommodation, and money, giving them the option to practically live without resorting to crime?

My comments are prompted by reports from our local police officers to Cambridge's area committees where the neighbourhood sergeants have told residents and councillors those who've just been released from prison are responsible for significant amounts of acquisitive crime.

At the East Area Committee on Thursday, 28th January, 2016 Sgt Norden reported orally:

"Dwelling burglary is up in the last three months. It's up by quite a lot. To explain why. Some burglars have come out of prison. It's that simple."

https://www.youtube.com/watch?v=XYF2_L_jKC4&t=10m52s

At the North Area Committee on Wednesday, 20th January, 2016 Sgt Wragg reported orally:

"A lot of this shoplifting in the North Area is done by one particular individual. He goes to prison on a very regular basis. He comes out for about two or three weeks when he absolutely hammers us for shoplifting."

https://www.youtube.com/watch?v=tjlOeuS2k78&t=7m25s

I am raising this as I want to support our local police officers and from the tone and content of their presentations at Cambridge's area committees they appear frustrated by the fact people are re-offending on release from prison.
See Also