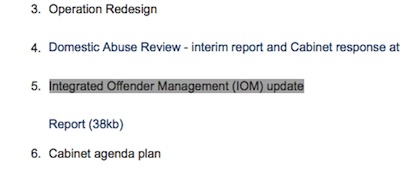 One of the key problems believed to contribute to re-offending is that prisoners are released with just £46, and as they are not able to arrange benefits while within prison, some have little option but to return, if not to crime, to their criminal friends.
This is something Cambridge's MP Julian Huppert has raised in Parliament and I wrote about in my article following the March 2011 Cambridge Community Safety Partnership meeting.
A report to Cambridgeshire County Council's Safer and Stronger Communities Overview and Scrutiny Committee on Wednesday the 14th of December 2011 informed the committee that some, slight, progress had been made.
The update, dated October 2011, stated:
A JSA claim can be initiated whilst in custody. An appointment can be given for the day of release and the person needs to present themselves at such time (before 14.00) with proof of ID. The benefits system is then updated and the benefits giro generated. If the claim is made on day of release an appointment is usually available the next day (except weekends). Therefore, the advantage of claiming whilst in custody is not that great and can be hampered by the fact that ID is not usually available on the day of release.

All newly released PPOs, are given the opportunity to use a workers phone to call and start the process of claim. Proof of ID will also be obtained on their behalf if required.
It used to be (a year ago) the case that claims could not be started in prison, and there were delays of typically three weeks for Job Seekers' Allowance to actually be paid, and even longer for other benefits, so clearly what has been reported is progress; however there are clearly are still significant problems. The full process of applying for benefits cannot be carried out from within prison and the department for work and pensions is still insisting on a face to face meeting with applicants for benefits after their release.
The police and council officers present at the scrutiny committee meeting were focusing on how their staff were trying hard to help prisoners due for release cope with "the system". But there appeared to be nothing being said about lobbying to change the system.
I raised this point. I asked what lobbying was being done and how it was going, and noted prisons have video conferencing facilities (for court appearances) and asked if those could be used if a face to face meeting to arrange benefits was really needed.
Cllr Brooks-Gordon interjected to say that the officer who had prepared the report had already written to the appropriate people, suggesting nothing more could be, or needed to, be done. Her interjection resulted in no response from the police or county council officers being given.
A response to the review (Word Doc) dated 29th March 2011, from the Reducing Reoffending Unit of the Home Office on behalf of central government, including the prison service and Department for Work and Pensions states:
DWP recognise the issue that delays in the processing of benefits may present for some of those who have recently left prison. DWP recently commissioned independent research on this issue published in December 2010 as part of the Departments research series (available at http://research.dwp.gov.uk/asd/asd5/rports2009-2010/rrep715.pdf).

The current Social Security legislation requires that certain conditions are met when a claim is made to Jobseekers Allowance (JSA). These for example include available and actively seeking employment. Jobcentre Plus advisers in prisons work in partnership with other agencies to offer help to prisoners in finding work, training and identifying suitable benefits on leaving prison The 'Freshstart' process speeds up the receipt of benefit and aims to ensure that the offender engages with the Jobcentre at the earliest opportunity for help. The adviser pre-arranges a New Jobseeker Interview to claim Jobseeker's Allowance (JSA) at the prisoner's home Jobcentre Plus office on release. It is also worth mentioning that the speed of processing JSA claims will depend on the personal circumstances of the customer and pressures on the processing teams, who are currently dealing with increased volumes of claims.

DWP continue to work closely with MoJ and NOMS on policies to address this issue.
I think I made clear I'd like to see more lobbying, I think the local Community Safety Partnerships, the Police, the Police Authority, and the Scrutiny Committee need to continue to make clear that the "system" is seriously broken in this respect and we need to better support those leaving prison.
If we've got "Jobcentre Plus advisers in prisons" as the response from the Home Office states, then it's even more bonkers to require an ex-prisoiner seeking benefits to visit a Jobcentre for a face to face interview on release. It should be possible to arrange benefits from within prison.
Ideally of course it would be made even easier to arrange a job than to arrange benefits, and the government response does note work in that area is being done too.
One additional positive thing the committee were told by the police was that the problems caused by unexpected release on a Friday had been addressed and now such cases were rare; though still occurred on occasion and there was no option to keep someone in prison until a Monday morning if their sentence was calculated to end on the Friday or over the weekend, even if that was what the person wanted.