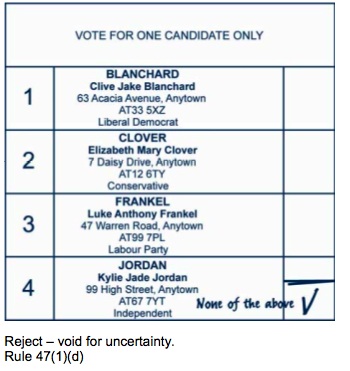 Some of those voting in today's elections might be considering spoiling their ballot papers. Not all returning officers routinely publish the number of spoilt papers along with the election results. I have received an assurance that in Cambridgeshire these figures will be published along with the rest of the results.
On the 17th of April 2009 I wrote to my local returning officer saying:
Mr Baker,

I would like to know if, how and when you are planning to publish the number of spoilt (rejected) ballot papers in each of the upcoming June 2009 elections.

Will the number of spoilt papers be published on a per-seat basis along with the number of votes for each candidate? If not, can you let me know why not?
I received a reply from Cambridgeshire County Council saying:
The number of spoilt ballots will be published on our website alongside the number of votes for each candidate for each seat. The information will be published throughout Friday 5 June, as and when results are received from the City and District Councils.
(Read the email exchange on WhatDoTheyKnow.com)
I think it is important the number is published as high numbers of spoilt papers might indicate problems with the voting process. The numbers might also indicate how many people didn't vote for reasons other than apathy.
If a local returning officer doesn't actively announce or publish counts of spoilt papers the information can be requested via a freedom of information request. The formal notice of election results also has to include this information; typically this is posted outside local authority offices. It is up to individual returning officers if they announce the number of spoilt papers when the verbally announce the results, or if they are included on council websites.
I have written to the Cambridge News requesting they consider including the number of spoilt papers in their election coverage.
A correspondent on the Andie Harper show on BBC radio Cambridgeshire earlier this week also suggested the number of spoilt papers ought be published. I wrote in to report on the assurance I had received which was broadcast on air.