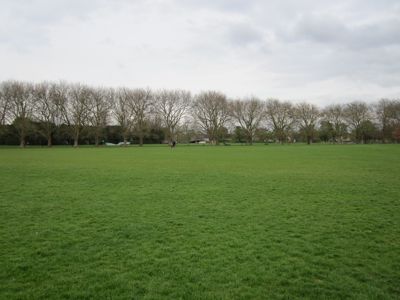 Cambridge Liberal Democrats prefer spending money enhancing existing spaces like Jesus Green, rather than requiring developers to provide new green space as the city grows.
At Cambridge City Council's full council meeting on the 22nd of April 2010 the Labour opposition challenged the ruling Liberal Democrats over a message they've been putting out during the local election campaign suggesting they have a strong record on maintaining open space provision in Cambridge as the city grows. The Liberal Democrat manifesto for the city council elections in May 2010 states, with respect to new development in Cambridge, they will:
Insist on real neighbourhoods with a vibrant mix of housing and a full range of community facilities and generous open space in similar proportion to the best provision in the existing city.
Despite saying this, to date the Liberal Democrat position has been to allow developers to pay a "commuted sum" rather provide sufficient green space on new developments. The Liberal Democrats have been unable to spend the money they have collected, as finding land in the city which can be bought and turned into open space is very difficult.
The Labour criticism at the full council meeting referred primarily to developments, particularly of flats, within the core of the city. Member of the Liberal Democrat Executive, East Chesterton councillor Clare Blair, spoke to defend her party's policy saying that pouring money into developing existing green space was better than insisting new open space be provided within developments. Cllr Blair cited an example of money to be spent in the field next to the ramp to the new riverside bridge saying she was looking forward to "enhancements" there. Labour Cllr Kevin Blencowe slammed Cllr Blair and her colleagues for taking such a short term view spending money given in lieu of green space provision on such schemes – pointing out that land doesn't depreciate and obtaining new open space as the city grows is critical to ensuring we have sufficient provision in the future. Cllr Blair then cited Kings Hedges as an area which is a good example of how development with lots of open space can be achieved – this was met with a chorus of "exactly" and "quite" from the Labour councillors as such inclusion of green space within developments was what the Labour councillors were asking for.
Labour councillors Blencowe and Walker asked Cambridge's Liberal Democrats to change their policies and start:
targeting open space improvement in parts of city with major space deficits, including adding new smaller open spaces
ending the practice where the Council allows developers nil contribution or commuted sums rather than deliver suitable open spaces
investigating the conversion of derelict land to short or medium term open spaces
Cllr Walker told the full council that the Liberal Democrats had been amassing money which they've been unable to spend. She pointed out the council had spent nothing at all on new open space in 2008/9 and reeled off the amounts the council has collected:
£1.75m – in-lieu of formal open space.
~£1m – in-lieu of informal open space.
~£1m – in-lieu of provision of play areas or open space for teens
Liberal Democrat Cllr Sian Reid, the Executive Councillor for Climate Change and Growth responded. She said that the council was aware that open space was high on the list of things which residents want when asked. (The 2009 Citizens Survey placed "Managing and maintaining the City's parks and open spaces" as second only to working with the police in terms of importance of "discretionary" services the council provides).
Cllr Reid admitted that the Liberal Democrat council's policy had been "targeting open space improvement" (rather than acquiring new open space) but said that "a big survey of open space is about to happen" and "other identified space and opportunities for open spaces" would be located. She encouraged councillors from "all sides of the house" to have input into the specification for the survey which she told the council would be taken to the "Environmental Steering Group". (While that meeting might technically be public, it's not mentioned on the council's meeting calendar or in-fact anywhere else on the Council's website).
Responding to the "all sides of the house" comment from Cllr Reid Cllr Blencowe pointed out that he was personally committed to being a councillor and working hard for the residents of Cambridge, and unlike Cllr Reid, wasn't seeking to become an MP.
Cllr Reid went on to claim she couldn't understand what the Labour Councillors were calling for. She asked if they were proposing the council ought not collect the commuted sums even if green space wasn't provided on developments. That the Labour councillors were suggesting the council ought require developers to provide green space on their developments rather than pay money to the council in lieu was abundantly clear in my view, I can't imagine what impression Cllr Reid thought she would be giving by pretending not to understand.
Turning to derelict land Cllr Reid said there had been an investigation of opportunities; she said that: "allotment spaces have been created on housing land in Cllr Blair's wards". Councillors from all sides of the council found Cllr Reid's slip up suggesting that Cllr Blair represents "wards", rather than just her East Chesterton ward hilarious. When Cllr Reid tried to quell the laughter by correcting what she had said she was heckled from the Labour benches with cries of "right first time".
Cllr Reid expressed a caution against identifying derelict land as being suitable for converting into open space, she said that this might incite local opposition to any development on it and would upset developers. She said that land owners would have an eye on the development potential of their land and would wish to maximise their profits from it. Cllr Reid did not declare an interest, as she has done on other occasions at council meetings, to note that her husband works closely with property developers in the city.
I thought it was bizarre odd Cllr Reid did not simply point out that if the council was to purchase land in the city for use as public open space they would have to pay the full market value, allowing for its development potential. This would have of course led rapidly to the conclusion that the amounts of money the council under the Lib Dem control has been collecting from developers has been insufficient to make such purchases.
Transport Routes Across Green Spaces
Labour councillors also asked the Liberal Democrat group to restate its opposition to new transport routes being created over open spaces, including "precious commons and meadows". Cllr Reid did this, citing policy 4-2 of the Cambridge local plan which protects open spaces from development unless it is replaced. Cllr Reid said that there would have to be a good reason to develop transport infrastructure on the city's open spaces.
Children Living in Flats
One of the Labour councillor's key points was that new developments in the city – which are all too often flats – house many families with young children and are in parts of the city with inadequate open space. Labour leader Cllr Herbert said that he'd recently been campaigning in the Belvedere flats in Cambridge – "as they've got voters in" – he quipped. He told the council he'd been there early in the morning, during the school run and had seen lots of children coming out of the building. He and his colleagues said both the city and the county council had to properly appreciate where children are living in the city.
It was getting rather late, and the quality of debate at the council does deteriorate after about ten o'clock at night. Cllr Herbert called the Liberal Democrat open space policy: "A load of balls", he said it was a matter of great regret that the Liberal Democrats running the city were letting developers off the hook and allowing them to give money – which the council can't use to buy open space – in lieu of providing appropriate levels of open space on new developments.
Cambridge Past Present and Future
A lot of the debate between Labour and the Lib Dems focused on the views of presented by a recent public speaker from Cambridge Past Present and Future to a council committee meeting. The Labour councillors said that CPPF supported their point of view and wanted to see more green space provision within the city, and in the new developments. Sian Reid for the Liberal Democrats said this was wrong, and what CPPF were asking for was for the council to keep taking money in lieu of green space, and to spend it outside the city in the CPPF country parks in Coton and Wandlebury. Cllr Reid said that the council's position was that if an "evidence base" was provided showing that city residents used those areas sufficiently then taxing new development in the city to fund them would be an option.
Cllr Herbert said that the CPPF position had been mischaracterised by the Lib Dems and what CPPF were pointing out was that: "green space provision in the city is insufficient". Cllr Herbert accused the Liberal Democrats of "Group Think" in relation to their open space policies and encouraged them to hold discussions outside their secretive and selective party group meetings. Justifying decision making behind closed doors Cllr Reid responded simply: "selected by the electorate" – a position which might stand up if they didn't stand on a "commitment to transparent and accessible local politics and maximising direct local input into local choices".
Conservative Common Sense
Cllr Chris Howell, the single Conservative on Cambridge City Council brought some rational and moderate thinking to proceedings. He started by criticising the Lib Dems as being inappropriately self-congratulatary on the subject of open space provision with new developments but also complained that what the Labour councillors were suggesting a swing from one extreme to another. He pointed out the problem with the Lib Dem policy of accepting cash in lieu of open apace as being "we never get land space back", he echoed Cllr Walker's point saying the Liberal Democrats had amassed : "stacks of cash they were struggling to spend". Cllr Howell too looked at the longer term and pointed out that once the Lib Dems had spent money "developing" existing green space that money had gone – leaving the city without funds, or open space provision in the future. The point land does not depreciate and was a good long term investment was again made.
Cllr Howell proposed introducing more flexibility into the S106, development tax, system. He said the council should let developers providing more open space than their fair share on a new development pay less towards schools and transport etc.
Liberal Democrat Cllr McGovern broke ranks and spoke to agree with Conservative Cllr Howell; he said he agreed there was a need for balance.
Getting Late
Liberal Democrat councillors asked the council to agree a statement outlining the council's values, saying what it had done, and saying what it proposed to do in the future. Cllr Blencowe was not happy with this as a response to his and Cllr Walker's proposals, he said it amounted to saying:
We're doing alright; now bugger off
Shockingly Lib Dem Cllr Reid then appeared to confirm Cllr Blencowe's allegation of disinterest by saying :
Let's all go home and listen to the debate
(The council meeting was being held just before the second televised Party Leaders' debate was to be repeated on terrestrial television; having been broadcast live earlier on Sky)
Cllr Blencowe was clearly astounded by this – and again made clear that he and his Labour collegues were happy to be in the council chamber representing residents; unlike Cllr Reid who didn't seam to want to be there at all.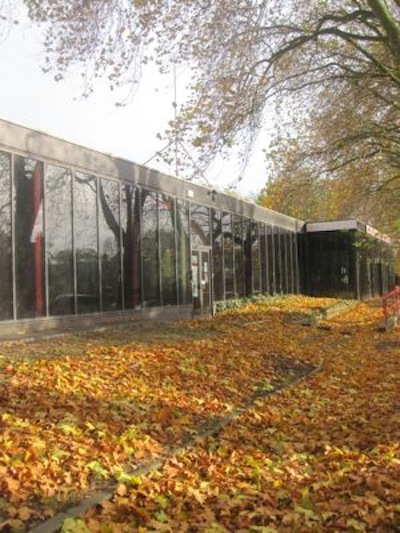 Cambridge City Councillors are divided on the question of if the Howard Mallett Centre should be demolished and St Matthew's Piece returned to open green space.
Green Party – St Matthew's Piece
One area of the city where there is a very real possibility to "buy" new green space using developers' contributions is by demolishing the Howard Mallet Centre on St Matthew's Piece. Interestingly this is a point of internal disagreement between the Green Party councillors in the city. Both Green City Councillor Margaret Wright and Green County Councillor, ex Labour Leader Simon Sedgwick-Jell are members of the East Area committee which has debated the return of that area to green space. Simon Sedgwick-Jell opposes the demolition of the building on the grounds that he considers it is of great architectural merit. Following the meeting at which he expressed this view – I was so astonished I spoke to him afterwards to double check he meant what he had said and he expanded on his views which he clearly seriously believes in. Cllr Wright however would prefer to see a completely green square.
Who we elect as city councillors really can affect both the city wide green space policy and what happens to specific sites.
The City's Extensions
With respect to the city's extensions the Liberal Democrats have been better at attempting to ensure open space is included within developments; but they've been thwarted by the unelected and unaccountable planning inspectors imposed by the Labour central government. On the North West Cambridge site the Liberal Democrats had wanted a space the size of Lammas Land left between two sections of development but the inspector's report reduced the size of this strip saying "the scale of the central open space should not be too great" and claiming the council's plans for open space the size of Lammas Land were "unsound".
My Views
We should demand the provision of open space along with new developments wherever possible.
There should, as Cllrs Howell and McGovern suggested, be flexibility in the system allowing open space to be provided in excess on some developments in return for a reduction in other development taxes.
With respect to city centre, brownfield sites development taxes, S.106 agreements, should only be used in genuine cases where funds are needed to mitigate the effect of a development; ie. to remove a problem which would have otherwise precluded planning permission from being granted. (There is a different, and separate case for taxing the planning gain when permission to build on sites where to-date building would not have been contemplated). Difficulty finding appropriate housing is a major problem affecting the city and country, development taxes should not be used in such a way as to exacerbate the problem.
We need a lot more transparency surrounding the council's decisions, particularly in terms of S.106 agreements and funds.
I don't think the Howard Mallet Centre is of particular architectural merit, I think it detracts from the area and would be no loss at all if it was demolished.
A more democratic and accountable planning appeals procedure needs to be devised. I would like to see appeals heard by an alternative group of elected representatives; eg. area committee appeals being heard by the planning committee.
I think planning inspector was wrong to reduce the size of the green space provision on the North West Cambridge site. I think the elected representatives, Cambridge residents and particularly University of Cambridge students' unions, and University Staff ought continue to push for provision in line with the rest of the city.
I would like to see all council meetings, including working groups, liaison meetings, and others included on the published timetable and have their papers pro-actively published.