On Thursday the 26th of November students from all Cambridge's universities are holding a protest against the levels of debt many students get in during their courses as a result of high, and increasing, tuition fees.
The protest is to involve a walk through the city centre starting in East Road at midday and is followed at 19.00 by a debate to be held in the Cambridge University Law building. The debate is being billed as an opportunity to "influence your local decision makers". It will be interesting to see who attends; and if university bigwigs, MPs, and candidates are present.
Andy McGowan, the organizer of the Cambridge event, has explained the aim of the day's events is to get students, academics and residents from the city and further afield on-board the campaign to prevent further increases in tuition fees.
Cambridge Candidates' Positions
Liberal Democrats. With the candidate unknown and the Lib Dems so inconsistent it is almost impossible to determine what stance anyone standing for the Lib Dems in Cambridge might take. At September's Liberal Democrat conference the big news was that party leader Nick Clegg weakened the party's stance on opposing university tuition fees. Cambridge's Julie Smith said something muddled in response.
Daniel Zeichner, Labour. I expect during the next general election campaign the Labour Party will say that that it will reserve judgement until the review which it has put in place reports. Even if Labour are to make a manifesto commitment on tuition fees, after having said in their 2000/2001 manifesto: "We will not introduce 'top-up' fees and have legislated to prevent them" before breaking that promise to the electorate and introducing top-up fees anyway.
Mr Zeichner's policy webpage does not address the question of tuition fees, and he reportedly failed to respond to a request from The Cambridge Student asking him what his position is.
Conservatives, Like the Liberal Democrats the Conservatives don't have a candidate for Cambridge yet. Like the Labour Party they appear to be holding out for the results of the review. David Willetts, the Conservatives' higher education spokesman, worked with the government setting the scope of the review on the question of increasing, and uncapping, tuition fees. Speaking on Monday 23rd November 2009 in Finchley David Cameron said that tuition fees, and top up fees have to stay.
As far as I can tell neither Tony Juniper or the Cambridge Green party have expressed a view on tuition fees. Nationally the Green party are opposed to tuition fees and want a return to student grants. (A policy with no apparent regard to financial considerations!)
In summary that's three undecided and one too extreme to be credible. On the subject of further increases the most undecided are the Liberal Democrats (with Labour and the Conservatives awaiting the review, but indicating support for further increases in fees).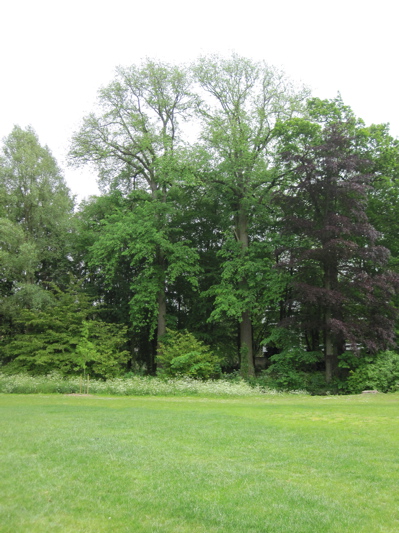 Thursday's protest will end on Queens' Green, in the shadow of two tallest elm trees in the British Isles.
*
My Views
I strongly oppose removing the cap on tuition fees and charging UK students the cost which the international market will bear for courses. When I was at Imperial College Richard Sykes was rector, now an ex-rector Sykes would like to see the cap lifted, which would raise fees to (~£20K/year) and Vice Chancellors of other Universities want to see the current £3,225/year cap doubled. This would make the education I received completely inaccessible to someone in the position I was in. .
I don't think a prospective students' ability to go to university should be determined by their parent's wealth.
I think it is right to use state funding for higher education to encourage people to gain qualifications in subjects needed by the nation.
Entrance to university should be based on academic merit. (Access schemes should be about awareness, not special treatment).
With only about 50% of teenagers taking GCSEs getting 5 A-C passes including Maths and English Labour's target of 50% of young people going to university is nonsensical. Efforts to improve education ought to be focused earlier. Ideally an even greater proportion of the population would go to university, but the proportion has to reflect educational standards in schools and the ability of the economy to provide graduate jobs (or the environment and support to start businesses).
We have to look at the total cost of a university degree. I think universities, or perhaps even students' unions, in many areas could do more to help students find affordable accommodation. (That's an argument I've been making for well over a decade, since I stood for student union elections at Imperial.)
As a nation we ought to invest in higher education. We need to trade our way out of the indebted position a decade of Labour has left the country in. Having a well education population is key to that, especially if a major element of how we're going to succeed is by providing knowledge based services, as I think it should be.
There is a need for simplicity in the system of student finance. Those considering going to university need to be fully informed about their options with respect to funding.
It's really important that once at university students are treated equally whoever is paying their fees and how much they are paying.
I don't think tuition fees have resulted in an increase in quality of education so far, and don't think future increases will help. I think accessible complaints systems, strong students' unions, and strengthening the role of he Office of the Independent Adjudicator for Higher Education would do more to raise standards than higher fees.
I do not think encouraging high levels of personal debt is good for the economy or society.
University is really important for helping people move out of the places in which they grew up. I don't think Labour proposals for tuition fees not to be charged for students living at home are right
We need to ensure the quality of Higher Education in the UK is maintained; not only for UK students, but to ensure the valuable "export market" for a UK University Education is maintained in the long term.
Undergraduate teaching ought be closely linked to research. Research funding can, indirectly, subsidise teaching.
Universities need to do a lot better at making money from the outcomes of research. While there are a huge number of non-jobs in this area there needs to be a step change in the seriousness with which commercialisation (or application for the social good) of research outcomes is pursued, in the interests of the universities, the national economy and people's health.
The Independent Review of Higher Education Funding
An independent review of higher education funding and student finance was announced on the 9th of November 2009 (Written Ministerial Statement) . The review is to be chaired by ex. BP chief executive John Browne. According to the question and answer page of the reivew's website it is not due to report until Autumn 2010, well after the general election.