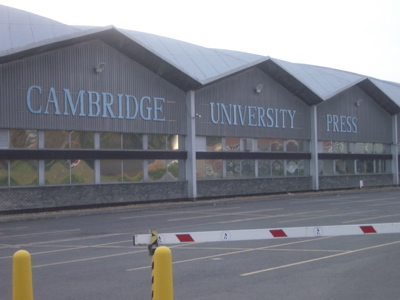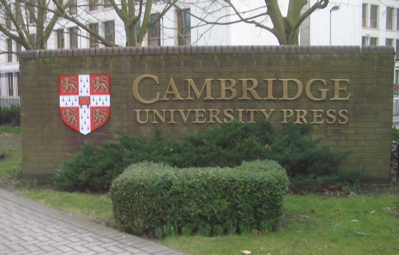 The Cambridge University Press (CUP) are planning to cut 160 jobs in the city, probably as the first stage of plans to close the printing business of the CUP within three years. There was discussion of CUP's plans at Cambridge City Council's Full Council meeting on February 26th 2009, a full record of what was said is included in this article.
We need to make sure Cambridge is an attractive place for people to base their businesses. The MP, councils and universities all need to be talking to the management of businesses and organisations making decisions to cut Cambridge jobs and find out what is influencing their thinking.
In the case of the University Press I think there also ought be a role for the external members of the University of Cambridge's Council, they should be ensuring the management is reacting to appropriate influences. I believe that one role of those external members ought be to represent the interests of wider society in the running of the University, and they ought be publicly and transparently exercising that role. In the years leading up to Northern Rock's collapse directors were rewarded for meeting short term sales targets, which they did through reckless lending, there was no incentive to consider the long term stability and success of the institution. Are those making decisions at CUP looking considering the long term effects on the University and the City?
Who Runs the University
Cambridge University Press is overseen by the University's "Press Syndicate, a committee of eighteen senior academics. I think that the University of Cambridge is a bit of a headless chicken. I have spoken to many active professors, the people who really ought be running the University who feel unable to participate, they don't feel free to speak out about how the university is run. Just last week I listened to Engineering Professor Michael Kelly say something along those lines in the context of proposed changes to UK research funding. He spoke of focusing too narrowly on key areas which would he thought risked removing variety and reducing opportunities for interdisciplinary collaborations. He questioned if the University of Cambridge had the structure in place to change and enable itsself to contribute to the global issues of the day – carbon reduction, energy security and climate change. He said students had to be the ones demanding and inspiring that reaction, as professors like him were not able to. In November I wrote about a lecture by Sir John Sulston in which he took the same stance, saying lecturers and professors typically had families to feed and mortgages to service so were scared to speak up on issues affecting the university; he too was calling on students to take on a leading role in setting the university's direction and pointed to the achievements of the Universities Allied for Essential Medicines group.
In response to the proposed job losses at CUP Cambridge students are acting. On Wednesday last week the Cambridge University Students Union passed a motion in support of those whose jobs are under threat at CUP. CUSU noted that "consultation periods have been entered into, of periods not exceeding legal requirements" and their motion stated CUSU believes : "That the University and its associated bodies have an economic responsibility to the community, and that they have a responsibility to be a good employer; " It was reported to the Cambridge City Council meeting on the 26th that CUSU has also called upon the City Council to take action.
The Cambridge City Council Meeting
Sara Bennett, who introduced herself as : "Chair of the publishing division union at CUP" used the opportunity for members of the public to speak at council meetings to address the meeting. It is possible that without her presence there would not have been any debate on this subject at the meeting.
Sara Bennett spoke to say that it was the 425th anniversary year of the CUP, and noted the country was in a deep economic crisis with job cuts everyday. She said that Cambridge is not recession proof, and the effects will hit residents of this city.
The meeting was told that those the CUP is intending to lay-off are highly skilled workers who could not easily be replaced when economic conditions improve. Sara Bennett said there was a clear move within CUP towards "cuts in overheads", which she said meant cuts in wages, jobs, pensions, and "terms and conditions". She said staff had already sacrificed such things over the years at CUP.
Councillors were told it is not just "jobs for now" which are under threat, but that CUP is a big employer in the city and there would be effects on those seeking work in the future for example graduates from Cambridge University. Sara Bennett said CUP was : "a natural place for many of those people". She said CUP management had made an argument that cuts in printing jobs were being balanced by jobs being created in publishing. She said she was not playing off one job against another and wanted jobs saved for all.
She said that eight people taken on and given permanent contracts within the last six months were among those facing redundancy.
The Council Leader's Response
Cllr Nimmo-Smith's response started by drawing attention to the fact the council had a motion on agenda expressing support for CUP employees. He said that: "this indicates the issues raised are ones which are viewed with seriousness by the council, and councillors commit now to looking at the proposition and mitigating the impacts of redundancies. He said that the debate on the motion "will be of interest to people from CUP attending", there were a number of CUP staff observing the meeting. .
Sara Bennett was allowed a brief come-back. She used this to re-iterate he main points, saying this was about: "jobs into the future, and securing a viable employer in Cambridge. She said that a knee-jerk reaction for which the employees pay the price should not be made. She finished by saying the CUP is the oldest uni press in the world, something which has to be maintained here in Cambridge.
Motion on CUP
Before this item was taken Cllr Ward declared a personal, prejudicial interest in the item under discussion as his wife is an employee of CUP. He left the room. Cllr Taylor also declared an interest, as an employee of CUP herself, she stayed and participated in the debate, this struck me as inconsistent. Cllr Baker stated he was an author and editor of books produced by CUP. Cllr Raj Shah stated he was a member of "CUP Action", (but had taken part in no action). A number of councillors noted they were employees of Cambridge University.
Once Cllr Ward had left (he was the only one I saw leave), Councillor Salah Al-Bander introduced the motion which stated:
The Council notes with concern the rising count of redundancies being announced by Cambridge-based employers during the current economic recession.

It notes with alarm, in particular, the recent proposals of Cambridge University Press to make 150+ redundancies locally, and the impact that these would have on the fabric of the community and the tradition of an indigenous industry of the City.

Acknowledging the campaign of the employees at CUP (supported by David Howarth MP and Richard Hewitt MP), and the interests of those affected by redundancy proposals elsewhere, the Council calls on employers contemplating redundancies to ensure:

- that their statutory obligations to consult are carried out scrupulously and meaningfully;
- that all alternatives to redundancies are rigorously investigated and, if at all viable, pursued;
- that in their consultations they give weight to the cumulative impact on the local community and economy, in addition to the livelihoods of those who would be directly affected.
Cllr Al-Bander attempted to correct the name and title of the MEP. As he struggled to get it right he made it clear that he, like probably almost all residents of Richard Howitt MEP's East of England constituency had never heard of him (I was shocked to learn Mr Howitt has three taxpayer funded staff working out of an office in Cambridge according to his website).
Cllr Al-Bander said the motion reflected concerns of the effects of the recession on Cambridge based employers, adding: "This council is dismayed by the imminent closure of CUP after 450 years, with the largest loss of jobs by single employer in the city." The CUP isn't closing, and it was odd for Cllr Al-Bander to express the view of the council right at the beginning of the debate and pre-empt it. He went on to talk about a briefing from a "Peter Dempsy?" about ensuring a redeployment plan was in place and discussing how the CUP dealt with sensitive items relating to pensions and salary. Cllr Al-Bander said he understood the "right of management to safeguard long term profitably", and claimed the council had a role to play given the effects on community and city of these job cuts. He said he was acknowledging the awareness campaign by the employees, supported by parliamentarians, and seeking to ensure the CUP's fulfill their statutory requirement to consult with employees and demonstrate that all alternatives to redundancies had been considered.
He wrapped up his speech saying: "It is regrettable, that in the year the University of Cambridge celebrates eight centuries of improving lives everywhere that so many Cambridge families shall have their lives distressed."
Labour Amendment
Cllr Herbert, The leader of the Labour opposition group on Cambridge City Council said that he and his group supported the motion, but would seek to add two further items via the following amendment:
The council supports the actions by employees and their trade union Unite to save jobs at CUP and calls on CUP not to export any jobs to other locations or countries".
He said there has to be a commitment to save jobs at CUP. He added that as we're talking about a potentially global industry (by which I think he meant one that could relocate anywhere) – there should be a commitment to retain jobs in the city. He said that the role of the union Unite was missing from the original motion, he thought they ought be mentioned along with the MP and MEP.
At this point a number of councillors declared an interest as members of Unite (Cllr Reid was one I beleive)
Cllr Newbold spoke to say he had relevant recent experience through working at Thompson/Reuters (which used to be Thompson Scientific) of work moving overseas making skilled workers redundant. He said the effect of the loss of collective experience of the many hundreds of people affected had resulted in a reduction in the quality of products for the customers. He said that there the union unite did manage to get better training and better "redundancy" for those made redundant.
Cllr Hipkin (Independent) said he wanted to: "express solidarity with the workers who are facing the loss of their jobs, and support the motion", but he said he had "a real problem with the amendment". He asked: "Will someone tell me what the trade union is doing?". He pointed out the amendment said "the council supports the actions", "which actions" he wanted to know, and "what actions are envisaged?" he said he was "not going to sign a blank cheque to any organisation".
Secondly Cllr Hipkin said : "We have the Prime Minister telling us now that at this time of crisis the worst possible action will be one of protectionism; to look after our own, and put impediments on foreign imports". He said "that would be ruinous for the whole world". Cllr Hipkin drew attention to the fact CUP benefits from the free exchange of ideas, imports and labour. He went further and pointed out this whole city prospers from this "global invitation". He said he would not vote for an amendment seeking to reinstate protectionism.
Cllr Wright (Green) said that she too had "difficulty with the amendment", both offering Unite support and urging CUP not to export jobs. She said: "we live in an international economy where capital will flow to cheapest worker". She said she was: "quite sure that we don't have the power to prevent CUP relocating its workforce" so could support that part of the amendment either.
Cllr Blencowe (Labour) responded to some of the criticism, he thought the intended specificity of the Labour amendment was obvious without the need to state "CUP" repeatedly. He pointed out it was being discussed in context. He said that the council was a group of people representing local residents, and thought all would have had letters and emails from constituents. He called on councillors to focus on the issue at hand if they were serious about supporting local employment. He said: "If CUP was not proposing relocating jobs abroad then these redundancies would not be being forced on their employees". He said again that we had to concentrate on local matters, adding: "we know what effect will be had on residents and families". Cllr Blencowe said that considering the number involved, 160, there would be devastation and urged councillors to understand knock on effects for example the impact on trade and such like. He said it was not enough to "note with alarm", saying: "we have to represent what public opinion is saying and ask them to think again"
Cllr Blencowe pointed out the CUP are not loosing money and in need of credit; he told the meeting they made a profit of several million in the last year. While maybe some restructuring of a department might be in-order, there was not a case for 160 forced redundancies. He said that he would expect opportunities for voluntary redundancies and other options to be considered. He said 160 jobs to be lost was not acceptable, stated it was important to keep the Labour amendment and urged his fellow councillors to accept it.
Cllr Howell, the lone Conservative member of the council spoke wearing a pink shirt and black robe. He said he agreed with Cllr Hipkin and shares the concerns with respect to the actions of Unite, though he accepted that the way unions conducted themselves now was different to what it was some time ago he still sought clarification. He said he shared the prior speakers' passionate belief against protectionism. Having said all that he then said that he felt the Labour amendment was not inconsistent with his point of view, as it proposed no barriers or special case, all it asked he said was for the council to request CUP management just look at their heritage and context in the city and ask them to do what they can.
Cllr Taylor (Liberal Democrats) responded to answer the question of what action the Unite trade union was doing, she said she had recently become a member and there was lots of activity relating to pensions and working conditions. She said that one thing it had done recently was press the management to take their responsibilities seriously, particularly with respect to legislation eg. ensuring employees meeting with management have representation. She gave another example of Unite's activities as being to publicise what was happening to departments within the press not directly affected, as well as publicity to local, national and trade press and other media as well as the MP and MEP. She noted that the Cambridge University Students Union had passed a motion of support the previous night, and that they too were looking for support from the City Council.
She said she felt that was a reasonable summary of what the Unite union had been doing to-date.
Cllr Bick (Liberal Democrats) started his contribution to to the debate by saying: "I speak with considerable sympathy for the people involved in the situation at CUP and the mover of the motion spoke with sympathy too". He said that he had a problem with the amendment, as in the current situation of a recession employers have no alternative to redundancies, there are going to be situations where that is the case he said. Cllr Bick said the amendment risked dividing support, where the overwhelming feeling was clearly one of being positive and effective, he thought it was a pity to dilute that by introducing an amendment which would not get the support of the whole council – so he was going to oppose it.
Cllr Nimmo-Smith said that the council do recognise the way in which the union has worked in support of their members (he said he was a member of the University and Colleges Union himself). However he said he had to look at the implications of supporting the amendment in light of the position of the council as an employer and those interested in the vitality of the local area. He said the city is dependent on firms locating here as opposed to other places, and we were not going to "meet the logic" by adopting policies which would tell prospective firms not to come to Cambridge because they will be having impacts on their home economy – he said that was a step to far.
Speaking as council leader Cllr Nimmo-Smith said: "We as an organisation will have to look from time to time at how we operate and provide services to residents and visitors at a reasonable cost, and that might include making painful decisions. For example sharing service provision with another authority resulting in work moving to another location". He said it was very difficult to defend employment at all costs he referred to his, and the council's own experience with respect to the customer access strategy describing the "serious position that put individual employees in. He supported the unamended motion which he said re-iterated the rights, duties of the employer and addressed issues relating to how enterprise sits within the community; he said that as an organisation we should put our hands up to [vote for] that kind of motion..
He finished by saying he: "Can't accept the logic of the decision", presumably referring to the CUP decision to scale down and perhaps eventually close its printing business.
Cllr Benstead, said that Cllr Bick's contribution, in which he had asked for the specificity of the Labour motion to the situation at CUP to be reiterated after every few words, reminded him of the monty python spam spam spam egg and spam; spam sketch. He said the amendment did not relate to any other organisation, or to other companies, he said it was specific, needed to be taken in context and didn't need CUP after every work.
Summing up the opposition Ian Nimmo-Smith said: "we know council will have to make redundancies", he clearly thought the Labour amendment was too strong and could envisage situations where he would have to lead the council to go against the spirit of it.
There was then a vote on the motion, the Liberal Democrats voted against it, and the Labour for it, it was defeated with 32 votes against and only 11 in favour. The Mayor, who was chairing the meeting, had to ask the members of the public present, some of whom were sitting behind the councillors on the floor of the chamber, not to stick their hands up to vote in favor of the Labour amendment!
Back to the Main Debate
Conservative Councillor Chris Howell said that: "The council has every right to ask an employer to try and protect jobs, lots of employers in Cambridge are going to be making very difficult decisions, the situation we're in is unprecedented". He noted that the CUP employed very many people and as there was a need to keep that in mind he sad we can do little more than express concern. He did say though that there was a need to think about how the council's policies effect Cambridge's attractiveness to business, he said that was something to take away from this and think about doing things differently. He gave the example of planning policies, saying that currently they involved trying to throw Marshals, a major employer, out of the city. He also cited transport saying we can not introduce a congestion charge (isn't it Conservatives at the County pushing it?) and drew attention to what he described as the City's: "woefully inadequate transport infrastructure".
Cllr Blencowe spoke passionately, he said he had been taught to: "Say what you mean and mean what you say". He continued: "If redundancies are the wrong move then please say so. Don't just say 'we note with alarm', you either agree or you do not agree. The public in Cambridge do not agree. One hundred and sixty jobs lost in one go doesn't make sense". He said that this was particularly true as it is a profit making organization, and said it was unfair, and those affected would struggle to find emplyment in the near future. He finished by urging his fellow councillors to: "Be aware of who we're representing, and say what we mean."
Cllr Shah said that CUP employees had been sent a letter which talked of 800 years celebrations on one side and redundancies on the other. He urged the council to "look at corporate governance of the CUP" and wanted to make sure that it was performing its statutory obligations and treating people according to the terms and conditions of their contracts.
Cllr Herbert reiterated what he had said during his first contribution, that he had no problem with the principle of the Liberal Democrat's motion, (it just didn't go as far as he'd like). He critised the council's "disinterest overall in response to the recession", he said there was nothing in budget in relation to responding to redundancies. Cllr Herbert called for a review of city's responses to recession.
He said that the CUP was not any business and continued "nor is it the Oregon University Press, or the Shanghai University Press – it's Cambridge". Cllr Herbert expressed his view that it is not protectionism to seek to work with a local employer to keep jobs in Cambridge. He praised Cllr Taylor for eloquently stated role played by Unite, and said Ian Nimmo-Smith would be stronger if he would commit the council and the city to act to support the retention of the jobs. He finished by saying "Unite is supporting the employees – we need to do something tangible- what is the leader going to do following this meeting?".
Councillor Cantrill spoke to say the council had made "efforts to prevent recession in Cambridge", pointing to capital projects including spending a million pound in the guildhall using local tradesmen, including twenty five thousand pounds on a contract awarded to a company in Bar-Hill to improve the technology in committee rooms one and two. He said that there was a big effort on trying to ensure the impact of the recession on the city and surrounds was minimised. Later in debate on another subject Cllr Cantrill was ridiculed for suggesting the a small contract for a microphone system in a committee room would have any effect on the impact of recession.
Cllr Ian Nimmo-Smith wrapped up by saying he found it puzzling that despite this being a time for all councillors to come together the opposition "look for ways to turn it into an occasion to beat me up".
Cllr Herbert interrupted saying: "I asked you a question". Ian Nimmo-Smith initially said: "I don't want to be deflected from supporting the motion expressing our concern, but did go on to make an offer of action saying: "I offer myself to meet with the employees and their union and to speak to management with you". Beyond that he said the council was right to insist on high quality meaningfully carried through consultation; he wanted to know that there are robust cases for the decisions being made, and would welcome the opportunity to learn more about those. He then complained that "Cllr Herbert was wanting to criticise us but did nothing other than express some endorsement, he did not suggest any specific actions."
The whole council then voted unanimously in favour of the original unattended motion.