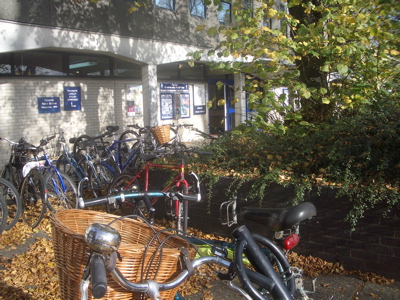 I attended Cambridge City Council's West Central Area Committee on the 8th of January 2009. One of the main items on the agenda was "Safer Neighborhoods", the meeting's chair was almost tripped up by the cryptic title and had to ask the committee manager what the policing item was called saying: "Is it Safer Communities?". I have been lobbying for the widely understood word "Police" to be used.
The police sent a huge contingent of staff to the meeting, there was Inspector Kerridge, a sergeant and a PSCO along with two civilian police staff. Ruth Joyce, member of Cambridgeshire Police Authority was also present.
Inspector Kerridge introduced himself, saying that he was new to the role of Neighbourhood Policing Inspector for Cambridge but that he had lots of experience of working in the city and was a city resident himself. He presented the neighborhood profile document to the committee.
Cllr Julie Smith had earlier declared a personal interest as she wanted to asked questions about street robberies in the immediate vicinity of where she lives, in Robinson College. She interrupted the Inspector's presentation to ask for a definition of robbery and ask if he was referring to robberies occurring near Robinson College. The inspector responded that six robberies were in that area and that all were currently under investigation.
The Inspector told the meeting that a new central robbery squad had been created in the city, and now robbery like burglary and violent crime was being dealt with centrally, as opposed to by localised teams.
While commenting on the robberies, Cllr Smith said that she did not feel safe around the area where she lives (Robinson College) at night. She said she had come out to the meeting without a phone or purse due to fear of robbery. She also said when she had been out at night recently she had been picked up by taxi or a friend's car and had not been cycling in the evenings over the last few weeks.
Inspector Kerridge told her that she actually lived in one of the safest areas of the city.

A resident, Morgan Lunt (sp?) said he was the neighbourhood watch co-ordinator for Adams Road and he was also a member of Ecops but this was the first he had heard of the muggings. The Inspector said that it was important to keep groups like neighbourhood watch informed and that community intelligence and feedback was important. He committed to look into the problem, and said he was trying to ensure that messages sent out to the public, for example via Ecops were clear and not misunderstood and did not create undue worry and fear of crime. Cllr Smith had said that while her college had informed its residents about the muggings to enable its members to take more care, she was concerned that local residents in the streets around the college were not given this information.
Cycling
The Inspector said that cycle thefts were often a hidden crime. I don't know what he meant by that, did he mean they often go unrecorded? There was little discussion on cycle thefts, other than a note that the statistics for the area show thefts of cycles have reduced from an average of nearly 4 a day to 2 a day comparing the latest period with the same period last year.
The Inspector reported that the police had been dealing with antisocial cycling and also antisocial behavior by motor vehicles against cyclists. This was in line with a priority set by councillors at a previous meeting stating: "Anti-social use of Cycles and Vehicles across the West Neighbourhood". He gave no statistics on the numbers of motor vehicle drivers the police had either spoken to or prosecuted.
County Councillor, Gaynor Griffiths, the Liberal Democrat who lives in Ely but represents Cambridge City's Market ward on the County Council spoke on this point, saying that she had given up cycling when she visits Cambridge. She said she travels mainly from the station to the Shire Hall. She suggested asked if the police talked to bus companies about the manner of their driving, which she said was often anti-social to cyclists. She said how cyclists were often squeezed against the curb by busses, and she said that now she was not agile enough to bounce her bike up onto the pavement when necessary to get out of the way of busses she has had to stop cycling in Cambridge. A particular problem she explained was the diagonal parking of busses outside John Lewis, she described how cyclists were affected when they were following busses which then pulled in to park and an angle, leaving the cyclist to swerve around the bus. She noted that motorists didn't appear to be complying with the 20 mph speed limits in the city centre, she used Magdalene Street as an example. After making this statement Cllr Gaynor Griffiths then left the meeting early, presumably to get back to Ely.
The police were suggesting discharging the priorities on both cycle crime and anti-social cycling/driving, Cllr Knightley said that the war had not yet been won, and he wanted a constant pressure to be applied on these two problems and suggested the priorities remain. Cllr Knightley also requested that as part of that priority the police ought to be "telling off" more cyclists going to wrong way down one way streets, and commenting on the whistle which the PCSO had with her he said he'd like to see it getting used.
Other Items
Cllr Reid asked about the possibility to close the llama's land car park at dusk.
Cllr Bick asked if it was sensible to make Regent Street a priority. A member of the public, Penny Heath, had contributed earlier in the meeting describing an experience of leaving the Arts Cinema to be faced with brawling men. The inspector said the problems on Regent Street were such that they would be dealt with, and all avenues explored without the need for a priority as it was obvious that this was an area which needed attention.
A member of the public, Simon Bragg I believe, asked about the relative weighting of the various priorities, he suggested that cycling without lights was not as significant as mugging. The inspector said that he told his officers to consider "Impact" when deciding what to prioritise, and said the issue of relative priorities was difficult. County Councillor Alex Reid (Newnham) said that he would give a weighting of 10X more to any crime involving violence. I agree with his sentiment and have been consistently promoting prioritising violent crime and burglary in north Cambridge for quite some time now.
My Contribution to the Policing Item
I spoke to say that while I welcomed the reports such as the one which the committee had received, it did not cover all the important issues which affect the policing of central Cambridge. I said that items which reports like this omit include:
The police wearing cameras in Cambridge
Giving police powers to security guards
The expanded TASER deployment
On the police wearing cameras I asked if the police were following any protocols in relation to its use for example the Home Office interim guidance released following the Devon and Cornwall trial? I said they don't appear to be because a key part of that is publicity; and we've not seen a publicity campaign explaining to city residents that the police are now wearing cameras and how they are using them. I gave examples of questions the answers to which I thought ought be available such as if there's a little red light showing the camera is active, if officers are told to announce that they are filming you, and if it will it be a disciplinary matter if an officer with a camera turns away from and fails to record misconduct by his colleagues? I could have gone on to ask if the cameras record all the time or only when the officer decides to use them and where are they being deployed and for what purpose?
I suggested councillors might like to add getting the police to explain significant developments such as body worn video to the public to their priorities but no councillors took up the suggestion.
On powers to security guards and other accredited individuals I noted Section 40 of Police Reform Act 2002 which introduced Community Safety Accreditation Schemes required consultation with Local Authorities. I asked if Cambridge City Council been consulted over the Addenbroooks trial and, if not, when and how will that be carried out? I said that was question for both councillors and the Police. Cllr Smith was giggling inanely, apparently about something I was saying, while I was making this serious point. I believe she does not think questions like this ought to be asked by members of the public.
On TASERs, why has Cambridgeshire Police Authority not yet, despite having met in December, discussed their response to the Home Secretary's announcement to deploy TASERs to all front line police. I noted the Metropolitan police authority had responded within hours to the Home Secretary's announcement. I asked if the police in Cambridge think they all need to be armed with TASERs, and asked why the police had not made a clear statement on the matter? I asked if the local Liberal Democrats oppose this, as appeared to be the case at the North Area Commitee, what are they doing to stop it.
No councillors responded to any of my points, Inspector Kerridge said that he had received a written copy of my questions, and as he wasn't able to answer them he would pass them on to someone who would be able to comment on what he called "these matters of national policy". He said that he didn't think these were matters which ought be discussed at area committees. Three members of the public approached me after I had spoken indicating they agreed with me, and that the items I had raised were ones which they too felt were of importance to local policing and ought be discussed at local police consultative meetings like this one.
Once the Inspector had responded to me the chairman closed the meeting. I do not think there was a vote taken on the priorities decided, and it was not at all clear what had been added or removed from the list of priorities.
The meeting did not get round to the policing item until about two hours after it started, so if anyone had come specially for that item they would have been waiting a long time. I have successfully lobbied for the North Area Committee to take the police item at a set time. As usual neither the police or Police Authority advertised the meeting on their websites, and the City Council did not draw specific attention to the policing agenda item. I wonder what Ruth Joyce, the member of the Police Authority, made of the arrangements, I would ask, but she does not communicate directly with members of the public. Ruth Joyce did not speak at the meeting, and my suggestion to the chair (made via the committee officer prior to the meeting) that he announce her presence was not taken up.