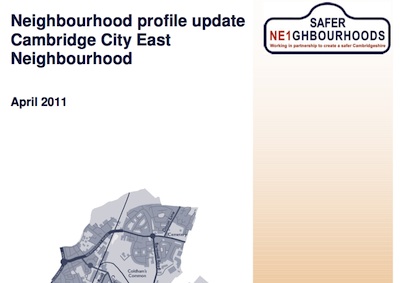 Policing East Cambridge April 2011
I spent the evening of the 14th of April 2011 observing Cambridge City Council's East Area Committee meeting. City and county councillors were to hold the police to account for their performance against priorities they'd set previously and to set new priorities for the forthcoming period.
Key Points
Councillors set the following policing priorities for the east area:

Drug use in Mill Road Cemetery.
Summertime outdoor crime (including Parker's Piece).
Wadloes Road and Thorpe Way.

The police reported that fifteen cars had been damaged in Coleridge the day before, and that three young girls were in custody at Parkside police station in relation to the vandalism.
Policing
Sgt. Mark Kathro, the neighbourhood policing sergeant for the East Area, was present on behalf of the police. I thought he gave a disjointed presentation lacking structure and overview. As has become common at area committees he focused a lot on relating minor events (eg. the recovery of two abandoned bikes to the police station) rather than reporting on what had been achieved against the previous priorities and identifying trends that might help councillors set new ones. Sgt Kathro made a lot of very vague comments when reporting on his team's work, one example I noted was: "we've arrested people where necessary", a comment he made without relating it to a specific problem or area. He also read a large number of excerpts from the report.
York Street Drug Dealing
Previously councillors had set drug dealing in York Street and the surrounding area as a priority. Sgt. Kathro said that "Operation Henry" had been set up to hoover up the dealers, and reported that it had involved police action for a few days in early January. He told councillors that 28 hours of extra police patrol had occurred in the area as a result of councillors setting the priority, he also reported that plants between the Beehive centre and York Street had been trimmed as part of the work to address the drug problem. Councillors were told that work would continue, and the next "Operation Hoover" spurt of activity in the area would take place from 6am on the 1st of June.
Romsey Recreation Ground
The police cited "congregation" as being a problem here, something I find odd and illiberal. Councillors discussed how a drunk and disorderly teenage girl, mentioned by the police, would be dealt with. Sgt. Kathro said it was highly unlikely a 15 year old would end up in court for the offence and would just be given warnings, and final warnings. Green Cllr Adam Pogonowski approved of that approach.
The police reported they had spent 31.5 hours extra on Romsey Recreation ground as a direct result of councillors voting for it to be a local priority.
Councillors decided to set a general priority of summertime outdoor crime, including making the city's green spaces safe to cross at night. Interestingly councillors specified Parker's Piece is in Market Ward in the West/Central area; presumably its of importance to residents of the East area though so they thought it was worth mentioning specifically while setting their priorities.
Cllr Brown reported being "randomly sexually harassed" while walking home across Parker's Piece after the full council meeting the week before.
Mill Road Cemetery
Mr Gawthrope, speaking on behalf of the Friends of Mill Road cemetery talked about drug users. He complained about the council's use of the term "street drinker", he said that the majority of people drinking on the streets were on methadone and an effect of that was it made them want to drink.
Needles being left, causing a hazard for everyone, but especially children and city council workers were one of his main concerns.
Liberal Democrat Cllr Bourke asked if anyone knew why drug users left their needles everywhere so inconsiderately.
Councillors went on to set dealing with drug use in Mill Road cemetery as a priority for the next period.
Abbey Ward
Cllr Hart complained about the courts handing out ineffectual suspended sentences after the police and local residents had put lots of hard work (eg. completing diaries) into getting people causing problems to court. I think this would have been a useful contribution to make to the community safety partnership's priorities, when the full council debated those the previous week, as the the city's magistrates are represented on the partnership.
Cllr Hart wanted to ask about problems in Whitehill Close, which she described as problems between neighbours spilling out and affecting a larger area. The meeting's chair, Cllr Herbert, sought to prevent too much discussion of the matter on the grounds it was centred on one property and therefore too much of a personal, individual, matter to be discussed in public at the meeting. Cllr Hart countered that it was an important enough matter to have been mentioned in the public neighbourhood profile document and she argued she wanted to see tackling it considered as a priority. Cllr Herbert dismissed the idea saying: "that's not the sort of priority we want to be setting".
Another specific problem area in Abbey was mentioned. The committee were told that Cambridgeshire police's "special anti-social behaviour task group" was working on Wadloes Road, tackling specific individuals.
The police report stated one location in Abbey had resulted in thirty-three instances of anti-social behaviour being reported/recorded. Cllr Hart, an Abbey Councillor asked where this was. Sgt. Kathro said he didn't know at first. He was then told by a member of police civilian staff, but while he reported to the committee that he then knew, he refused to disclose the location to the committee.
The police stated that the police had been taking youth's names and addresses outside the Barnwell shops. The tone of this section of the report concerns me greatly, the police ought not be taking, or asking for, people's names and addressees without good reason. I also think they should always make clear if they have the power to demand someone's name and address in a particular situation or if they are just asking.
Burglary
This was the East Area committee's first priority setting meeting since the full council had approved dropping burglary, robbery and cycle theft as city wide policing priorities. Only Cllr Benstead raised burglary, saying that distraction burglaries often occurred more in the summer and ought be addressed. He was a lone voice on this though.
Police Priority Setting
Cllr Pogonowski asked what resources were available to work on the priorities councillors set. He was told the neighbourhood policing team consisted of the sergeant, four constables and eight police community support officers who could be directly tasked in relation to the priorities and that the wider resources of Cambridgeshire police could also be used as required.
Sgt. Kathro repeatedly told councillors they were free to set whatever priorities they wanted, and he would do his best to ensure they were addressed. I thought this was an excellent approach, and exactly what I want to see. I think the system we have in Cambridge where councillors set the local, and city wide, police priorities is excellent. As we give more power and influence to councillors though its important we elect people who're up to the job and willing to use the position for the benefit of their constituents.
Further Information